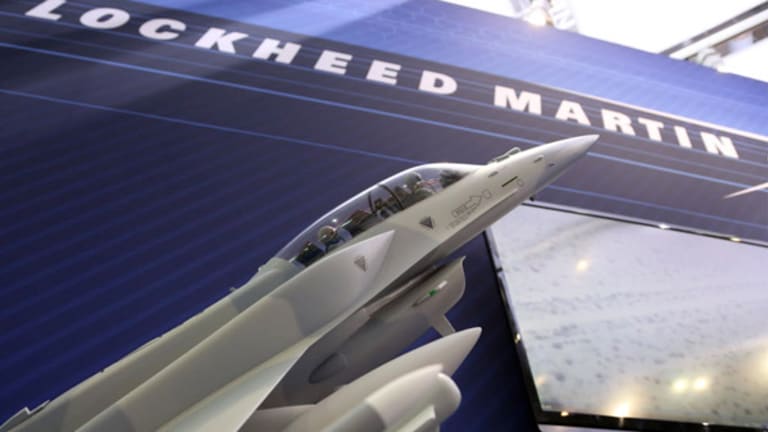 Lockheed Martin Hints Its Big F-35 Combat Aircraft Program Is Now Riskier, But...
Thanks, President Trump.
Updated from 9:49 a.m. with conference call comments
Lockheed Martin (LMT) - Get Free Report posted better-than-expected fourth-quarter earnings Tuesday but noted risks related to its F-35 combat aircraft program following cost criticisms from President Donald Trump.
Lockheed said net earnings for the three months ended in December came in at $959 million, or $3.25 a share, well ahead of analysts' forecasts of $3.05 and the $2.87 posted in the same quarterly period last year. Sales for the three-month period were $13.8 billion, the company said, modestly higher than the $13 billion estimate but firmly ahead of the $11.52 billion generated in the fourth quarter of 2015.
"Our dedicated employees delivered outstanding performance for our customers in 2016, resulting in exceptional financial results," said CEO Marillyn Hewson. "Looking ahead to 2017, we remain focused on meeting commitments to customers, pursuing new business growth opportunities, investing in innovative solutions to drive affordability and prepare for the future, and returning value to our shareholders."
Full-year sales hit $47.2 billion, up 16.5% from 2015, while earnings grew 24.7% to $12.38 a share for the 12-month period. 
Lockheed said net sales in its aeronautics unit rose 23% from the year-ago period to $5.4 billion, owing to higher receipts of around $640 million for the F-35 program, the company said. 
"Aeronautics' net sales in 2016 increased $2.2 billion, or 14%, compared to 2015," the company said. "The increase was attributable to higher net sales of about $1.7 billion for the F-35 program due to increased volume on aircraft production and sustainment activities, partially offset by lower volume on development activities."
However, the company also said that risks linked to its "development, production, performance, schedule, cost and requirements of complex and technologically advanced programs " -- including the F-35 program, Lockheed's biggest -- could factor into future company performance. 
Hewson moved to temper concerns on a call with analysts, saying the company is "very close to a deal" with the government on the F-35.
"President Trump recognizes that the F-35 is a very large program - the largest program in the Department of Defense," Hewson said, adding, "He wants to make the sure that the American taxpayer is getting the lowest possible cost on the program."
It now sees full-year sales growth this year of between 4.6% and 7.1%, compared to a previous forecast of 7%.
Hewson met with Trump earlier this month after having endured some unflattering tweets from him over the past month about the cost of the company's F-35 fighters. Hewson first met with the then president-elect in late December about the $400 billion F-35 program that would create 2,400 jets after Trump called the price tag "very, very expensive" and said that he was committed to driving the cost down. The first meeting seemed to go well, according to Hewson.
"I had a very good conversation with President-elect Trump this afternoon and assured him that I've heard his message loud and clear about reducing the cost of the F-35," she said in a statement at the time.
Lockheed shares fell 2% to $252.24 during Tuesday trading. The stock has risen nearly 2% since Trump's Dec. 22 Tweet complaining about the F-35 costs, even after his initial comments had taken $1.2 billion from the company's share price on the day they were made public.