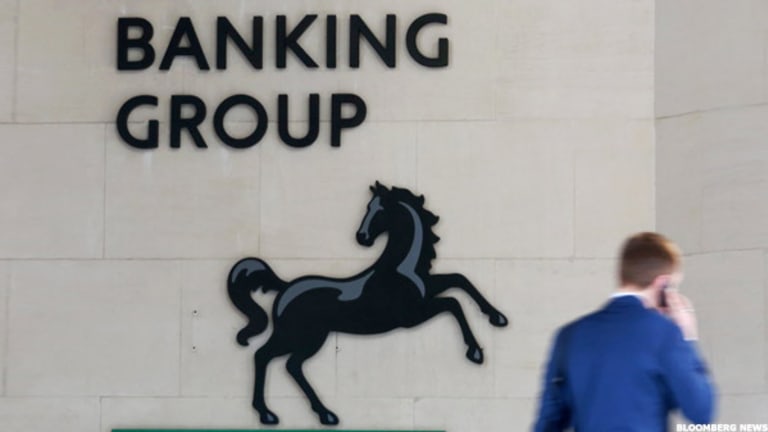 Lloyds Shares Plunge After Goldman Sachs Downgrades to Sell
Goldmans Sachs cuts Lloyds' target price to 50 pence.
Goldmans Sachs cuts Lloyds' target price to 50 pence.
Lloyds Banking Group (LYG) - Get Report shares plunged 3.3% during Monday morning trading hours after Goldman Sachs cut its investment stance and target price on the London-based lender, noting that it faces challenges from low interest rates as well intensifying competition.
Goldman Sachs downgraded its rating for Lloyds to sell from neutral and cut its 12-month target price by 6% to 50 pence in a report dated September 26. Lloyds shares fell as low as 54.14 pence in morning trading.
In the report, Goldman Sachs said that while it views the margin maintenance strategy of the "domestically-focused and well-capitalized" Lloyd's as "optimal," it believes the "twin challenges" of low interest rates and intensifying competition will have a "significant impact" on the bank's profitability.
Goldman Sachs estimated that Lloyds had lost 2 percentage points in its share of new mortgage lending — to 15% in the first half of 2016 from 17% in 2015 — due to tougher competition from rivals such as the Royal Bank of Scotland (RBS) - Get Report and HSBC (HSBC) - Get Report , which boosted their presence in the bank's main product line.
The investment bank went on to say that the Term Funding Scheme, recently launched by the Bank of England and which provides funding for banks at an interest rate close to the bank rate, will provide challenger banks such as Virgin Money, TSB, and CYBG (CYBG) with a "virtually free marginal funding source." This will likely mean more competition for Lloyds, the report said.
"Eventually we believe the group will have to lower pricing to remain competitive, potentially prompting a further revenue decline," Goldman Sachs said.
Goldman Sachs lowered its earnings per share estimate for Lloyds for 2016 to 2018 by 0%-10%, mainly assuming a further base rate cut to 10 basis points in November and ongoing declines in the bank's mortgage balances.
Lloyds drop comes amid a wider sell-off for banks today. The EuroStoxx bank index the SX7E was recently down 3.29% at 90.84. 
Deutsche Bank (DB) - Get Report has fallen more than 5% to its lowest ever level on capital concerns. Reports emerged over the weekend that German Chancellor Angela Merkel would not consider state aid to help with Deutsche Bank's looming fine from the Department of Justice to settle claims over misselling mortgage-backed securities in the run up to the financial crisis.