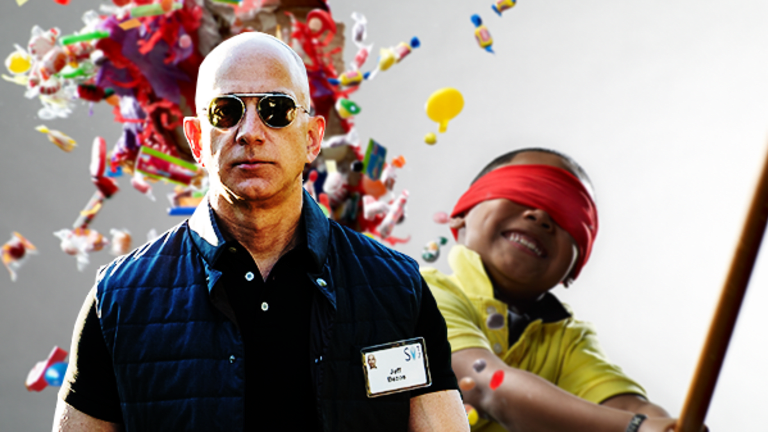 Amazon, Hat's Off to You, but Good Luck Beating Ticketmaster -- Live Nation CEO
Live Nation CEO Michael Rapino has confidence in Ticketmaster, with or without Amazon in the space.
Live Nation Entertainment Inc. (LYV) is unfazed by you, Amazon.com Inc. (AMZN) .
"It's Amazon; it's obviously an incredible business. I give Jeff Bezos all the credit in the world ... But, I'm not going to give my front door away," Michael Rapino, Live Nation CEO, president and director, said at a Goldman Sachs conference on Thursday, Sept. 14.
A Goldman Sachs analyst asked Rapino if he is concerned about reports that Amazon is planning to enter the ticket business. The move would place Amazon, the e-commerce conglomerate upending tech and retail alike, in the space dominated by Live Nation's Ticketmaster.
"We control 80 million tickets, we have a great software program," Rapino said Thursday. "If Amazon wants to sell some of our tickets, if that makes the pot bigger for us, great."
In brief, Rapino's message was, "we are willing to work with you, but good luck trying to beat us."
BTIG analyst Brandon Ross had predicted that it won't be easy for Amazon to enter the ticketing business in the U.S., as it did in the U.K. In the U.S., tickets are primarily distributed through deals between the venues only and ticketing companies. Amazon will need to find venues not already partnered with Ticketmaster.
In August, Reuters reported that Amazon began the move by approaching venue owners. Plus, Ross said that Amazon is likely going a step further by contacting sports teams and promoters directly to get access to tickets Ticketmaster was unable to sell.
Rapino said at the conference, tech is the "future of the ticketing business." And we all know Amazon dominates the tech space. For its part, Live Nation has been testing mobile versus print tickets, for certain events, so it can track customers and target them for upcoming events.
In its most-recent second quarter, Live Nation said it promoted more than 7,000 shows for 24 million people, a 5.5 million increase from the year-ago period. As of July, the live entertainment company has sold 68 million tickets to concerts alone this year.
Live Nation Entertainment was formed from the merger of Live Nation and Ticketmaster in 2010. Year to date, the company's stock is up 56.39%.
Read More of What's Trending on TheStreet:
Editors' pick: Originally published Sept. 14.