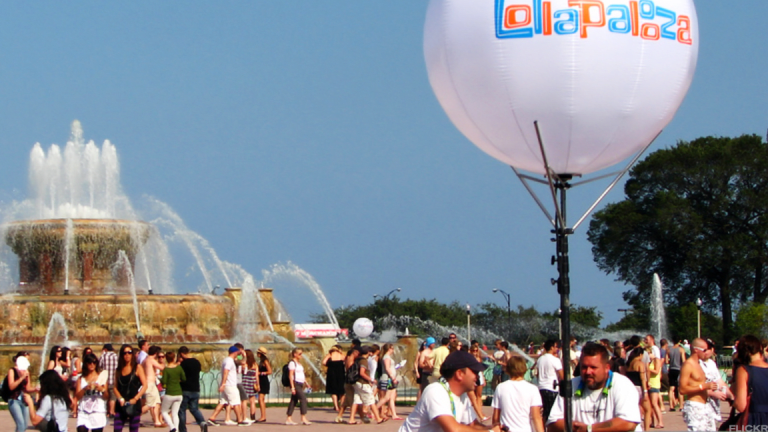 Las Vegas Shooting Could Put Damper on the Live Concert Business
The tragic shooting at a Live Nation-sponsored country music festival comes amid surging worldwide growth in the live events business.
The music concert business has been booming. But the spate of recent tragic events at live concerts could slow that momentum. 
North American concert ticket sales reached $7.3 billion in 2016, double the value from ten years ago, according to Pollstar, an industry monitoring group. As of July, Live Nation Entertainment Inc. (LYV) - Get Live Nation Entertainment, Inc. Report , the Beverly hills-based concert promoter, had sold 68 million concert tickets worldwide, 12 million higher than during the same period a year earlier.
Reflecting the ability of promoters to increase ticket prices, Live Nation's sales are expected to increase 14% this year to $9.5 billion. In 2016, sales jumped 15% to $8.35 billion. 
The horrific Oct. 1 shooting at a Live Nation-sponsored open-air festival in Las Vegas, however, could curb attendance at live events. The attack, which left at least 59 people dead and more than 500 injured, some very badly, came three months after terrorists exploded a bomb at another Live Nation event -- the Ariana Grande concert in Manchester England in which 23 people were killed. And while CEO Michael Rapino said in September that the Manchester incident didn't have a noticeable impact on concert attendance, it's simply too early to tell what music fans will do following a mass murder at a live music event on U.S. soil.  
In the days following the Vegas shooting, news reports revealed that the gunman had scouted other music venues and live sports stadiums prior to deciding upon the Route 91 Harvest Music Festival, NBC News said. The shooter, Stephen Paddock, even booked a room in Chicago during Live Nation's Lollapalooza festival held Aug. 3 to Aug. 6 in Grant Park, senior law enforcement officials told NBC. But he never showed up.
Paddock, 64, may also have scouted Boston locations including Fenway Park, home of the Red Sox, the Boston Globe reported.
"Security is already a huge concern for event promoters," Gary Bongiovanni, editor of Pollstar's website, said in an e-mail. "But everyone realizes there is only so much that can be done to prevent lunatics with guns from doing damage." 
Live Nation didn't respond to requests to comment on the subject of security or the impact the killings could have on its business. Additionally, the major music labels, which often share in revenue from live events, didn't reply to requests for comment about concert security.
Yet if the performance of Live Nation's stock this week is any indication, investors are betting that music fans won't be significantly deterred from attending future live events. In the week following the shooting, Live Nation shares dropped just 1.7% following the shooting, a small reversal considering that the stock has gained 55% over the past 12 months.
In the wake of the murders, Live Nation did release a statement that touched on grief and shock and indignation. Similar statement were made by record labels and music executives through their Twitter accounts.
One thing is certain: over the past five years, live music has helped to fuel a rebound in a music industry left reeling from the plunge in CD sales in the early 2000s and the steady decline of the download market 10 years ago. The surge in live concert ticket sales comes as streaming services collectively have attracted more than 100 million paying subscribers, and now account for more than 50% of total recorded music revenues, according to the Recording Industry Association of America. 
Rather than touring to sell records, touring has become an end in itself, and often a significant part of an artist's total earnings. Spotify, the world's largest streaming service with roughly 60 million subscribers, as well as Jay-Z's Tidal, have also partnered with Live Nation to cross-promote events and services. 
"It's an interesting reversal because for decades, concert promotion was a way to drive sales of recorded music," Joe Rapolla, a music professor at Monmouth University and a former executive at Polygram and Warner Music Group, said in a phone interview. "Now that model has been turned upside-down. Streaming is helping to bring people to shows."
In 2016, Live Nation sold 44.3 million tickets while privately-held AEG Presents, the live-entertainment division of Los Angeles-based AEG, sold 15.2 million tickets, reported Pollstar. The average ticket price also hit record levels last year, reaching $76.55, a 3% (or $2.30) increase over 2015.
Yet the Vegas attack is likely to spur additional security steps, especially at open-air events. While security is easier to deploy at indoor stadiums and nightclub, the 2015 terrorist attack at the Bataclan theater in Paris that left 89 people dead, and the 2016 attack at an Orlando, Fla. nightclub, in which 49 people were killed, prompted some venues to install metal detectors and use bomb-sniffing dogs to search facilities. 
"Certainly, security is going to increasingly factor into the concert business," Rapolla said. "But we take risks every day, just by driving on the road, riding the subway."
In the wake of the Manchester attack, Live Nation cancelled six concerts in New York. Yet the overall live music events business was little affected. At an investor conference hosted by Goldman Sachs in September, Rapino said "artists are resilient, so are fans, as we saw in Manchester."
As of Friday, Oct. 6, Live Nation hadn't cancelled any upcoming concerts. 
More of What's Trending on TheStreet: