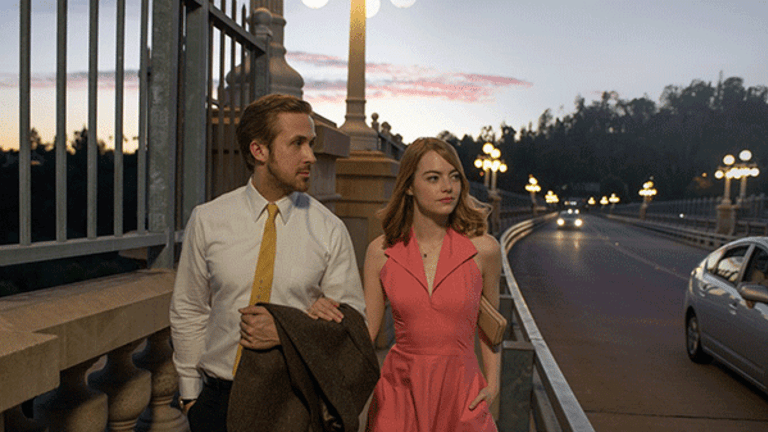 Publish date:
Lions Gate Slips After Stock's Valuation Hits 'La La Land' Levels
The producer of 'La La Land' has dropped 15% since late January following shares reaching their highest valuation in more than four years.
The producer of 'La La Land' has dropped 15% since late January following shares reaching their highest valuation in more than four years.
Even the producer of La La Land has to come down to earth. 
Lions Gate Entertainment (LGF.A) shares have fallen 15% since late January after the stock traded as high as 42 times earnings, according to data compiled by Bloomberg. Lions Gate, which rebounded in 2016 on the backs of La La Land, Hacksaw Ridge and its acquisition of Starz, hadn't traded at that level since December 2012.
But shares of the Santa Monica, Calif., movie and TV production studio have been on a steady decline since Jan. 26 despite racking up eight Oscars at the Academy Awards and nearing a deal to sell its stake in Epix to Metro-Goldwyn-Mayer Studios.
Lions Gate has simply become expensive relative to its peers.
Even after seven weeks of declines, the stock continues to trade at 36 times earnings, a rich valuation compared with Disney (DIS) - Get Report , which is trading at 20 times earnings; and Comcast (CMCSA) - Get Report at 21 times earnings, as well as the S&P 500 Media index of the sector's 17 largest companies, which trades at 19 times earnings. 
To be sure, Lions Gate posted revenue and profit for the quarter ended Dec. 31 that missed analyst forecasts, largely because of higher-than-expected costs relating to the Starz acquisition, which closed in December. Yet operating earnings for the merged company before some costs more than tripled compared with the same period a year ago.
In retrospect, the run-up in Lions Gate shares marks a stunning rebound for a stock that appeared all but dead a year ago. Or more precisely, on Feb. 5, 2016.
It was that day that Lions Gate shares tumbled 27% on the company's fiscal third-quarter sales and profits that fell well short of analysts' forecasts. The culprit was the final installment of the studio's The Hunger Games series, which missed profit projections by $100 million. Shares that day fell as much as 36%, the most since at least 1998, according to Bloomberg.
Lions Gate's financial shortfall made plain the studio's overreliance on its film slate and the need to continue its diversification into television. Though Lions Gate had made Orange Is the New Black, its television business was much smaller than its film unit, which accounted for 75% of the company's 2015 revenue.
Making matters worse, Lions Gate was forced to tell investors that its three-year forecast was falling $1.1 billion to $1.2 billion short of projections.
And then two things happened: Lions Gate surprised movie industry watchers as La La Land, which cost a mere $30 million to produce, generated $277 million in tickets sales worldwide, according to Box Office Mojo. Hacksaw Ridge didn't do badly either, pulling in $175 million in global box office sales. 
Then in June, Lions Gate announced an agreement to acquire premium-television network and production studio Starz for $4.4 billion. The merger brought together the steady cash flow of a successful television operation with a mini-major Hollywood studio on a rebound. Best known for shows such as Outlander and Black Sails, Starz counted 24 million U.S. subscribers at its flagship network at the time of the deal's announcement.
Looking back, Lions Gate shares surged 56% between Feb. 5, 2016, and Jan 26. But all good things usually end. Or at least, they take a pause.
Comcast is a holding in Jim Cramer's Action Alerts PLUS Charitable Trust Portfolio. Want to be alerted before Cramer and the AAP team buy or sell CMCSA? Learn more now.