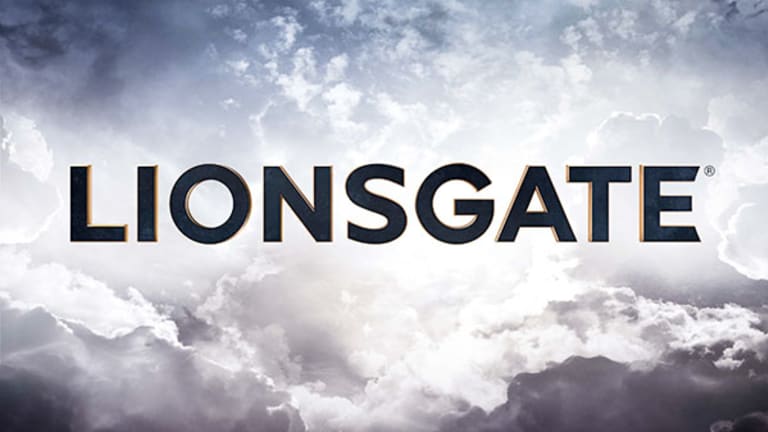 Lions Gate Reveals Starz Acquisition at Last
The $4.4 billion acquisition of the premium cable channel operator will be a boon for Lions Gate's television sector but is unlikely to significantly help its struggling film division.
The $4.4 billion acquisition of the premium cable channel operator will be a boon for Lions Gate's television sector but is unlikely to significantly help its struggling film division.
Lions Gate Entertainment (LGF) , the studio behind the Hunger Games franchise and hit Netflix series Orange is the New Black on Thursday announced it would buy premium cable channel operator Starz (STRZA) for $4.4 billion in cash and stock. TheStreet was the first to break the news last week that the two companies had renewed deal talks several months after negotiations had cooled.
Under the deal, which the companies expected would close by year's end, holders of Starz Series A common shares will receive $18 in cash plus 0.6784 nonvoting Lions Gate shares for each Starz share. Holders of Starz Series B common shares will receive $7.26 in cash plus  0.6321 nonvoting Lions Gate shares and 0.6321 voting Lions Gate shares.
The companies said the deal represents a value of $32.73 for the Series A shareholders, an 18% premium to the 20-day trailing average share price as of Tuesday.
Starz' Series A shares Thursday morning were up nearly 11% to $31.32. Lions Gate was up 2.6% to $21.49. Shares for both companies also jumped yesterday as news of the anticipated deal surfaced. TheStreet on Wednesday reported negotiations remained ongoing despite news of a derailed merger.
"This transaction unites two companies with strong brands, complementary assets and leading positions within our industry," Lions Gate CEO Jon Feltheimer and Vice Chairman Michael Burns said in the statement. "We expect the acquisition to be highly accretive, generate significant synergies and create a whole that is greater than the sum of its parts."
Starz had been the subject of merger speculation for years. It had been widely suspected that Lions Gate would be the acquirer, given that John C. Malone, the largest shareholder of Starz, traded a 4.5% stake in the cable channel operator for 3.4% of Lions Gate's shares just last year, and he now sits on the latter company's board of directors.
"This is a deal made in heaven for both companies," Jim Cramer said on the floor of the New York Stock Exchange Thursday morning. "Starz has been looking for a home for a long time, and Lions Gate is looking for more programming."
Lions Gate has had an increasingly strong TV division, and the acquisition of a premier cable programmer in Starz undoubtedly will be another boon for its small-screen arm. Not only will Starz's substantial movie library combine with Lions Gate's to form a true behemoth, but Lions Gate also will add an enviable batch of original programming as part of the deal. Starz shows such as Outlander and Power have been enthusiastically received by critics and audiences, and several other shows are in development at the cable network.
Although the acquisition of Starz may be lucrative, it will not meet Lions Gate's most pressing need:
. Lions Gate has not had a banner year at the box office, and the company needs to find another big franchise shortly if it hopes to contend with the Big Six studios --
Columbia
,
Disney
,
Paramount
,
20th Century Fox
,
Universal
and
Warner Bros.
While Starz Digital has been active in acquiring and distributing indie titles such as Jason Bateman's
The Family Fang
and Jason Sudeikis comedy
Tumbledown
, very few have heard of either movie, and their box office returns show it.
The acquisition, however, may give Lions Gate an even wider safety net if such franchise plays as Power Rangers or My Little Pony fall flat at the box office. Earlier this year, Burns predicted that television would become a billion-dollar business for Lions Gate within the next few years, generating half of the company's top-line revenue. With an expanded film and television library and a new pay-TV service thanks to Starz, Lions Gate's TV sector looks sure to exceed that mark.
In five years, the entertainment company may no longer be known for its feature films but rather for its television and digital content. With ticket sales declining industrywide, such a transition could be an astute one.
A Lions Gate representative did not immediately return a request for comment. Starz representatives could not immediately be reached for comment.
LionTree Advisors is serving as exclusive financial adviser to Starz, with Baker Botts providing legal counsel.
PJT Partners is lead financial adviser to Lions Gate, with JPMorgan, Bank of America Merrill Lynch, Deutsche Bank and Credit Suisse also providing financial advice. Wachtell, Lipton, Rosen & Katz and Dentons are the buyer's legal counsel.