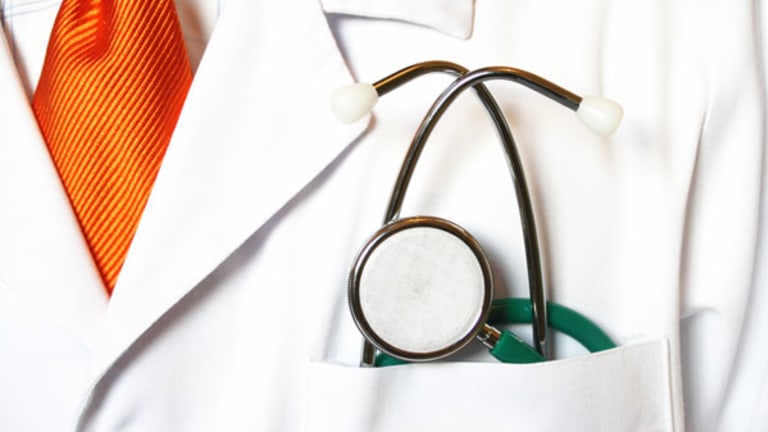 Publish date:
Lilly Suffers Side Effects From Obama Plan
A decline in Medicaid payments will reduce some sales, including a schizophrenia drug.
A decline in Medicaid payments will reduce some sales, including a schizophrenia drug.
President Barack Obama today released the outline of his first budget, with particular emphasis on three areas: education, energy and health care.
Obama's blueprint for shifting the financial tectonic plates of our economy will produce a new set of winners and losers over the next 10 years. Pharma giant
Eli Lilly
(LLY) - Get Report
dropped 4.7% to $31.04 by the close of trading today.
A spokesman for Eli Lilly, Ed Sagebiel, bemoaned that approval of the Obama health-care plan would cost Lilly "several hundred million" dollars in drug sales on top-selling schizophrenia treatment Zyprexa and other pharmaceutical products. The chief complaint comes from a boost to 22% from 15% in Medicaid rebates amid a decline in payments to pharmaceutical and other health-insurance companies.
Under the heading of "Political Financial Support" on Eli Lilly's Web site reads: "Elected officials at all levels of government have an impact on public policy issues affecting Lilly. Where permitted by law, the company is committed to backing candidates of any party who support public policies that contribute to pharmaceutical innovation and the health needs of patients." Not surprisingly, of the $1.4 million in Lilly PAC and corporate contributions disclosed by Lilly in its 2007 Report of Political Financial Support, the name "Barack Obama" is absent from the listing of Illinois recipients.
Zyprexa represents $4.7 billion of $20.4 billion in fiscal 2008 sales. Even shaving off a few hundred million in sales, Lilly would still have been a profitable company last year, before one-time charges related to the
ImClone Systems
acquisition. Our stock model assigned a reward rating of B-minus for overall profitability and a risk rating of D-plus due to price performance of the stock. Overall, the "hold" rating of C suggests looking elsewhere for your health-care investments. Some suggestions can be found in this Street.com
.
For more information, check out an
.
Kevin Baker became the senior financial analyst for TSC Ratings upon the August 2006 acquisition of Weiss Ratings by TheStreet.com, covering mutual funds. He joined the Weiss Group in 1997 as a banking and brokerage analyst. In 1999, he created the Weiss Group's first ratings to gauge the level of risk in U.S. equities. Baker received a B.S. degree in management from Rensselaer Polytechnic Institute and an M.B.A. with a finance specialization from Nova Southeastern University.