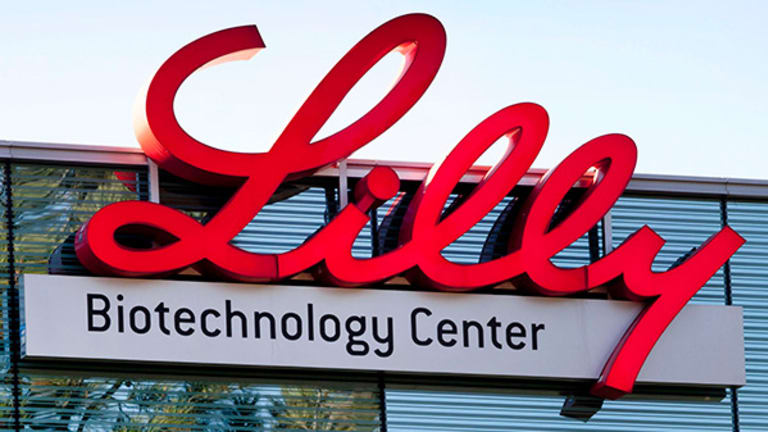 Eli Lilly's Alzheimer's Drug Study Results Are Coming -- Here's What Investors Need to Know
In a few weeks, investors will know if Lilly's solanezumab is a groundbreaking treatment for Alzheimer's or another drug casualty to a disease that has eluded pharmaceutical companies for years.
In a few weeks, investors will know if Lilly's solanezumab is a groundbreaking treatment for Alzheimer's or another drug casualty to a disease that has eluded pharmaceutical companies for years.
In a few weeks, investors will know if Eli Lilly's (LLY) - Get Report solanezumab is a groundbreaking treatment for Alzheimer's or another drug casualty to a horrible disease that has eluded pharmaceutical companies for years.
Here's a preview to help you prepare for Lilly's big Alzheimer's clinical trial data release.
What is at stake with the solanezumab Alzheimer's clinical trial results? I keep hearing this is the biggest biopharma event in 2016, but why?
Alzheimer's is a progressive neurological disease that damages and destroys nerve cells in the brain, leading to memory loss, dementia and the inability to function. More than five million Americans (35 million people worldwide) are diagnosed with Alzheimer's -- the sixth-leading cause of death in the U.S.
There are no medicines approved today capable of stopping or even slowing the underlying progression of Alzheimer's. The only drugs available today treat the symptoms of the disease.
Alzheimer's is a horrible, tragic illness. At the risk of sounding crass, it's also an immense money-making opportunity for any company (and its investors) which develops an effective, disease-modifying therapy. That's why the looming outcome from Lilly's solanezumab study is such a big event for biopharma.
When is Eli Lilly announcing the solanezumab study results?
The phase III study, which Lilly calls Expedition-3, is expected to read out in December, perhaps as early as the first full week of the month. And let's start using the drug's shortened nickname -- "sola." Much easier.
Lilly is a stodgy pharma company. There's no way Lilly's stock price moves that much even if the sola study is positive, right?
Here's some perspective: In 2016, $236 billion will be spent to care for Americans who suffer from Alzheimer's and other forms of dementia. A disease-modifying Alzheimer's drug could generate $5 billion to $10 billion in peak annual sales, maybe even more, depending on a lot of factors not yet known.
Right now, Lilly's top-selling drug, the insulin Humalog, is expected to deliver sales of $2.7 billion this year. If sola works and is approved, the drug would be the biggest revenue-generating product for Lilly by multiples.
Is there a biotech angle here? I love the biotechs because those stocks really move.
Biogen (BIIB) - Get Report , which is developing its own competing Alzheimer's drug also in a phase III study, is the most visible ancillary biotech stock play on the sola study results. I discuss in more detail below.
I often hear folks like you talking about how all drugs tried in Alzheimer's patients fail. How or why is sola different?
You're right. The success rate for disease-modifying Alzheimer's drug in late-stage clinical trials is zero. None have worked.
Sola is a monoclonal antibody that targets amyloid beta, a sticky protein that clumps together to form plaques in the brain. These amyloid plaques damage and eventually kill neurons, which leads to memory loss and dementia in Alzheimer's patients, according to the field's most prevalent scientific theory, known as the amyloid hypothesis.
Sola is one of many amyloid-targeted antibodies in clinical development. There are important differences between them, but all these drugs are designed, essentially, to eliminate amyloid beta from the bloodstream, brain or both. Eliminating these plaques is supposed to slow or even reverse the progression of Alzheimer's.
The big problem, as you point out, is that none of these amyloid-targeted antibodies have demonstrated efficacy in large clinical trials, including sola.
Wait, you mean Lilly has already conducted large phase III studies of sola in Alzheimer's patients with negative results?
Ha! Yes. Lilly conducted two previous phase III study of sola in Alzheimer's patients -- Expedition-1 and Expedition-2. Both failed. The company is hoping Expedition-3 is the proverbial charm.
Why would anyone think this third study turns out differently?
Do you remember when Captain Kirk, in Star Trek II: The Wrath of Khan, reprograms the simulator so that he passes the Kobayashi Maru no-win training exercise?
Lilly is doing something similar with the Expedition-3 trial. The company has made some important changes to the new study's design, which collectively, lowers the efficacy threshold and increases the odds of being able to declare victory.
To better understand the Expedition-3 study, we need to go back to October 2012, when the results of Expedition 1 and 2 were first announced. These studies enrolled mild and moderate Alzheimer's patients. As I said before, sola failed to improve cognition or function compared to placebo. The studies failed.
However, Lilly conducted another analysis of the study segregating only the patients with mild Alzheimer's. When the data on mild patients from both studies were pooled together, sola showed a statistically significant 34% slowing in cognitive decline at 80 weeks. The cognitive improvement between sola and placebo was also statistically significant at 52 weeks.
The pooled Expedition 1 and 2 data in mild patients also showed a statistically significant slowing of functional decline favoring sola over placebo at 52 and 80 weeks.
Based on these findings, Lilly restricted enrollment into Expedition-3 to patients with a diagnosis of mild Alzheimer's. It's easier to slow the progression of Alzheimer's with an amyloid-targeted antibody in patients with less amyloid-related neurological damage, or so the prevailing scientific theory believes.
The company also required all patients entering the study to have a baseline PET scan to confirm the presence of amyloid deposits. Approximately 30% of the patients in Expedition 1 and 2 were amyloid negative, which means they probably weren't candidates to benefit from sola.
By ensuring that all patients in Expedition 3 had mild Alzheimer's and were amyloid positive, Lilly is hoping to replicate the approximate 30% slowing in cognition seen with sola vs. placebo in the pooled analysis of the two previous studies.
One more notable design change: Lilly winnowed down the primary endpoint of Expedition-3 to measure cognition only. The functional measure was demoted to a secondary endpoint.
All right, is there a way to help me prepare for the sola study results so I know what's good or bad when Lilly makes the announcement?
There's no way to make any definitive judgments until we see the real sola data, but here's a good way to think about the possible outcomes and what they'd mean for Lilly.
Sola hits the cognitive primary endpoint with statistical significance and hits the functional secondary endpoint, also with statistical significance. That's a home run for Lilly. Sola is basically guaranteed to be approved, barring some super-surprising setback.
Sola fails both the cognitive (primary) and functional (secondary) endpoint. Strike out. Game over. Lilly might try to salvage something like it did with the previous studies, but it would be really difficult road ahead. Sola would be done.
Sola hits the cognitive primary endpoint with statistical significance AND shows a positive trend on function that is NOT statistically significant. There will be some debate about what this outcome means, but it will more likely lead to an FDA sola approval. The need for an Alzheimer's drug is so great that regulators are likely to be flexible.
Sola hits the cognitive primary endpoint with statistical significance but the functional endpoint shows nothing at all. This is a toughest outcome to interpret. Like No. 3, the FDA could be extremely flexible and persuaded to approve sola simply because Alzheimer's is horrible and patients need something. But Lilly would probably have to work harder to make this argument stick and there would be more uncertainty while FDA reviews.
Do you have any idea how analysts and investors feel about the sola study going into the results next month?
Sell-side analysts are hopeless optimists, so they're fully on board with a Lilly win, meaning at worst, hitting the cognitive endpoint and barely missing on function.
It's harder to take the pulse of the buy-siders, but back in September, Evercore ISI conducted an investor survey to gauge sentiment around the Expedition-3 results.
From a pool of 244 respondents, 14% predicted the home-run scenario, sola hitting both the cognitive and functional endpoint with statistical significance. 27% of the investors predicted total failure -- misses on both.
The most popular response, with 42% of the vote, was outcome No. 3 above -- sola reaching statistical significance on cognition and showing an efficacy trend on function.
The remaining 17% of investors who responded to the Evercore ISI survey predicted sola would fail the cognition endpoint but achieve the functional endpoint. This makes no sense at all, but whatever.
How do you interpret the results of this buy-side survey?
America just learned that polls can be wrong, so I'd caution you not to take the Evercore ISI survey results as the gospel truth on sola.
What is interesting, to me at least, is the optimism expressed by buyside investors towards sola. In a field where the historical Alzheimer's drug success rate for late-stage studies is zero, to have a combined 56% of investors predict a sola study victory and approval is significant.
Two reasons explains the relative bullishness. For one, the feeling that the efficacy threshold needed for the approval of an Alzheimer's drug has been lowered, given the unmet medical need. And secondly, give Lilly credit for making a strong argument in favor of sola based on the work done in the previous two studies.
There are plenty of people who still doubt the amyloid hypothesis, and it's not hard to make a sound argument against sola based on all the available negative data. If sola is a dud, don't be shocked or surprised, because that's the history of Alzheimer's drug development.
Getting back to Biogen, how will the stock react to the Lilly sola trial results?
The Biogen Alzheimer's drug, aducanumab, is also a amyloid-targeted antibody, similar to sola. (Biogen believes aducanumab is more potent than sola, but the data need to bear that out.)
It's hard to make a definitive prediction, but generally, what's good for sola is also good for Biogen and aducanumab. If the results from Lilly's Expedition-3 study are positive, investors will react well to Biogen because, finally, the amyloid hypothesis will have been confirmed and there is a belief on Wall Street that aducanumab is as good as, if not better, than sola.
Biogen's phase III study of aducanumab in mild Alzheimer's patients is ongoing and is still enrolling patients. The company will present updated results from an earlier aducanumab study in December.
If sola is a total flop, I think sentiment on Biogen and aducanumab will also diminish.
Are there any other stocks which might move based on the Lilly sola study results?
Yes. PDL Biopharma (PDLI) - Get Report would receive a royalty on sales of sola from Eli Lilly, if the drug is approved.
Roche (RHHBY) and AC Immune (ACIU) - Get Report are partnered on the development of another amyloid-targeted antibody in Alzheimer's. Those stocks could move on sola news similar to Biogen.
Adam Feuerstein writes regularly for TheStreet. In keeping with company editorial policy, he doesn't own or short individual stocks, although he owns stock in TheStreet. He also doesn't invest in hedge funds or other private investment partnerships. Feuerstein appreciates your feedback; click here to send him an email.