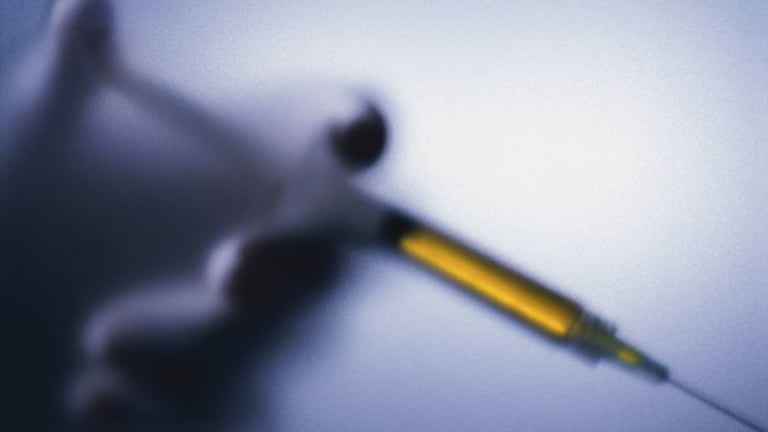 The pharmaceutical sector in general has had a rough ride over the past year.
The likelihood of Democratic candidate Hillary Clinton becoming the next president has created concern that the revenue and profits of biotechnology pharmaceutical companies could suffer.
Shares of the iShares Nasdaq Biotechnology Index Fund (IBB) - Get iShares NASDAQ Biotechnology ETF Report have fallen off a cliff as the election has drawn near.
There is a lot of selling going on that isn't related to the performance of the underlying companies.
Within this sector, VBI Vaccines (VBIV) - Get VBI Vaccines, Inc. Report  is worth a closer look. Although the company's share price has fallen in recent weeks along with the other companies in its sector, its business prospects have improved and perhaps significantly so.
VBI Vaccines is readying its Hepatitis vaccine, Sci-B-Vac, for release into Europe and the U.S.  It is important to note that this isn't just a pipeline vaccine but one that is already approved and in use in 15 different countries.
That greatly reduces the risk involved with the vaccine.
Sci-B-Vac came to VBI Vaccines as part of the merger with SciVac. The specific reason for this merger was to get the drug into the hands of a company with the financial means and infrastructure to get Sci-B-Vac into these larger markets.
Sci-B-Vac is proven to be 100% effective and 100% safe, and it has been used by more than 300,000 individual patients in Israel. VBI Vaccines now has to tap into the European and North American markets by compiling the regulatory submissions for Phase III trials.
The company is in the process of doing that.
Sci-B-Vac has a significant advantage over the standard of care Hep-B vaccine in how well it works for patients over 40. The efficacy of the standard of care for older patients is dramatically reduced.
Sci-B-Vac is better because it has a unique solution for over 40-year-olds as well as those with compromised immune systems.
The key differentiating factor for Sci-B-Vac is that it boosts immunological response. That is why it is better for patients with compromised immune systems.  
Sci-B-Vac has been shown to create a stronger and more rapid antibody response than competitor drug Engerix-B while using 25% to 50% less antigen. It also has the advantage of improving immunogenicity, which is something that can't be created in the yeast-derived process that competing products go through.
Hepatitis B kills more people than any other infectious disease including HIV/AIDS and malaria, so this is a big and important market to address.
Globally, 240 million people are chronically infected with Hepatitis B and more than 780,000 people die every year due to complications related to Hepatitis B, including cirrhosis and liver cancer, according to the World Health Organization.
In East Asia and sub-Saharan Africa, 5% to 10% of the adult population suffers from chronic Hepatitis B infection. High rates of chronic infections are also found in central and eastern Europe, the Indian subcontinent and the Middle East.
The vaccine was initially developed at the Weizmann Institute of Science in Israel, and it is marketed in 15 countries.
Total sales last year for Sci-B-Vac were just $600,000, with the bulk of that taking place in Israel where the company splits the market with Engerix-B. Getting into Europe and North America opens up markets that can change this company very quickly.
Analysts at Ladenburg Thalmann think that Sci-B-Vac can reach $186 million of sales globally by 2025, with $81 million in Europe, $86 million in the U.S. and $18.5 million in the rest of the world if it gets approved for use in these markets.
That assumes success only with the high-risk adult population with compromised immune functions. 
These revenue numbers may seem very optimistic, but remember that almost 11% of Americans have diabetes and would be natural candidates for Sci-B-Vac. That is 30 million-plus people.
This article is commentary by an independent contributor. At the time of publication, the author held no positions in the stocks mentioned.