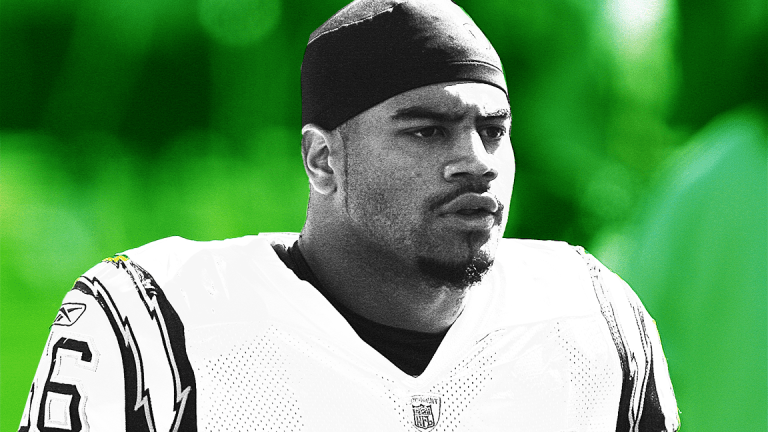 Former NFL Star and Businessman Shawne Merriman Supports 'Take a Knee'
Former Rookie of the Year Shawn Merriman talks business and why at first he was skeptical of #TakeaKnee.
Football is competitive, but could business be even tougher? Former Chargers and Buffalo Bills linebacker Shawne Merriman says he dares to find out. 
Merriman's sports performance apparel line, Lights Out, will be sold in Tillys stores across California in September, at a time when sporting brands like Under Armour Inc. (UA) are having problems. Merriman told TheStreet Monday, Sept. 25, that he isn't concerned.
"I've been competing my entire life," he said, "And now I'm competing in the business world."
Read on for the full interview, in which the 2005 NFL Defensive Rookie of The Year talks retail, real estate and the state of America.
This interview has been condensed for space and clarity.
What do you think of "Take a Knee" and the national anthem protests?
At first I thought I wouldn't have kneeled. I wouldn't have protested that way, as players now have other platforms, like on social media. But then I saw everyone's reaction, and I'm glad it happened. This is an issue that hasn't been addressed much. Seeing how people are actually angry at the NFL when we're trying to cure real issues in this country is a problem.
What would you say the players on the field?
Stay together. I see the guys locking arms. That's the way to show people, you're a lot stronger when you're together.
What's the story behind your brand?
Lights Out comes from my high school nickname, and it carried through to college and then to the pros. In 2006, I bought the rights from a company in Irvine, California. I started by doing mom & pop stores in San Diego, with just t -shirts and hats. The first store that carried my products was called Sports Fever.
It wasn't until I retired that I really got behind the brand. Now we have 18 employees and merchandise in East Coast stores, including the Downtown Locker Room and Shoe City chains, both based in Baltimore. We're focused on e-commerce and working on licensing deals. 
What's the philosophy of Lights Out?
It's a way of saying, "I'm gonna kick today's butt." I don't mind being edgy.
What other business ventures do you have?
No stocks, but I'm building a five-parcel, private residential project in Poway, California, near San Diego.
Your retirement four years ago came as a shock to a lot of people. Can you clear up the mystery?
Injuries played a big part. For me to have had a big impact on the league, I did things no one had done before. I was explosive, I dominated, and when I started having issues, when I couldn't stay healthy, I wasn't the same person. If I couldn't compete at the highest level, I knew I had to move on.
More of What's Trending on TheStreet: