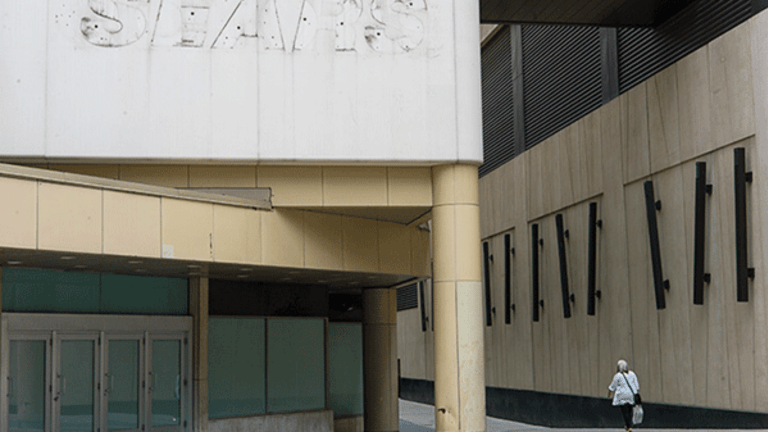 Publish date:
This Is Why Sears Is a Rapidly Melting Ice Cube
One expert says the deals show Sears' persistence.
One expert says the deals show Sears' persistence.
It's not the last nail in the coffin yet, for Sears Holdings Corp (SHLD) .
Somewhat unbelievably, the retailer still does have fans. One spoke with TheStreet on Tuesday, Aug. 22.
"It shows [that Sears] still has liquidity and strategic options, which a lot of other retailers don't," David Tawil, president of the hedge fund Maglan Capital told TheStreet, about the two new deals the ailing retail chain signed on Tuesday. "Had this been any other retailer, with the same debt load, the same eroding operations and normal ownership structure and management team, this company would've went bankrupt years ago."
The new deals for its Kenmore and DieHard brands to be distributed internationally by new manufacturers, maintains Tawil, is a sign of Sears' dedication to staying afloat. The manufactures are Cleva North America, Inc., which will handle Kenmore vacuums and vacuum accessories; and Dorcy, International, which will make DieHard Alkaline batteries and flashlights.
Following news of the deal, which is the company's latest efforts to optimize the valuable assets of Kenmore and DieHard, shares rose more than 5% in early-afternoon trading Tuesday, to $8.99.
A Sears spokesperson declined to disclose the terms of the deal.
"Both of these agreements are examples of our expansion strategy to unleash the power of these iconic brands internationally," Tom Park, president of Kenmore, Craftsman and DieHard brands at Sears Holdings, said in a statement. "We will have direct and active involvement in building the business with our licensing partners."
In July, Sears announced that it would begin selling Kenmore products on Amazon.com, Inc. (AMZN) - Get Report . At the time, some said the deal underlined Sear's concession to what's essentially its worst enemy—a low spot in a decade of decline.
Analyst Bill Dreher of Susquehanna Financial Group called Sears, the "fastest melting ice cube of them all" in a May note, sales comps in the double negative digits and a shrinking store base.
But Tawil said the forecast is way overblown.
"Even the mightiest of the mighty are succumbing to Amazon, and everybody else is collateral damage," he said. "To the contrary, I think Sears is jumping on lifelines that other retailers wished they had."
More of What's Trending on TheStreet: