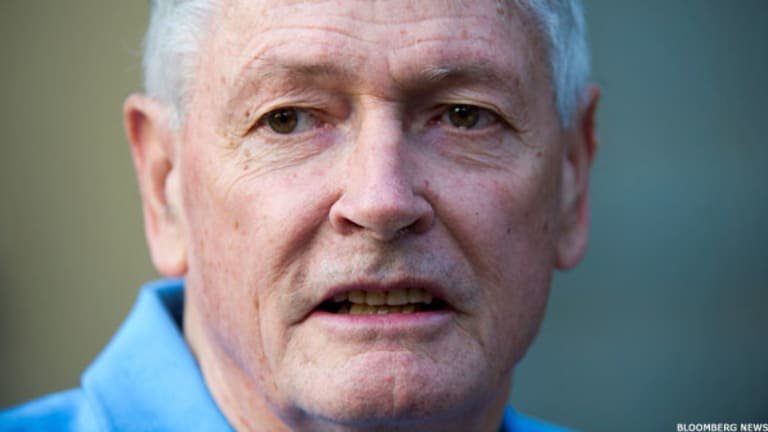 LONDON (TheStreet) -- John Malone's Liberty Global (LBTYA) - Get Liberty Global Plc Class A Report  is at a turning point, faced with the prospect of slow growth, more competition and an increasingly difficult regulatory climate in Europe.
Rather than grow through acquisitions, as it has done for much of the past 10 years, Liberty Global could return greater value to its shareholders if management, led by CEO Michael Fries, stepped away from dealmaking. Running a business may be less exciting than building it, but Liberty would be better served by transitioning into a low-growth, cash-generating utility stock.
Liberty Global is the world's largest international cable-TV company with operations in Germany, the U.K., Holland, Belgium and the Czech Republic, among others. That empire was largely built through a series of opportunistic deals. But as assets become more expensive and regulators become more reluctant to approve deals, the days of increasing revenue through acquisitions may be coming to an end. 
"The land-grab phase is done," said Andrew Hogley, an analyst at BESI, a unit of Portugal's Novo Banco, in a phone interview in London. "If you look at the market over the last five years, there's been a radical change in Liberty's core assets, and now that they have a northern European footprint, few other acquisition targets make sense."
Requests for a comment made through Liberty Global's London office weren't returned.
When Liberty bought Germany's UnityMedia in 2009, it paid 7.4 times earnings before interest, tax, depreciation and amortization. By comparison, last year's purchase of the remaining shares in Ziggo, the Dutch cable-TV operator, cost 11 times Ebitda. Prices for telecom and media assets are not what they used to be.
There are compelling reasons then to consider a shift in strategy to focus on local markets where competition is stiffer than five years ago. Retaining pay-TV customers has clearly become more difficult. Cable-TV subscriber growth across Liberty's top five markets in the third quarter slowed to nearly zero.
"Given the spate of deals, they've been down a remarkable path," Matthew Harrigan, media analyst at Wunderlich Securities in Denver said in a phone interview. "They certainly have a lot to integrate." 
Like pay-TV providers in the U.S., Liberty needs to focus its attention and cash flow on potential "cord cutters," customers who are looking for reasons to finally get rid of their cable subscriptions while using free message and phone services, such as WhatsApp and Skype. When combined with Netflix (NFLX) - Get Netflix, Inc. (NFLX) Report and Amazon (AMZN) - Get Amazon.com, Inc. Report  Prime, which are also popular in Europe, the cable-bundle looks increasingly less attractive.
Liberty has made some progress here. Last year's purchase of a 6.4% stake in the UK's ITV, which screens Downton Abbey, allows for a content partnership that gives Liberty valuable programming. But these stakes are small. The wider issue is whether management can do enough to retain and attract customers rather than seek to add growth through acquisitions.
"Given the financial constraints and leverage, they need to focus on near-term execution," said Amy Yong, a media analyst at Macquarie Securities, in a phone interview in New York.
Complicating matters is Liberty's balance sheet. The company's debt at five times Ebitda is more than double many of its larger rivals. Liberty has traditionally carried a heavy debt load and is fairly well-hedged for the next five years, but as interest rates rise, an increased cost of capital could quickly become aggravating.
"In the current interest rate environment the debt is not a problem," Harrigan said. "Over the long term, it's desirable for them to get their leverage down."
Predicting exactly when a bubble will burst is impossible and the European telecoms M&A frenzy is no exception. Eventually, though, the top players will swell to a size where additional purchases become inefficient or impractical.
So far John Malone has avoided such missteps. His biggest achievement, however, may be knowing when to stop.
This article is commentary by an independent contributor. At the time of publication, the author held no positions in the stocks mentioned.