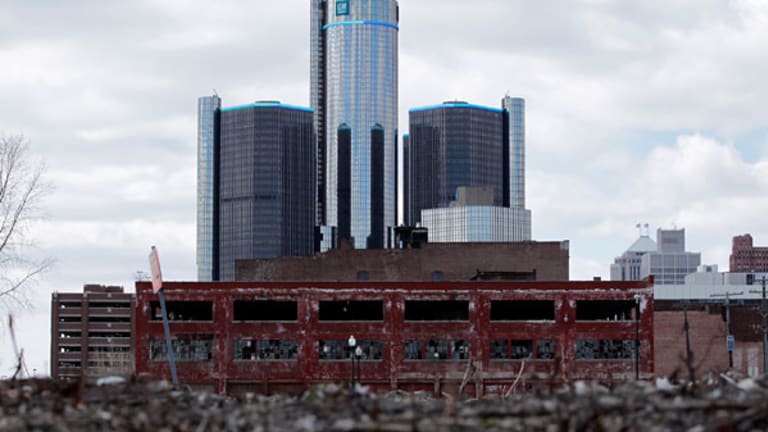 Lesson from Detroit: Buy Dividend Aristocrats, Not Muni Bonds
Income investors should buy stocks in companies that have a history of increasing dividends.
NEW YORK (
) -- One lesson from the Detroit bankruptcy is that anything a municipal bond can do, a stock can do much better, especially for those seeking income from their investments.
So-called "Dividend Aristocrat" stocks such as
Coca-Cola
(KO) - Get Coca-Cola Company Report
,
Exxon Mobil
(XOM) - Get Exxon Mobil Corporation Report
 and
Wal-Mart
(WMT) - Get Walmart Inc. Report
should outperform municipal bonds over the long term.
A Dividend Aristocrat stock refers to the stock of a company that has increased its dividend annually for at least the past 25 years. These stocks often have higher-than-average dividend yields. While the average dividend yield for a member of the
Standard & Poor's 500 Index
is 1.9%, Coca-Cola's dividend yield is 2.8%. Exxon Mobil's 2.6% and Wal-Mart's 2.4%.
What is virtually guaranteed for these dividends is that the amount will increase annually, as it has for more than a quarter of a century.
There is nothing comparable in the world of municipals bonds. Stephen Moore, a member of
The Wall Street Journal
editorial advisory board, wrote an
article in August 2013 for Newsmax about the top 20 American cities in danger of bankruptcy
. The list included cities most likely to follow Detroit into Chapter 9 bankruptcy.
Those owning those municipal bonds will be lucky to get the par value of the bonds, least of all the contracted interest rate; and certainly not any increases in the yield.
The cities include major players in urban America. According to Moore, Oakland, Providence and the school district of Philadelphia are teetering on the brink of insolvency, mainly because of pension and health-care costs.
Chicago, Cincinnati, Minneapolis, Sante Fe, and Portland, Oregon are all under a Moody's review.
The threat of bankruptcy looms for Los Angeles, too.
Even the state of Illinois is looking at "
," according to an article in
Time
.
When a publicly traded company increases its dividend annually for over two decades, bankruptcy isn't a concern.
Paying a dividend is a sign of strength as a company's board decides it is in the best interest of the business to share earnings with all of the owners, no matter how thin the slice of equity.
To increase a dividend annually for a quarter of a century is remarkable considering that the past 25 years have included the Great Recession, two other recessions, a housing bubble, a tech bubble, wars and an terrorist attack on the United States.
If the tax-free income of a municipal bond is alluring, then simply buy the Dividend Aristocrat stock for a tax-protected account such as an individual retirement account or 401(k) and receive the same benefit.
Writing in the
Financial Times
, Meredith Whitney, the analyst who called the problems at
Citigroup  
(C) - Get Citigroup Inc. Report
before the onslaught of the Great Recession, stated that, "
The aftershocks of the largest municipal bankruptcy in US history will be staggering, and Detroit will set important precedents
."
The recent court ruling allowing the Chapter 9 filing will most likely be challenged, but it is likely to be upheld. For municipal bond owners, the truly pernicious aspect of the Detroit bankruptcy is that a road map has now been provided for others in how to default.
By contrast, shareholders of Dividend Aristocrat stocks can look forward to their dividend income growing annually as it has for decades. Small wonder that Warren Buffett is a major shareholder of Coca-Cola, Exxon Mobil, and Wal-Mart. Those owning bonds from Detroit and other U.S. cities are surely wishing they were, too.
At the time of publication, the author had no position in any of the stocks mentioned.
This article was written by an independent contributor, separate from TheStreet's regular news coverage.
Jonathan Yates is a financial writer who has had thousands of articles appear in periodicals and Web sites such as TheStreet, Newsweek, The Washington Post and many others. Much of his career was spent working on Capitol Hill for Members of Congress in both the House and Senate, on both committee and personal staff.  He was also General Counsel for a publicly traded corporation.  He has degrees from Harvard University, Georgetown University Law Center and The Johns Hopkins University.