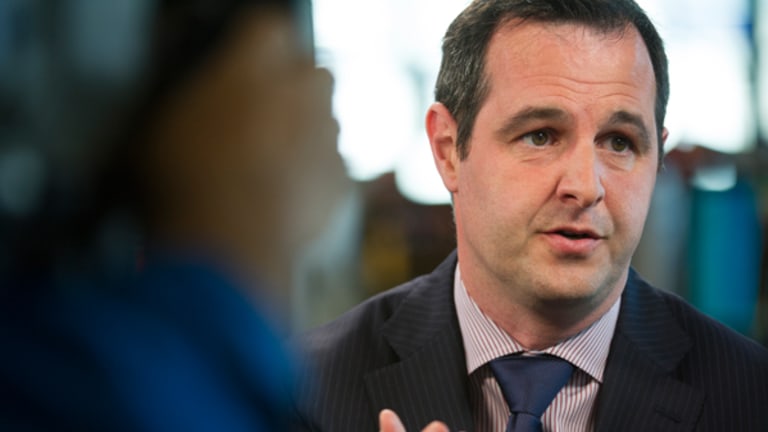 Lending Club Soars at Open as Investors Scramble for Bank Disruptor
Lending Club opened sharply higher in its first day of trading Thursday after the highly anticipated initial public offering of the alternative lending platform.
NEW YORK (TheStreet) -- Lending Club (LC) - Get LendingClub Corp Report opened sharply higher in its first day of trading Thursday after the highly anticipated initial public offering of the alternative lending platform.  

Lending Club, which was priced at $15 a share the night before, opened near $25, a gain of more than 60%. The stock was slightly off in early trading, to the $23 area.
The stock also received its first buy rating, from BTIG analyst Mark Palmer.

"Four times larger than the next-largest company in the peer to-peer (P2P) lending space, [Lending Club] is poised to grow rapidly by taking advantage of failure of traditional banks to meet the credit needs of consumers and small businesses. The company faces none of the costs incurred by the large banks' bricks-and mortar branch networks, and its average fees are about 5% of the amount loaned," Palmer wrote in a note published Thursday.
Lending Club brings together borrowers who can't get loans from traditional banks and investors eager to lend out money for returns as high as 8%. Investments can be as little as $25. The company has attracted lots of attention from people wondering where the financial services industry is headed following the financial crisis.
Lending Club's Board of Directors features prominent names like former Morgan Stanley (MS) - Get Morgan Stanley Reportand Credit Suisse (CS) - Get Credit Suisse Group AG Report  CEO John Mack, former Treasury Secretary Larry Summers, and Kleiner Perkins Caufield & Byers partner Mary Meeker.
Nine underwriters, led by Morgan Stanley, Goldman Sachs (GS) - Get Goldman Sachs Group, Inc. Report , Citigroup (C) - Get Citigroup Inc. Report and Credit Suisse, will wait roughly a month to kick off research coverage of Lending Club, honoring a "quiet period" that may or may not be required, but which banks observe to avoid regulatory scrutiny. Since BTIG is not an underwriter, it is not affected by those issues.
Investor interest is clearly high, since Lending Club priced at $15, above its $12-$14 suggested range, despite what has been a difficult equity market in recent days.
"I think investors are looking at this as the leading and maybe most unique of the peer-to-peer lending platforms so it may be like some other platforms with critical mass being worthy of a premium, which is pretty much the way this has been priced," says Kathleen Smith, principal of IPO ETF manager Renaissance Capital.
Smith says Lending Club's valuation relative to sales is "pretty high," adding "the multiple is almost infinite relative to earnings right now."
The issue investors need to be concerned about with financial services companies that grow as fast as Lending Club has, says Smith, is the pressure to lower lending standards to maintain the pace of growth.
One positive is that Lending Club charges fees on loans it originates rather than holding them on its books as banks like Citigroup often do, Smith says. 
"It reminds me a little bit of Alibaba (BABA) - Get Alibaba Group Holding Ltd. Report  that took the e-commerce business and said I'm not going to own the stuff, but I'll take a fee on anyone [who] puts an order through my platform," says Smith. She notes this model is in contrast to that of Amazon (AMZN) - Get Amazon.com, Inc. Report , which buys products before delivering them to consumers.
See This Video: Mohamed El-Erian Sees Disruption Threat, Shrinkage, for Big Banks

Follow @dan_freed