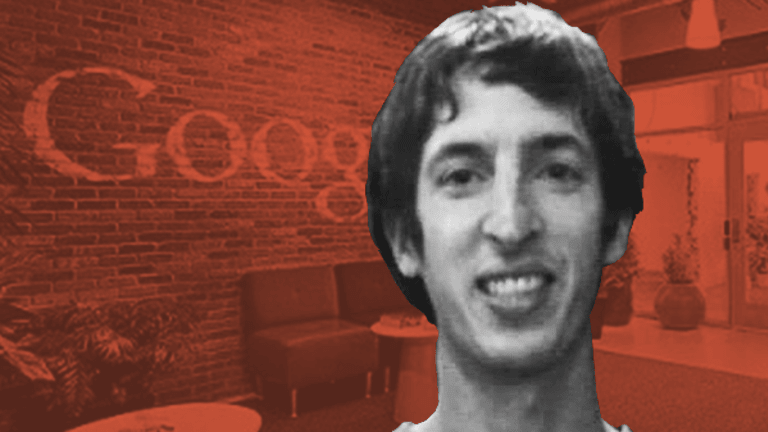 Legal Experts Say That Fired Google Engineer Has Strong Case for Damages
Ex-Google employee James Damore's best chances for remedy his firing are with California employment law, says a lawyer.
That James Damore's controversial memo about gender and employment practices at Alphabet Inc.  (GOOG) - Get Alphabet Inc. Class C Report has been a lightning rod for strong words and actions all around is evident.
When the dust settles, however, Damore may be the last man standing, legally speaking.
Employment lawyers told TheStreet on Thursday, Aug. 10, and Friday, Aug. 11, that the software engineer has a strong case supporting wrongful termination, and he may be entitled to a number of remedies, including reinstatement and damages.
Jim Cramer Reveals Why Not to Buy Apple's Stock Right Now
"James Damore's best claim is under Section 1102 [of the California Fair Employment and Housing Act (FEHA)] " Louis Benowitz, a Beverly Hills employee rights attorney, told TheStreet on Friday. "He's been discriminated against based on his viewpoint."
Benowitz said Damore could seek lost wages and putative damages, attorney and court fees and claim emotional distress from the firing, which happened Aug. 7, through the California law and the federal National Labor Relations Board (NLRB).
For Google's part, Damore's memo placed it in a tough spot, because the company has a duty under state and federal laws to protect other employees from discrimination, Benowitz explained. Yet its legal options may be limited with regard to Damore, unless he defames the company.
As of Friday, Damore had not filed a complaint with FEHA, an agency representative told TheStreet by email. Damore did file a complaint with the NLRB on Aug. 7.
Under NLRB rules, most employees in the private sector are covered. According to its website, a single employee may "engage in protected concerted activity if he or she is acting on the authority of other employees, bringing group complaints to the employer's attention, trying to induce group action, or seeking to prepare for group action."
Benowitiz said Damore can claim he was "engaged in concerted activity with his coworkers. His main thing is he advocated for viewpoints  and was calling for other people who think like him."
Damore has said that he circulated an earlier draft of his memo and incorporated thinking from others before what became the final 10-page memo, Google's Ideological Echo Chamber, that was eventually leaked to the website Motherboard and later became known to the public at large.
Atlanta employment attorney Fletcher Beaumont Howard agreed with Benowitz that Damore has a solid case. "Under Section 7 of the NLRB, the right of employees "to discuss 'matters of mutual aid and protection.' " Section 8 prohibits companies from doing anything to discourage Section 7 rights, he added. 
In recent similar cases, Howard added, the NLRB has sided with employees who were terminated. However, he said, the board is made up of political appointees, and now has a majority appointed by President Donald Trump. Given Trump's pro-business stance, he said, the board could side with Google, but if the board follows the more conservative bent of Trump's typical appointees, the outcome could favor Damore.
He said the NLRB typically makes a decision within 90 days, but the process could be accelerated, because of the case's high profile.
Damore has also been "litigating" his case in the court of public opinion in interviews, including with alt-right leaders and Bloomberg, on social media and an op-ed in the Wall Street Journal, on Friday, Aug. 11.
In the Bloomberg interview, Damore said he considers himself a "centrist" politically, not someone with alt-right beliefs.
"I was fired by Google this past Monday for a document that I wrote and circulated internally raising questions about cultural taboos and how they cloud our thinking about gender diversity at the company and in the wider tech sector," he wrote in the WSJ. "I suggested that at least some of the disparity in male-female tech could be attributable to biological differences (and, yes, I said bias against women was a factor too.)." 
In a tweet posted on Saturday, Aug. 12, Damore wrote that he's hosting an AMA, ask me anything, on Sunday, Aug. 13: 
Meanwhile, in response to Damore's firing and in opposition to the tech company, an alt-right group has planned a March on Google for Saturday, Aug. 19, in all the cities where Google has an office. Among them are Mountain View, Calif., its corporate headquarters, New York, Los Angeles, Boston, Austin, Texas, Pittsburgh and Kirkland, Wash., a suburb of Seattle. The march's tagline is that Google is an anti-free speech monopoly.
Google declined to comment to TheStreet. Damore could immediately be reached for comment.
Alphabet is a holding in Jim Cramer'sAction Alerts PLUS Charitable Trust Portfolio. Want to be alerted before Cramer buys or sells GOOGL? Learn more now.
More of What's Trending on TheStreet:
These 11 Cars Embarrassingly Lose Half Their Value in Three Years
Tesla, Apple, Facebook and Other Tech Titans on Top 10 SELL List: Market Recon
Honda Finally Makes a Cool-Looking Accord Sedan Because Everyone in America Is Buying SUVs
Editors' pick: Originally published Aug. 14.