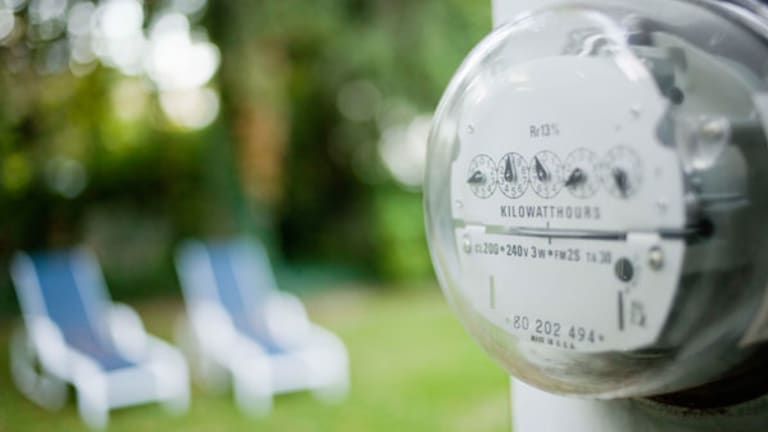 LED Stock Winners: Cree
Cree shares have risen to their highest level since a big earnings decline.
(Cree, LED winners story, updated for close of market, analyst commentary)
NEW YORK (TheStreet) -- Shares of LED lighting market leader Cree (CREE) - Get Cree, Inc. Report are having their most bullish day since a recent big earnings disappointment, passing the $53 mark. Cree shares ended trading on Thursday at $53.56, up 4.4%.
Cree hadn't been above $53 since its earnings led to a steep decline in shares on Jan. 18, down below $53 from $63.
The LED market received a bullish trade this week when LED equipment maker
Veeco Instruments
(VECO) - Get Veeco Instruments Inc. Report
reported its earnings and guided to revenues above $1 billion in 2011. However, there isn't a straight line from an equipment maker to an end market player like Cree, and Cree shares didn't rise on the Veeco earnings.
>>Veeco Shares Up After Earnings
The more likely trigger for the Cree rise was a report in
Digitimes
on Thursday saying that the total size of the Chinese street lamp market in 2011 would grow by 43% to 500,000 units.
The Cree earnings miss was caused by a slower-than-expected recovery in the Chinese street lamp market. After new specifications were put in place late in 2010 for higher quality street lamps, Cree was expected to begin lining up orders for the street lamp market. But it turned out that new specifications didn't necessarily equate to new spending from the Chinese, at least not immediately.
>>Cree After the Fall: 2 Burning Questions
The story for Cree in the short term is still heavily influenced by the rate of sales in the Chinese street lamp market, and
Digitimes
reports have a history of moving stocks in the sector. However, the tech news service also has a history of publishing data that, for all of its influence, isn't roundly accepted by the investment and research community.
Cree competitor
SemiLEDs
(LEDS) - Get SemiLEDs Corporation Report
also disappointed Wall Street in its recent earnings, and shares of the recent IPO company have fallen by 40% year to date. SemiLEDs pointed to pricing pressure in the LED market in its earnings report.
Several LED market analysts told
TheStreet
that
Digitimes
LED sector growth projections are best viewed as "hit or miss." The latest report quoting the 500,000-unit figure was attributed to "industry observers."
Hans Mosesmann, analyst at Raymond James, described the
Digitimes
report as "pretty noisy." However, the Raymond James analyst, who has been more bearish on Cree than most of the analysts covering the company, said the more important point is that the argument being made that a large part of the Chinese street lamp business will automatically go to Cree is flawed. Mosesmann contends that the Chinese street lamp business will go to native players and the more standards get delayed, the better the local players will be able to meet new specifications.
Mosesmann is not alone in speculating that the slower adoption rate than expected in the Chinese street lamp market could be part of a calculated plan by the Chinese government to hold off on spending for street lamp upgrades until more domestic manufacturers of adequate LED technology are able manufacturing at scale.
On the other hand, a concerted effort by the Chinese to reserve more of the Street lamp market for domestic LED players may not be a problem for Cree and other established, high quality LED companies today. Even those more optimistic about Cree's opportunity in the Chinese street lamp market are thinking of the issue as a matter of timing.
Andy Abrams, analyst at Avian Securities, said that the Chinese probably do plan to award more of the street lamp market to Chinese companies, but the ramp of China's domestic LED market will be measured in years, and not quarters. The Avian analyst said that the recent weakness in the Chinese street lamp market exposed in the Cree earnings is a short-term issue that should go away and Cree begin to show street lamp revenue progress, while the growing competition for Cree in the street lamp business is likely to be at least a year away.
In any event, Cree and Veeco shares were up 4.5% on Thursday. SemiLEDs wasn't seeing any pop Thursday, though, but it's not the player that Cree is in the Chinese street lamp market.
-- Written by Eric Rosenbaum from New York.
RELATED STORIES:
>>Cree After the Fall: 2 Burning Questions
>>Veeco Shares Up After Earnings
>To contact the writer of this article, click here:
Eric Rosenbaum
.
>To follow the writer on Twitter, go to
.
>To submit a news tip, send an email to:
.