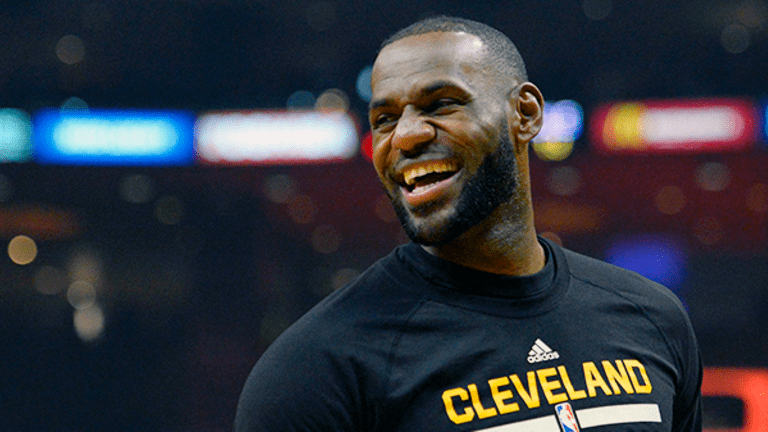 LeBron James Reveals He Was Offered $10 Million to Sign With Reebok, But Still Decided on Nike
'Never put all your eggs in one basket,' says James.
In 2003, LeBron James was 18 years old, a high school basketball phenom on his way to being drafted to play with the NBA's Cleveland Ohio Cavaliers.
The young James was then forced to make some tough decisions, like which sneaker sponsor he wanted to ink a contract with - Reebok, Adidas (ADDYY) or Nike (NKE) - Get NIKE, Inc. (NKE) Report .
In an episode of web series "Kneading Dough" that aired Wednesday (see below), James revealed that he met with Reebok first. Then Reebok CEO Paul Fireman wrote him a $10 million check, which he said he would hand over to him right then and there if James agreed to sign with Reebok and not meet with Adidas or Nike.
"I was lost for words at the beginning," James said. "I flew in from Akron, Ohio, Springfield, the projects. Our rent was $17 a month and now I'm looking at a $10 million check."
But, as we all know, he didn't take that check.
"For some odd reason I started thinking," James said. "If he's willing to give me a $10 million check right now, what's to say Nike or Adidas isn't willing to give me $20 million or $30 million upfront or to say that the upfront money isn't even the biggest thing."
He decided to hear from all three companies, taking the advice of his uncles to "never put all your eggs in one basket."
In 2003, James signed a seven-year contract with Nike, said to be worth $90 million. The young athlete received $1 million a year for the first five years. In 2015, James penned a lifetime endorsement contract with the company, which his longtime business partner Maverick Carter revealed to GQ was worth north of $1 billion.
"Kneading Dough" is part of the personal financial series put out by Uninterrupted, James' and Carter's media company, and JP Morgan Chase (JPM) - Get JPMorgan Chase & Co. (JPM) Report geared to help young athletes manage their money.
Editor's Pick: Originally published April 26.