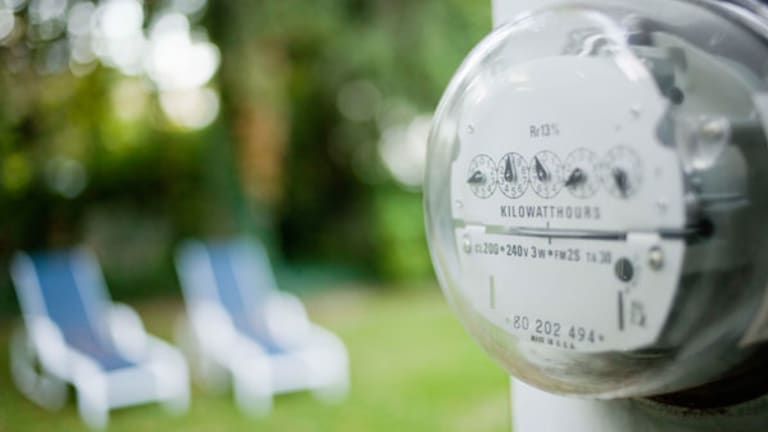 LDK Solar Lowers Revenue Guide by $100 Million
LDK Solar lowers its first quarter revenue guidance by $100 million after the close on Tuesday.
NEW YORK (
) -- Wall Street has been expecting solar companies to revise guidance ahead of first quarter earnings, and Chinese solar company
LDK Solar
(LDK)
became the first of the major solar stocks to revise guidance lower -- saying on Tuesday afternoon that its previous revenue target needed to be taken down by as much as $100 million.
Previously, LDK Solar had forecast revenue of $800 million to $850 million. On Wednesday, LDK Solar said revenue would be in a range of $745 million to $755 million.
Most of the major solar companies provided guidance with fourth-quarter results before the solar policy review process in Italy ground that key European market to a halt. Many analysts concluded that numbers would have to be revised down through solar company earnings pre-reports once the impact from the Italian slowdown was factored in, and especially in the cases of companies that are not true tier-one module vendors in the market and can't easily move modules from one geography to another.
LDK Solar has been among the more aggressive solar companies in its plans to expand its module shipments and transition away from its core wafer production to becoming a truly vertically integrated solar company.
On Monday, LDK Solar's chief operating officer was quoted in
Digitimes
as saying that investors were too pessimistic about solar. The comments from the LDK COO seemed well timed, in retrospect, to get out ahead of the negative pre-report. The LDK COO told
Digitimes
that although demand has been stalled due to incentive policies in Germany and Italy, the overall first quarter demand showed growth compared with the same quarter in 2010. The LDK COO also said that inventory build-up in the Europe market had decreased recently, and predicted a demand increase in April and May.
Credit Suisse analyst Satya Kumar had said in a recent note that one factor he was looking for to become more constructive on solar stocks was for the stocks to not be hammered upon pre-reports taking earnings guidance down.
Wafer shipment guidance has been revised to a maximum of 635 megawatts (MW), down from 660 MW previously, though the low-end of LDK's wafer guidance was increased from 610MW to 635 MW.
LDK now expects module shipments of 109 MW to 114 MW, versus a previous forecast of module shipments between 120MW and 140MW.
LDK revised gross margin higher, though, guiding to 30% to 31% in the first quarter, versus previous guidance of 27% to 29% gross margin.
In-house polysilicon production guidance was revised higher to 2,450 metric tonnes to 2,470 MT. It had previously been 2,300 MT to 2,400 MT.
LDK Solar reiterated its full year guidance of revenue in the range of $3.5 to $3.7 billion, gross margins between 24% and 29%, wafer shipments between 2.7 GW and 2.9 GW, module shipments between 800 and 900 MW, polysilicon production between 10,000 and 11,000 MT, and in-house cell production between 500 and 600 MW.
LDK shares were down by 2.6% in after-hours trading on Tuesday.
The Italian market more or less shut down in March. Italy had been the biggest market in solar in terms of immediate growth prospects, and solar companies have been hard pressed to find markets on the fly into which to ship solar products. Inventory has been building after Italy hit the brakes, and after Italy released a draft of its solar policy changes last week, the reaction from Wall Street was mixed -- but several analysts said numbers across the sector needed to be taken down.
In the case of LDK Solar revising gross margin guidance higher, the company may have been helped in the short-term by higher prices in the polysilicon market. Polysilicon giant GCL-Poly had not been selling into the spot market for a year, and through the first quarter of 2011, according to analyst Gordon Johnson of Axiom Capital. The lack of GCL Poly selling into the spot market had artificially inflated polysilicon prices.
LDK Solar, and any polysilicon producer, should have a good first quarter in polysilicon specifically, but it doesn't offset the larger issues throughout the solar supply chain, and the outlook for the second quarter with GCL Poly again selling into the spot market. In addition, the Axiom Capital analyst said LDK Solar revenue would have been revised even lower if the polysilicon market wasn't holding up so well.
The LDK COO gave a difference view of the polysilicon market in his recent comments to the press, saying that there are no oversupply problems -- and that when the end market rebounds, the price of the polysilicon will also reflect this trend.
-- Written by Eric Rosenbaum from New York.
>To contact the writer of this article, click here:
Eric Rosenbaum
.
>To follow the writer on Twitter, go to
.
>To submit a news tip, send an email to:
.