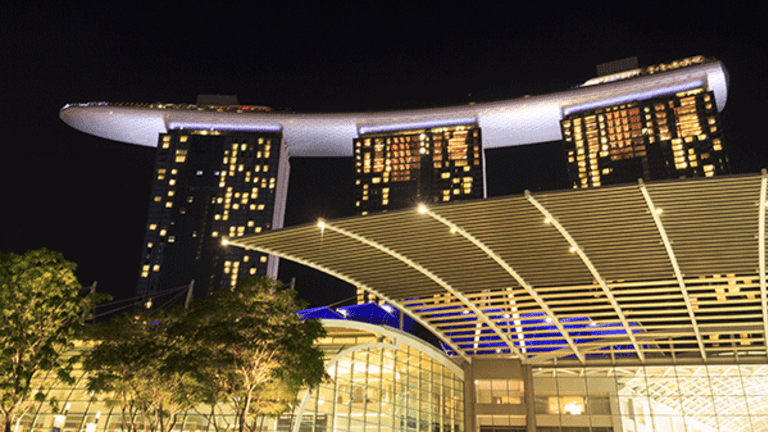 Las Vegas Sands Reportedly Prices the Most Expensive Retail Property in the World
Here's the eye-popping valuation.
Las Vegas Sands (LVS) - Get Free Report subsidiary Marina Bay Sands is looking to sell its 49% stake in the high end Shoppes mall in Singapore for between $3 billion and $3.5 billion in a deal that would make Shoppes the most expensive retail property in the world, according to CEO Sheldon Adelson. 
Any sale would need to be approved by the Singapore government based on the terms of the agreement Las Vegas Sands came to when it was given license to build its resort casino in the city. Singapore's government also stipulated that Sands could not sell its stake in the 800,000 square foot property for at least ten years. 
As a result, Adelson said that the company would not be able to sell until April or May of this year. 
"We're in preparation with our bankers to prepare that property to sell," Adelson said during the company's recent earnings call when asked about the property. "The interest we have is that it is the highest trophy mall there is in the world. We anticipate almost an unprecedented price to sell 49% of it."
When was asked about the company's prospects in Japan now that the country has legalized casino gaming, Adelson said that Japan was looking at Las Vegas Sands' Singapore property.
"Prime Minister Abe has visited the property. He was very impressed with it. I think it is going to be modeled after our property, the Marina Bay Sands in Singapore. I am optimistic, and people tell us we are in the pole position in terms of getting the concessions," Adelson said.  
Las Vegas Sands shares were down 0.4% to $53.11 in late morning trading today, continuing the decline the stock has experienced since the release of its fourth quarter earnings results last Wednesday. 
The company reported adjusted fourth-quarter earnings of 62 cents a share, 4 cents off the consensus estimate. Revenue of $3.08 billion fell short of Wall Street's $3.12 billion expectations.
More than 60% of Las Vegas Sands revenue comes from Macau after the company invested $13 billion in the region. But there were signs of cannibalization among the company's five properties in China following the recent opening of the Parisian in September.
The company reported earnings before interest, taxes, depreciation and amortization of $610 million in Macau, short of analysts' $646 million consensus.