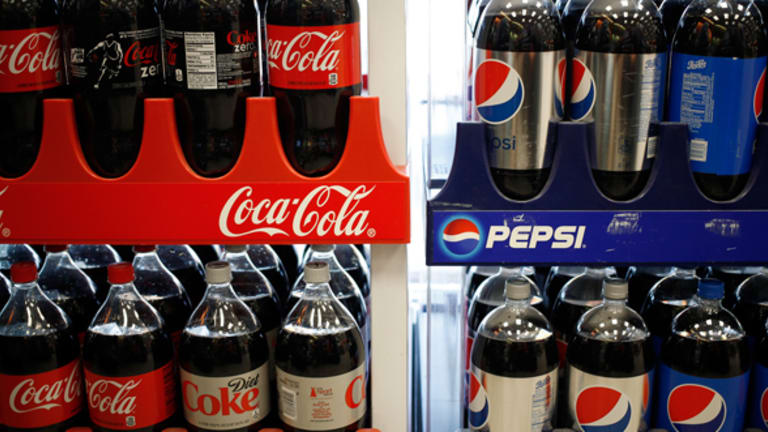 Publish date:
Large Bottles of Pepsi and Coke Are Vanishing From One Soda Tax Battleground City as Sales Crash
The issue has reached a new climax.
The issue has reached a new climax.
Large 2-liter bottles of Pepsi and Mountain Dew, made by Pepsico (PEP) - Get Report, are disappearing from the shelves of Philadelphia stores to counter a so-called soda tax that charges based on ounces, and being replaced with smaller bottles and cans of the drinks.
Coca-Cola (K) - Get Report has also been reportedly doing the same.
"Because of the costly Philadelphia Beverage Tax, hard-working, value-oriented families are less able to afford larger package sizes and multi-packs, where the tax burden is the greatest," said Pepsico in a statement to TheStreet Wednesday. "We are offering the products and package sizes working families are more able to afford because we believe this will give our retail and food-service partners the best chance to succeed in this challenging environment and will minimize the chance of product going out of date. Our full portfolio of beverages in all package sizes will still be available outside the city."
The tax went into effect Jan. 1 of this year and adds 18 cents to the cost of a 12-ounce drink, $1.08 to a six-pack or $1.02 to a two-liter bottle, and aims to raise $91 million annually in revenue to be used for pre-K expansion, community schools, reinvestment in parks and recreation centers and beef up Philadelphia's general fund.
Pepsico told TheStreet that its beverage sales were down 40% in the city, and sales of its larger packages down more than 50% and as much as 80% in many grocery stores.
According to in Philly.com, sales of the larger Coke products have been down, too. Meanwhile, Coke's mini can sales grew 9% last year, and the 1.25-liter bottle saw sales rise by 9%.
The tax also applies to many low- and zero-calorie beverages.
"Our diverse portfolio includes 800 different beverages -- 250 are reduced, low and zero sugar options in the U.S. And, we've been doing that not because of a tax, but because it's what consumers want," a Coca-Cola spokesman said via email to TheStreet. 
He added, "The bottom line is this tax is not helping consumers: people are leaving the city to shop, they can't afford everyday purchases in the city, small businesses are getting hurt, consumers are mad and people are losing their jobs."
Pepsico is a holding in Jim Cramer's Action Alerts PLUS Charitable Trust Portfolio. Want to be alerted before Cramer buys or sells PEP? Learn more now.
Editors' pick: Originally published March 22.