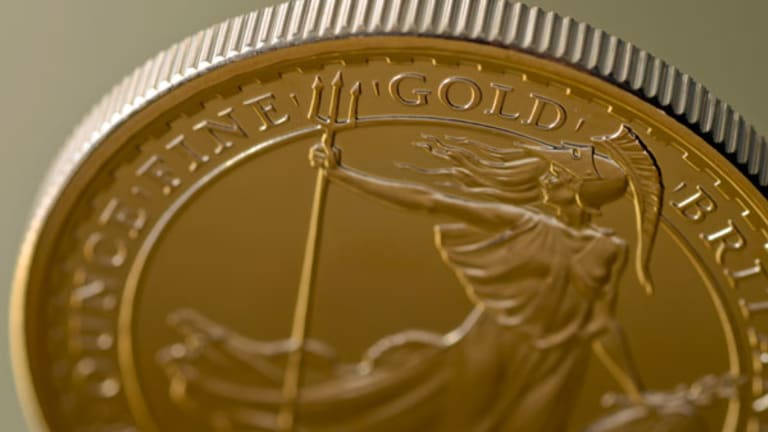 Large-Cap Miners With Leverage
Kinross, Barrick and Newmont offer the most forward-looking leverage, says metals and mining analyst.
NEW YORK (TheStreet ) -- It may not be a three-to-one leverage, but large-cap miners Kinross (KGC) - Get Kinross Gold Corporation Report, Barrick (ABX) and Newmont (NEM) - Get Newmont Corporation Report can offer investors leverage on a forward-looking basis. This according to Adam Graf, director of emerging miners for Dahlman Rose & Co.
spot price year to date has risen 0.9% and the popular backed ETF,
SPDR Gold Shares
(GLD) - Get SPDR Gold Shares Report
has moved with it up 0.62%. By the three-to-one leverage standard,
Market Vectors Gold Miners ETF
(GDX) - Get VanEck Gold Miners ETF Report
, a basket of large cap miners, should be up nearly 3% year to date. Instead the index is down 5.08%.
Out of the top 10 miners in the GDX only two stocks,
AngloGold Ashanti
(AU) - Get AngloGold Ashanti Ltd. Report
and
Agnico Eagle
(AEM) - Get Agnico Eagle Mines Limited Report
, have positive returns in 2010. With gold prices trading around $1,100 an ounce, mining stocks should be offering investors some kind of operating leverage.
In the interview that follows, Graf offers his take on the notion that mining stocks typically offer a three-to-one leverage to gold's spot price. He also names a few miners that still offer the most forward-looking leverage.
Why aren't miners offering the kind of leverage investors expect
?
GRAF: I think there is a perception that miners yield two to three times leverage versus bullion. On a theoretical forward-looking basis, I have yet to see that. I think the best you can get is probably about two times. The market is somewhat efficient in valuing these companies and there's a fair amount of operational disappointment and cost inflation. Just because gold price goes up doesn't mean incremental additional revenue drops to the bottom line. There are a number of things going on there. One is the number of cost elements that are directly or indirectly related to gold price. When gold price goes up, so do those cost elements. The assumption that additional revenue will drop immediately to the bottom line on a pre-tax basis is completely false.
A lot of companies and a lot of projects have royalties, gross revenue royalties or net revenue royalties on some of their gold flows. If your gold price goes up, so do those cost elements. And so a lot of these companies are sensitive to currencies and diesel price. You get a move higher in diesel price and those cost elements go up. Just because it's been said many times that you get two to three times leverage by investing in a gold equity versus gold price, doesn't mean it's true.
Is it fair to say that royalty companies have more leverage to the spot price than mining companies
?
GRAF: They should because they generally have net revenue royalties that they are receiving and so they don't have the same cost sensitivity that the producers have. The risk on the royalty side is if they've got a royalty on an asset that is not producing, that's money they've shelled out but are not receiving any revenue for. The other risk is that if those companies and those assets they have royalties on suffer a lot of cost inflation, those assets can shut down and then those royalty companies are getting no royalties. So they're insulated from the cost element unless that cost element forces the operation itself to shut down or not get started in the first place.
When you say mining stocks can offer leverage on a forward-looking basis, does that mean looking at a futures contract of where you think prices might be in X number of years and then valuing their assets in that way
?
GRAF: I've modeled 50 companies on a going forward basis using the forward curves. When you change the forward curves, you get a change in the discounted cash value and that's the forward-looking leverage as I see it. What I mean by that is not necessarily leverage based on the forward curve but forward-looking leverage based on the gold price as opposed to looking at what the stock and gold price has done in the past, and doing a correlation.
On a theoretical basis, if gold moved up $100 an ounce, what does the change in the current value do based on what the forward looking cash flow should do as opposed to looking at historic correlation.
What are the top three miners that offer the most leverage today
?
GRAF: I have a hold on
Barrick
, a buy on
Newmont
and a buy on
Kinross
. But those three names from the large cap, and even from the mid cap, offer you the most forward looking leverage based on my theoretic models. Early stage names like
NovaGold
(NG) - Get Novagold Resources Inc Report
and
Seabridge
(SA) - Get Seabridge Gold Inc Report
also offer you significant leverage but the timing of their cash flows is very uncertain because they are many years away from production.
>>Slideshow: How to Invest in Gold
>>More stories on gold investing
--
Written by Alix Steel in New York
.
Alix joined TheStreet.com TV in February 2007. Previously, she held positions in film and theater production, management, and legal administration. Alix has a degree in communications and theater from Northwestern University.