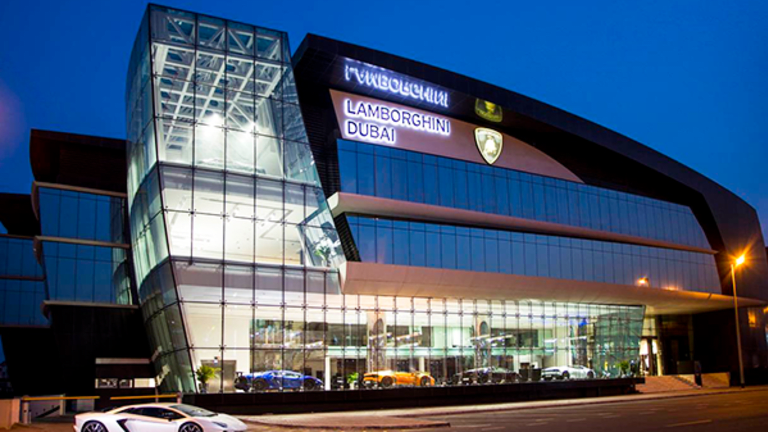 Publish date:
Lamborghini Just Opened Its Largest Dealership in the World, and Of Course It's in Dubai
This place is massive.
Dubai is notorious for three things: excess, wealth and exotic cars dominating the streets. 
So it's probably no surprise that supercar maker Lamborghini has just opened its largest dealership (photos below) in the world in Dubai. The impressive 19,000 square foot structure houses three floors of exclusive supercars and lifestyle merchandise. Most of the building is all windows because hey, why not show off amazingly engineered $250,000 plus cars to as many people as possible. 
"The Middle East is a strong market for Lamborghini", reportedly said Lamborghini chairman and CEO Stefano Domenicali at the store's opening. 
The dealership is likely to be chock full of Lambo's newest head-turner. 
Lamborghini's new Huracan Performante is 40 kilograms lighter than a standard Huracan coupe, while also being more powerful. It churns out 640 horsepower from a 5.2 liter V10 engine, up from 610 horsepower in the standard Huracan. Top speed: 202 mph.
The Performante could also lay claim to a splashy record.
The car set a lap record in October 2016 of 6:52:01 minutes at the Nurburgring racetrack in Germany, five seconds faster than the previous record holder in the Porsche 918 Spyder. People can get their hands on the Performante this summer for a modest price of $274,390.