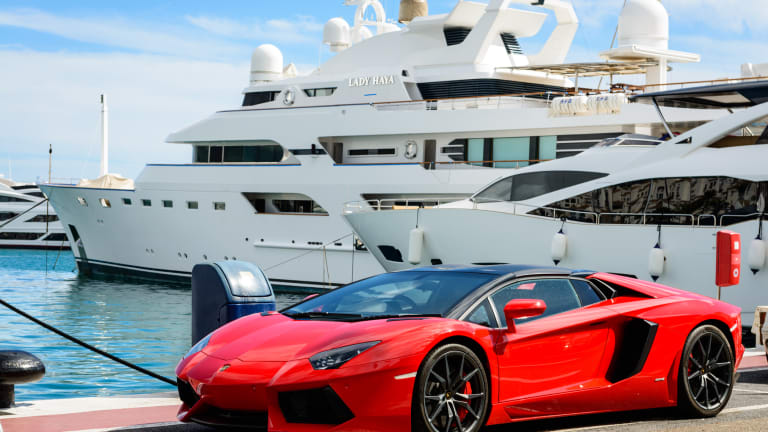 Lamborghini CEO: Don't Expect a Driverless Lambo but Do Expect a Hybrid
Lamborghini is fresh off another strong year in large part thanks to the surging stock market. Chairman and CEO Stefano Domenicali talks with TheStreet about the supercar maker's year ahead.
With global stock markets surging, it's no small surprise that supercar maker Lamborghini is fresh off another strong year of sales.
Lamborghini said this week that worldwide sales rose a solid 10% in 2017, marking the seventh straight year of gains. Europe was the hottest market for Lambo, notching a sales gain of 18%. Asia and America saw sales increases of 9% and 4%, respectively.
"It's a great moment [for us]," Lamborghini chairman and CEO Stefano Domenicali told TheStreet when asked how the stock market is helping lift supercar sales.
It may be a great time for Lamborghini right now, but that doesn't mean it will be plowing its profits into developing a driverless car. "I don't see a driverless Lamborghini happening," Domenicali said, adding that Lamborghini is instead investing in making its cars more intuitive for its fearless drivers. "The experience of driving a Lamborghini is a must for its customer base."
Domenicali did confirm that Lamborghini's next step is a hybrid, a necessary move before unleashing a fully electric model.
As for a brewing rivaling with electric car maker Tesla (TSLA) - Get Tesla Inc Report , which is set to unleash a new $200,000 Roadster in the not too distant future.
"In life, you don't underestimate anyone," said Domenicali. 
Subscribe to TheStreet on Youtube and enjoy more videos!
Check out TheStreet's Other Influencer Interviews