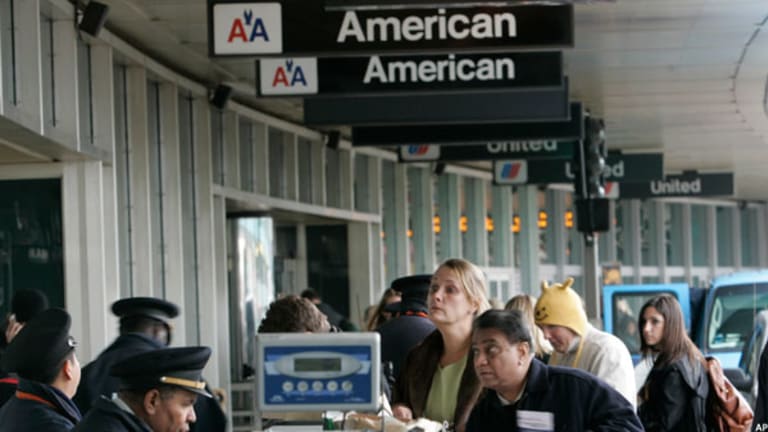 Publish date:
LaGuardia Ranks Last in Amenities at Top 20 Airports
LaGuardia is the only one of the top 20 airports without free Wi-Fi, play areas, cell phone wait lots or trains to a city center.
LaGuardia is the only one of the top 20 airports without free Wi-Fi, play areas, cell phone wait lots or trains to a city center.
NEW YORK (TheStreet) -- It's not just airspace that the New York airports lack, said a group seeking airport improvements. The airports all lack free Wi-Fi, while LaGuardia also lacks children's play areas, adequate mass transit options and cell phone wait lots.
In a report released Monday, the Global Gateway Alliance, formed by real estate investor Joseph Sitt, said Newark and LaGuardia rank at the bottom of the 20th busiest U.S. airports in providing the four passenger-friendly amenities. John F. Kennedy International, meanwhile, tied for sixth; it has play areas, mass transit to Manhattan and a cell phone wait lot,but it lacks free Wi-Fi.
San Francisco, Phoenix, Seattle, Minneapolis and Philadelphia airports have all four amenities. Atlanta, Chicago, JFK, Detroit and Boston each have three. LAX, DFW, Denver, Charlotte, Las Vegas and Houston each have two. Newark has one. LaGuardia has none.
"The New York airports ought to have some of the amenities these other airports have," said Stephen Sigmund, executive director of the Global Gateway Alliance. "Lots of airports have them."
In the case of children's play areas, "our airports are among the most delayed in the country," Sigmund said. "They have two- or three-hour waits sometimes. Giving families a place for kids to play is something a lot of airports have realized is important."
Regarding free Wi-Fi, the New York airports accounted for three of the only five major airports in the country that don't have it. As for cell phone wait areas, Sigmund said he recognizes that LaGuardia and Newark are constrained by land shortages. Kennedy has a cell phone waiting area.
JFK and Newark are both served by mass transit and Newark even has a suspended light rail system that connections the airport to a train station. But both require the use of two mass transit systems to reach Manhattan. Additionally, "LaGuardia is the only close-in airport (among the top 20) without viable public transportation," Sigmund said.
The Port Authority of New York and New Jersey of New York and New Jersey, which operates the airports, said it is working to make improvements.
The Port Authority "and its aviation partners have committed more than $6 billion in improvements to JFK, Newark Liberty and LaGuardia airports in recent years, including upgrades to terminals, taxiway improvements to reduce on-the-ground delays and additional customer service representatives to help passengers," said spokesman Ron Marsico.
"The agency is planning new terminals at LaGuardia and Newark Liberty, exploring a direct PATH rail link to Newark Liberty and reviewing its existing Wi-Fi contract to see if changes can be made," Marsico said.
Of course, Global Gateway's list of four amenities is not the only way to rank airports. Overall airport appearance also matters a lot to passengers. Like many airports, the New York airports combine both beautiful areas and ugly ones.
LaGuardia and JFK ranked Nos. 1 and 2 in our 2010 survey of the ugliest airports in the U.S., but both are better now, particularly JFK, where Delta (DAL) - Get Delta Air Lines, Inc. Report opened a spectacular new terminal in May.
In fact, two JFK terminals -- American's (AAMRQ.PK) Terminal Eight and JetBlue's (JBLU) - Get JetBlue Airways Corporation Report Terminal Five -- made our 2010 list of the six most beautiful U.S. airport terminals.
" We know that the Port Authority and airline partners are committed to improving NYC area airports, and offering enhanced passenger amenities is a vital part of doing so," Sigmund said. "Each of these items carries costs, and we believe there are funding sources like corporate sponsorships and private investment available to help offset those costs."
-- Written by Ted Reed in Charlotte, N.C.
>To contact the writer of this article, click here: Ted Reed