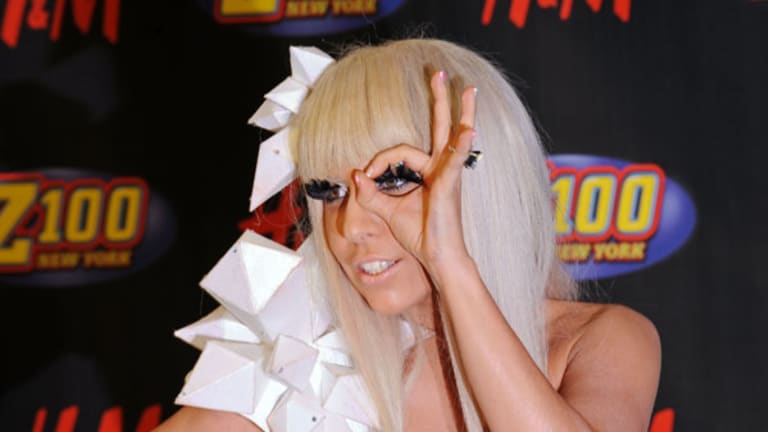 Publish date:
Lady Gaga Enthroned as Most Highly Paid Young Star
The Mother Monster has hit a pinnacle of the pop heap, but that isn't slowing down her ambitions.
The Mother Monster has hit a pinnacle of the pop heap, but that isn't slowing down her ambitions.
NEW YORK (
) -- Lady Gaga recently was named to the top of
Forbes
list of highest paid entertainers under 30. The magazine estimates that the $80 million she earned from June 2012 to June 2013 would have been even more had she not had to sideline her "Born This Way Ball Tour" to undergo hip surgery. The tour grossed $168 million through January and could have gone to over $200 million had it continued,
.
According to media reports, the pop star in February suffered a tear in the cartilage surrounding the right hip and severely inflamed joints, attributed to strenuous repetitive movement -- that is, she was performing and rehearsing too hard.
Making all that money in the current recording industry climate is not easy and requires pretty much constant touring, even for someone of such elevated visibility. Even someone who has a knack for turning even bad luck into good PR: Following her surgery, for instance, she appeared in public in a gold-plated wheel chair with a black leather seat and a removable leather canopy. Because she's Lady Gaga and she can. The press cameras ate it up.
But even shy the extra cash she could have hauled in had she completed the tour, Gaga's $80 mil was more than enough to make her the top breadwinner for celebrity income. It is a repeat performance for the young star, who was the most highly paid celebrity on
Forbes
2011 list.
She was also ranked No. 2 on
Forbes'
list of the top 100 most powerful celebrities, outranking Stephen Spielberg, Beyonce and Madonna. Tops on the list for the fifth year in a row is non-musician Oprah Winfrey, $3 million shy of Gaga's income bracket. Gaga's No. 2 spot also means she is the most powerful
musician
on that list of celebrities.
As I
, Lady Gaga has an ambitious new album and app in the works, called
ARTPOP
, that she intends as a multimedia, all-art extravaganza, collaborating with serious visual artists, fashion designers and software engineers as well as musicians and producers.
The
ARTPOP
drop is set for Nov. 11, with a single scheduled for release Aug. 19. Pre-orders of the album will be possible beginning Sept. 1.
I also noted in that article that the self-styled "Haus of Gaga" press release is one of the most pretentious things apparent in a pop music scene that has recently hit new highs of pretentiousness -- a press release suited for somebody who would ride around in a gold-plated wheelchair.
There is, however, a level of self-mockery in Gaga's gorgeousity that I didn't mention in that article and I regret it. The German spelling of "house," for instance, plays on a current slang expression for "cool" or "awesome" while positing the Gaga machine as a mock rival of a European fashion house.
I mean, a gold-plated wheelchair ... you know? She is both
actually
pretentious and, at the same time, playfully self-aware of her pretentiousness.
On the other hand, "Haus of Gaga" is no joke. Few brands offer as much potential for singularity as Gaga's and her position at the top of the pop heap also almost certainly enables her to sell whatever she might want in the way of branded merchandise, making her a
de facto
style house.
Using some of that $80 million, she could more than double it in a few years, simply by following a model
established by Jimmy Iovine and Dr. Dre's Beats Electronics
, for instance. Beats is successfully growing an empire with sensible, high-quality products that carry an extra benefit for the consumer because they carry Dre's imprimatur.
Dre, remember, was the highest-paid entertainer of 2012, netting well over $100 million. But most of that came from the goods sold by Beats -- as opposed to income directly from his career as an entertainer.
However she decides to play the merchandise card, the recent success of Gaga's tour and the global anticipation of her multi-platform
ARTPOP
fantasia together mean that, barring some further catastrophe, she is likely to remain among the top earners and most important personalities in the entertainment world for some time to come.
Probably, too, she has some gold-plated catastrophe insurance.
-- Written by Carlton Wilkinson in Asbury Park