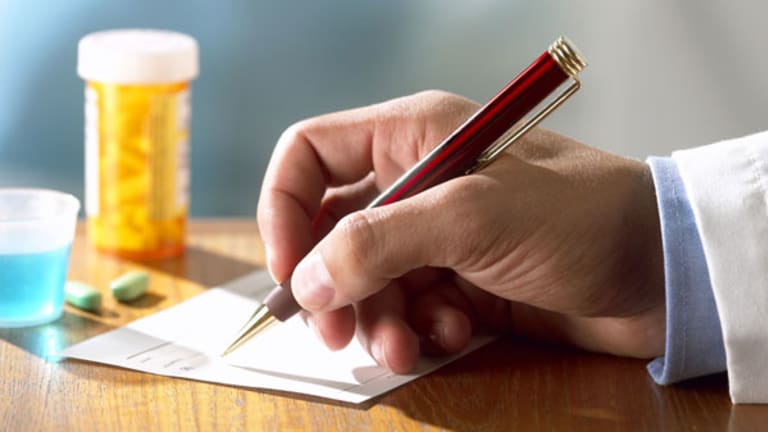 LabCorp Comes Back Negative
Shares plunge after a big contract loss.
LabCorp
(LH) - Get Laboratory Corporation of America Holdings Report
is grappling with some negative results of its own.
The Burlington, N.C., clinical laboratory company has lost a valuable contract with giant health insurer
Aetna
(AET)
. The same company found itself celebrating a big win -- when it stole a huge
UnitedHealth
(UNH) - Get UnitedHealth Group Incorporated Report
deal from rival
Quest
(DGX) - Get Quest Diagnostics Incorporated Report
-- just five months ago. In that particular instance, LabCorp offered a lowball bid that Quest was unwilling to match.
LabCorp's stock has rallied ever since. The shares took a hit on Thursday's disappointing setback, however, falling 11% to $71.26.
"We are disappointed with Aetna's decision, but we are confident in our strategy for profitable growth," CEO David King said. "Aetna has been a valued partner of ours for many years, and our recent expansion in their core Northeast markets means that we will be able to continue serving Aetna physicians and patients."
However, he added, "we regret that we will do so as an out-of-network provider."
In other health care news,
PharmaNet
( PDGI) fared considerably better. The Princeton, N.J., drug tester -- while still tainted by its past operations as SFBC -- showed ongoing progress in the latest quarter. Shares soared 21%.
To be sure, PharmaNet remains weakened by the scandals that engulfed its early-stage drug testing division last year. Fourth-quarter profits spiraled from $6.1 million to $3.5 million as a result. But adjusted operating profits of 36 cents a share handily beat the 20-cent consensus estimate.
PharmeNet reported better early-stage results than some had expected, and its later-stage division continued to hold up well. Moreover, the company promised sunnier days ahead.
Specifically, PharmaNet expects full-year revenue of $334 million to $339 million -- well ahead of the current consensus estimate. PharmaNet's profit forecast of $1.06 to $1.21 a share leaves plenty of room for the company to beat Wall Street's $1.10 target as well.
CEO Jeffrey McMullen felt like celebrating as well.
"The fourth quarter and full-year 2006 financial results demonstrate the determination and commitment of the entire management team and all PharmaNet Development Group employees to make continued progress while overcoming the significant challenges of 2006," he stated.
In contrast,
Universal Health Services
(UHS) - Get Universal Health Services, Inc. Class B Report
-- like LabCorp -- lost some ground on Thursday. The Pennsylvania-based hospital operator reported fourth-quarter results that fell short of expectations and offered some disappointing guidance to boot.
On a bright note, Universal saw revenue jump 10% to $1.07 billion in the latest quarter -- topping the $1.05 billion consensus estimate -- as admissions grew despite tough year-over-year comparisons. In addition, net income more than doubled to $34.2 million in the period.
Excluding a host of special items, however, operating profits came in at $32.4 million or 60 cents a share. Analysts, on average, were expected 2 cents more.
Looking ahead, Universal expects full-year operating profits of $3 to $3.05 a share. Analyst forecasts have been hovering at the high end of that range -- and some experts had even hoped for a little upside to those targets.
Shares of Universal slipped 2% to $56.72 on the update.
Several analysts felt cautious about Universal's prospects already. However, at least one -- Whit Mayo of Stephens -- suggested that an upgrade could eventually be on the way.
Notably, Mayo seemed reassured by Universal's moderating bad-debt trends and possible improvements in the company's tough McAllen, Texas, market.
"To what extent we gain comfort in the conservatism of guidance and/or a pullback, we would reassess our rating, as we do believe over time the value of UHS can grow to reflect its psych assets" -- which differentiate the company from pure-play acute hospital operators. "Further comfort with the many moving pieces in guidance and suggestions that McAllen remains stable could pull us off the sidelines."
For now, however, Mayo has maintained his equal-weight rating on Universal's stock. Other analysts held on to their lukewarm ratings as well.