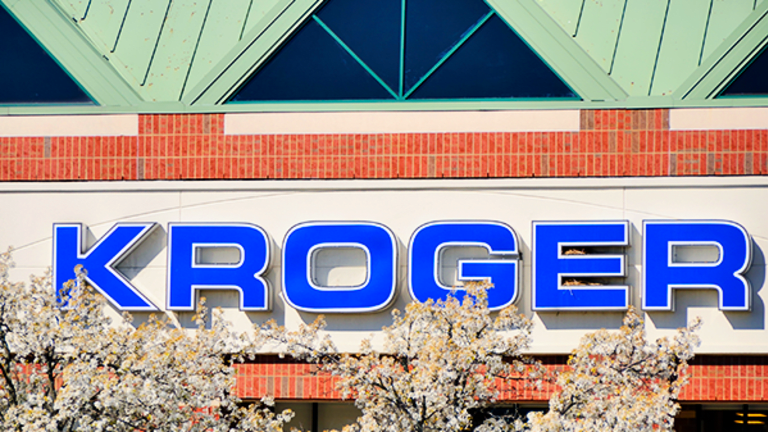 Kroger Is Oddly 'Excited' About Being Invaded By This Ruthless German Grocer
Kroger is 'glad' Lidl is finally here.
If the arrival of German discount grocery store chain Lidl to the U.S. is of any concern to Kroger Co. (KR) - Get Kroger Co. (KR) Report , the company is putting on a brave face not to show it.
"I'm glad their stores are finally open," Kroger CFO Michael Schlotman said at Oppenheimer's Consumer Conference on Wednesday, June 21.
Schlotman said he is excited, in fact he feels "great about it," to finally start seeing if the preparations Kroger put in place to compete with Lidl will stand the heat.
On June 15, Lidl opened its first 20 stores in the U.S., in Virginia, North Carolina and South Carolina. Four of those stores are within one mile of a Kroger location, according to Oppenheimer analyst Rupesh Parikh.
Ahead of the grand opening, Kroger reduced prices at some of its southern stores. TheStreet recently did an online price comparison at Walmart Stores Inc. (WMT) - Get Walmart Inc. Report , Whole Foods Market Inc. (WFM) and Kroger locations in Ohio and found Kroger to be the cheapest option, with our basket totaling $16.58, compared to $19.86 and $38.29 at Walmart and Whole Foods, respectively.
One of the biggest markdowns Schlotman highlighted at Wednesday's conferences was on the price of a half-gallon carton of milk. He said at some of those southern stores, milk is sold for 99 cents, compared to the $1.29 price at the Kroger store in Ohio that TheStreet digitally visited. According to Lidl's website, a half-gallon of 1%-fat milk goes for $1.31.
"We have a lot of customers who are willing to spend more inside the stores and there are a lot of customers who are on a budget," Schlotman said. "It's far less expensive to lose money on milk than lose customers."
Still, Schlotman said, "Each year has been more competitive than the last," within the grocery retail space, but asserted that some of it is "us causing the competition."
Kroger's shares fell 0.4% to $22.46 on Thursday afternoon.
Click here for the latest in business news.
Read More Trending Articles:
Intel Just Got Smoked By AMD In the Race to Unleash a Super Chip
Honeywell and NASA May Have Just Stumbled Upon a Way to Change the Aviation Industry Forever
'Walmart Rx' Takes Center Stage as Walgreens Rite Aid Saga Nears Homestretch
Costco Sees an Extremely Damaging Flush In Aftermath of Amazon's Big Whole Foods Deal