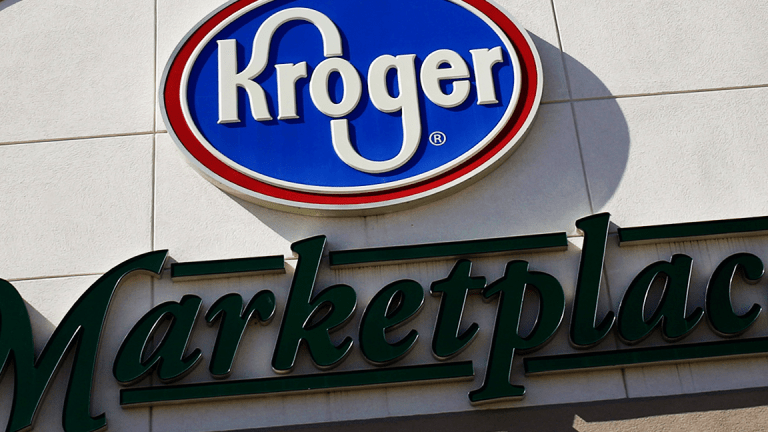 Publish date:
Kroger Shares Tank After Earnings Release: What We Know
Kroger was on the nose with earnings and same-store sales growth.
Kroger was on the nose with earnings and same-store sales growth.
It was good, but apparently not good enough. 
Kroger Co.'s (KR) - Get Report shares fell 12% Thursday, likely reflecting unhappiness among investors who were hoping for the supermarket chain to exceed profit expectations, even though fourth-quarter results hit all its marks. 
The grocer announced its fourth-quarter earnings, ending on Feb. 3, of 63 cents a share, on the nose with Wall Street's forecast. Sales surpassed analyst projections of $30.9 billion, instead delivering $31 billion. The Cincinnati-based supermarket also met analysts' expected same-store sales growth rate of 1.7%, which outperformed its own estimate of 1.1%.
Kroger's fourth-quarter gross margin rate came in at 21.9%, just slightly under its impressive 22.4% from the third fiscal quarter. Fiscal year earnings were $2.04 a share, in line with its expectations. Digital sales, in fact, were through the roof, growing more than 90% in the quarter.
"Customers are letting us know that they see, feel and appreciate our efforts to redefine the customer experience - and they are rewarding us with growing loyalty," CEO Rodney McMullen said in a statement.
The company is targeting identical supermarket sales growth, excluding fuel, to range from 1.5% to 2% this year. The supermarket sector is under pressure due to rising commodity prices, freight costs and wages. Direct competitors and other retailers have raised starting hourly wages. Among them are Walmart Inc.  (WMT) - Get Report , Target Corp. (TGT) - Get Report  , CVS Health Corp. (CVS) - Get Report and Starbucks Corporation (SBUX) - Get Report .
As expected, Kroger will use a "balanced approach" in using its cash benefits under the new tax law, according to McMullen. It will use the savings toward both associates as well as its business model. In its earnings release, Kroger underscored its Restock initiative, in which it aims to ramp up digital sales, invest in retail technology, make better hires and meet sustainability goals.
In 2018, the company expects same-store sales growth to be in the range of 1.5% to 2% and net earnings to be from $1.95 to $2.15. Wall Street was looking for $2.04 a share. It will spend an additional $3 billion in capital investments, excluding potential mergers and acquisitions, Kroger said.