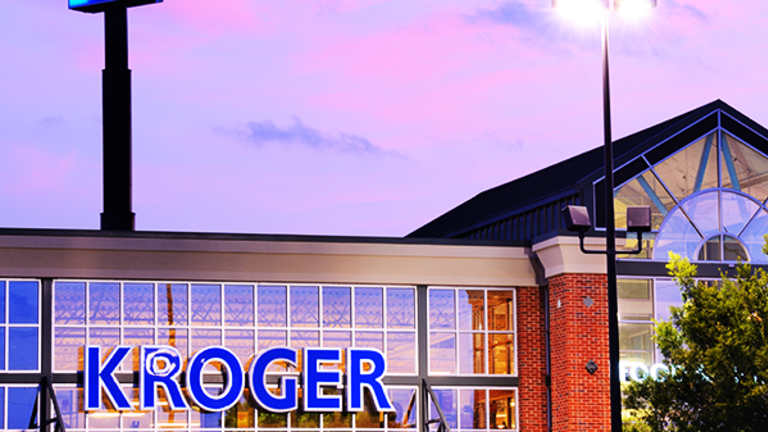 Kroger Thinks Amazon Will Make One Massive Change to Whole Foods
Whole Foods may look drastically different in the future.
Whole Foods may look drastically different in the future.
While Amazon.com Inc. (AMZN) - Get Report and Whole Foods Market Inc. (WFM) contend that the upscale grocer will be operated the same as it's always been, Kroger Co. (KR) - Get Report isn't buying it.
In response to a question about the possible effect the Amazon-Whole Foods proposed merger will have on Kroger, company CFO Michael Schlotman, speaking at the Oppenheimer Consumer Conference on Wednesday, June 21, said he's not too worried about it at this point, but that it will be "interesting" to see how it evolves.
Watch:Did Amazon Make a Mistake Saying There Are No Antitrust Issues With the Whole Foods Deal?
"I really wouldn't speculate on a merger that's out there like that," Schlotman said. "But I'm guessing [Amazon] didn't buy Whole Foods to be a natural organic grocer."
On Friday, June 16, Amazon announced that it placed a $13.7 billion bid on Whole Foods, which operates 444 grocery stores in the U.S. The companies said in a statement at the time that John Mackey, Whole Foods co-founder and CEO, will stay on at the grocer.
"Whole Foods Market has been satisfying, delighting and nourishing customers for nearly four decades," Amazon CEO Jeff Bezos said in the statement. "They're doing an amazing job and we want that to continue." 
Watch:An Organic Look at Whole Foods' Biggest Moments
But, it has been widely speculated that the real reason Amazon is acquiring Whole Foods is to gain a store footprint to boost its delivery capabilities and better compete with Walmart Stores Inc. (WMT) - Get Report . And, reports are circulating that Amazon is already planning to cut jobs and reduce prices at Whole Foods to make it more of a discount destination.
Still, Schlotman said he doesn't view Amazon's takeover of Whole Foods to be "consolidation," and believes Kroger is well equipped to keep competing with the rival grocer even if it is backed by the e-commerce titan.
Kroger's shares were unchanged at $22.61 by Monday's close.
Visit here for the latest business headlines.
Read More Trending Articles:
Jim Cramer on Oil, Amazon, Nvidia, Advanced Micro Devices, Bed Bath & Beyond, Mondelez, Citigroup, Starbucks, Caterpillar, Nucor, U.S. Steel and Bitcoin
Could Walmart Shock Everyone By Spending Over $70 Billion to Buy Costco to Take on Amazon? Well...
Editors' pick: Originally published June 23.