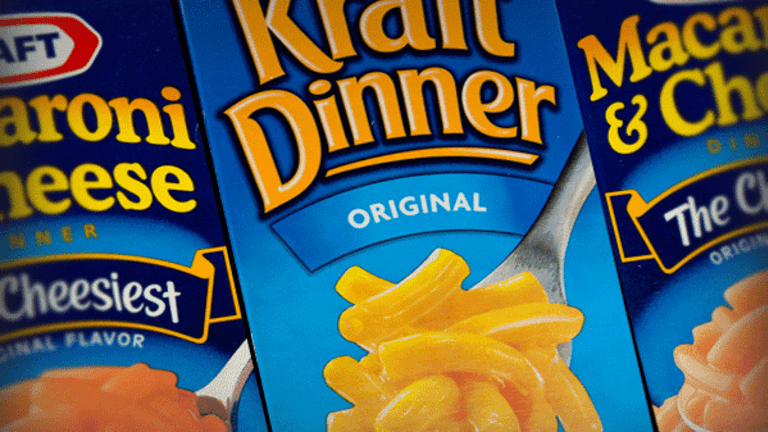 Kraft Heinz Cooks Up Earnings Beat but Could Still Use Unilever
The food giant has just a few weeks till the end of the six-month moratorium after Unilever rejected its $143 billion offer.
The food giant has just a few weeks till the end of the six-month moratorium after Unilever rejected its $143 billion offer.
Kraft Heinz Co.'s (KHC) - Get Report net sales below analysts' expectations underscores the company's need for a new deal.
For the quarter ending July 1, the food giant, backed by Brazilian private equity firm 3G Capital and Berkshire Hathaway Inc. (BRK.B) - Get Report , reported net sales of $6.7 billion, down 1.7% year over year, while earnings of 98 cents per share represent a 15.3% increase from the same period last year. Analysts polled by FactSet expected earnings of 95 cents per share on sales of about $6.73 billion.
Net sales fell 1.2% in the United States, 6.4% in Canada and 4.9% in Europe, rising 1.6% in the rest of the world. Volumes were down 0.5% overall and down 0.8% in the United States.
"Not everything went our way in the first half," CEO Bernardo Hees said on a call with analysts. "Canada, India and commodity costs in the United States are just a few examples."
It's a tough environment for U.S. packaged food companies as they grapple with changing consumer tastes, with Conagra Brands Inc. (CAG) - Get Report , Campbell Soup Co. (CPB) - Get Report and General Mills Inc. (GIS) - Get Report all flat over the past month. Kellogg (K) - Get Report shares closed up 4.3% to $70.36 on Thursday after reporting profit growth driven by cost savings, but even Kellogg's volume fell 5%.
In February, Kraft Heinz bid $143 billion for Unilever NV (UL) - Get Report , quickly withdrawing the bid when shareholders balked.
More of What's Trending on TheStreet:
As Susquehanna analyst Pablo Zuanic pointed out in a note last month, mid-August marks the conclusion of the six-month "put-up-or-shut-up" period, part of a U.K. takeover rule which compels a rebuffed suitor to wait six months before making another offer.
"The impediment to KHC going back for Unilever (nevermind that the original $143Bn price tag could now be ~$200Bn) is neither ULVR CEO Paul Polman, nor British PM [Prime Minister] Theresa May, nor antitrust agencies. It is Warren Buffett," Zuanic wrote. "He, who famously said he prefers to go where he is welcome. With a $30Bn investment in KHC (worth a lot less without further M&A), we think he will come around (3G has had half a year to make its case)."
It's "telling" that Kraft Heinz hasn't made any big acquisitions since the bid: "We think the rebuff/defeat is not something 3G/KHC can tolerate if they plan to continue to roll up the CPG space," he wrote, comparing its serial acquisitions to Anheuser-Busch InBev BUD. Rumors of a Kraft Heinz bid for Colgate-Palmolive Co. CL were "probably just a shrewd decoy."
If Kraft Heinz did make another bid for Unilever, it might require $10 billion to $12 billion in equity contributions each from Berkshire and 3G, a $10 billion "Omaha-funded" preferred stock placement and asset sales worth $25 billion to $35 billion.
Speculating about potential Kraft Heinz asset sales, Zuanic suggests the Oscar Mayer brand could sell to embattled Brazilian meat company JBS for about $9 billion; German family office JAB, which owns chains like Stumptown, Peet's and Caribou Coffee, could buy the coffee business for $9 billion; the frozen food business could sell to Conagra, Pinnacle Foods Inc. (PF) or Lamb Weston Holdings Inc. (LW) - Get Report for $5 billion; and Nestle SA (NSRGY) - Get Report or Danone (DANOY) could buy the baby food business for $5 billion. Unilever's ice cream business could sell for $6 billion, while JAB-backed Coty Inc. (COTY) - Get Report could pay $2 billion for Unilever's cosmetics portfolio, Zuanic added.
Watch More with TheStreet: