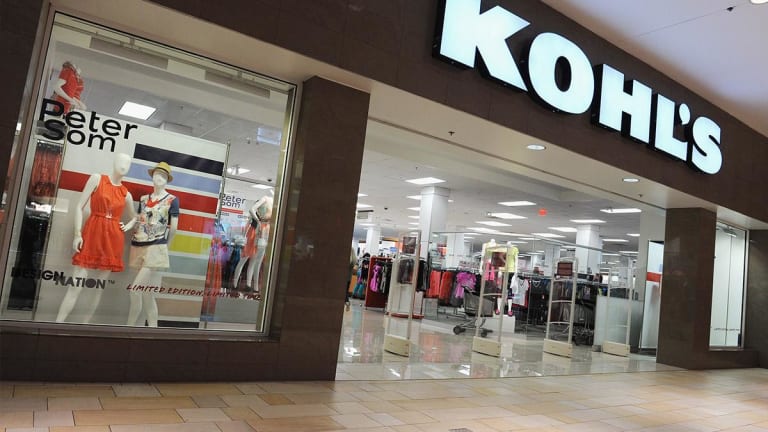 Is Kohl's Stock a Buy After Plunge on Earnings?
Kohl's stock is getting hammered after reporting earnings, hitting new 52-week lows. Here's where it may be heading.
Shares of Kohl's (KSS)  were hammered in Tuesday trading, closing lower by 12.37% to $55.13. The move comes after less-than-thrilling earnings results, as investors try to decide whether this is a warning sign or a buying opportunity.
Fiscal first-quarter earnings for 2020 rang in at 61 cents a share, missing expectations of 68 cents and falling 4.7% year over year. Revenue of $4.09 billion did beat analysts' estimates of $3.97 billion, but fell almost 3% year over year.
Mixed top- and bottom-line results weren't the only issues, though. Management slashed its full-year earnings outlook to between $5.15 and $5.45 per share, down from a prior outlook of between $5.80 and $6.15 per share. Consensus expectations were looking for profits of $6.04 per share.
After such promising expectations -- Kohl's partnering with Amazon (AMZN) and showing solid growth coupled with a big dividend -- the stock is hitting new 52-week lows in Tuesday's session.
Now what?
Kohl's and Amazon are holdings in Jim Cramer's Action Alerts PLUS member club. Here's their take now:
Recall that on Monday, Jim Cramer said regarding retail, "I am looking for bad numbers. So, if we get bad numbers, we are okay, if we get good numbers, hallelujah." Speaking to Kohl's specifically, he said, "I think Kohl's will be disappointing, maybe very disappointing, but it yields four [percent], we are ready to buy all the stock that we sold, much higher. That's our plan."
Want to be alerted before Jim Cramer buys or sells KSS or AMZN?
Trading Kohl's Stock
Expectations were for volatility and Kohl's stock didn't disappoint. It was no secret that the stock had been struggling and was already in bear-market territory ahead of its earnings report. So this move lower is just salt in the wound.
Kohl's stock is now hitting its lowest levels since the first trading week of 2018. Three weeks ago the stock broke below multi-month uptrend support (purple line) and those losses are accelerating to the downside. On the weekly chart above, investors can see how KSS stock effortlessly cut right through the 100-week moving average near $60 like it wasn't even there.
Kohl's stock hit a low of $54.15 in the session and has since bounced from those lows. Will those lows hold, though?
Confidence has to be pretty low, even with shares off its highs by approximately 33%. With management's lower outlook and the company's weakened same-store sales and revenue result from the prior quarter, Kohl's seems to be lacking a catalyst at the moment. Coupled with increased volatility in the broader market and ongoing trade-war tensions, a further decline would not surprise me.
I'm now looking for two things. On a bounce, I want to see KSS stock reclaim $58 and preferably get above the 100-week moving average. On the downside, I want to see if $52.50 holds as support. This prior resistance level could buoy the name, particularly if it comes with a test of channel support (blue line). At that price, the stock would pay a dividend yield of 5.1% as well, potentially drawing in income-oriented investors.
Learn the History of the Companies in Your Portfolio | Behind the Label
This article is commentary by an independent contributor. At the time of publication, the author had no positions in the stocks mentioned.