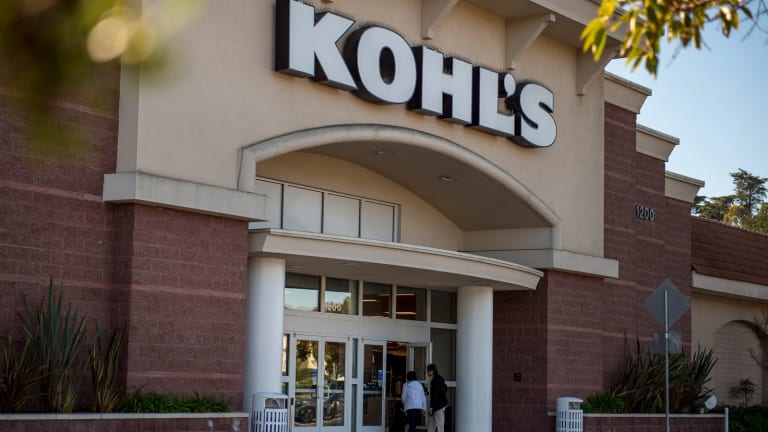 Kohl's Stock Surges After Revealing Strong Holiday Sales
Kohl's hit a 52-week high Monday after the brick-and-mortar retailer defied the market's recent gloom with solid surge in holiday sales.
Kohl's Corp.  (KSS) - Get Report shares surged to a one-year high Monday after the brick-and-mortar retailer boosted its full-year earnings forecast following much stronger-than-expected holiday sales.
Kohl's said it now sees full-year 2017 earnings per share of between $4.10 and $4.20, well ahead of the Street consensus of around $3.65 per share and the firm's own guidance of between $3.60 and $3.80 per shares.
"We are very pleased with our Holiday period sales, which were consistently strong through November and December. All lines of business and all regions reported positive comp sales. As expected, growth in digital demand accelerated significantly in the Holiday period from the year-to-date trend," said CEO Kevin Mansell. "In addition, we experienced positive sales in our stores driven by stronger traffic. I'd like to thank every Kohl's associate across the organization for their commitment to delivering an outstanding Holiday experience for our customers."
Kohl's shares surged more than 8% in early trading, hitting a 52-week high of $59.09 before paring gains to around 3.44% and changing hands at $56.20.
The Menomonee Falls, Wis.-based group also said it expects its full year gross margins to outpace last year's rate sales and general expenses, which include and extra week in this yea'rs period, to increase "at the high end of its prior guidance of 0.5% - 2.0%,"
"The Company's guidance does not include the impact of recent changes in federal tax legislation which are expected to have a positive impact on the Company's effective tax rate and generate a favorable non-cash tax benefit related to the re-measurement of deferred tax balances in 2017," the company said in a Securities and Exchange Commission filing.
Kohl's joins several retailers reporting better than expected holiday sales. 
U.S. holiday retail sales rose 4.9%, the highest rate since 2011, per data from Mastercard SpendingPulse. Online sales spiked 18.1% as people bit at deals for home goods, electronics and winter clothing. Retailers such as Macy's (M) - Get Report and J.C. Penney (JCP) - Get Report announced better than expected sales fueled by gains in departments that sport some of the most expensive stuff in the stores.
J.C. Penney posted a whopping 3.4% uptick in same-store sales in the nine-week stretch ended Dec. 30, while Macy's reported a 1.1% jump for the combined November and December period. J.C. Penney saw strong category performance in home, beauty and fine jewelry, according to CEO Marvin Ellison. The Plano, Texas-based chain also saw double-digit sales growth in its e-commerce platform.
Macy's, meanwhile, saw exceptional performance in active apparel and other clothing categories, as well as home and fine jewelry. Sales improved across all Macy's verticals, including Macy's Backstage, Bloomingdale's and Bluemercury. The Cincinnati-based company also reported double-digit digital sales growth for the period. "Consumers were ready to spend this season, and we delivered with solid execution, fresher inventory, a curated gift assortment and a focus on customer experience," CEO Jeff Gennette in a statement.
-Brian Sozzi contributed to this story.
Watch the replay of Jim Cramer's full NYSE live show:
More of What's Trending on TheStreet: