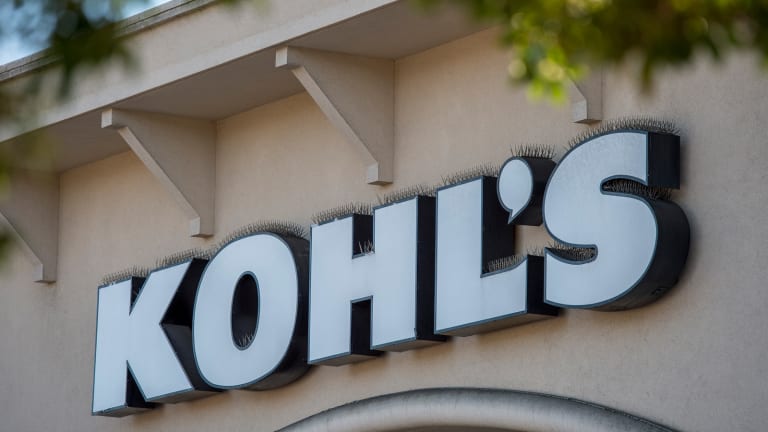 Kohl's Stock Could Be Ready to Bump Higher
Kohl's stock has seen a run of 35% in the past six months, and it may be ready to head higher again after a setback this month.
In the last six months, shares of Kohl's (KSS) - Get Report are up 35%. The stock would have been up more, but it hit a speed bump in December. What's in store for Kohl's now?
In August, I thought Kohl's would stage a dramatic second-half turnaround. I thought the sentiment had become too negative and the company would begin to post better same-store sales figures. Turns out, I was right. Since my article, the shares are up 30%.
On Nov. 10, Kohl's reported third-quarter fiscal 2016 earnings of 80 cents per share, 10 cents better than the consensus estimate. Revenue fell 2.3% to $4.33 billion. Same-store sales fell 1.7% vs. the estimated drop of 1.5%.
Gross margin was flat at 37.1%. Margins would have been higher, but increased shipping costs cut 30 basis points off gross margin. In addition, Kohl's was forced to clear out some leftover spring merchandise that weighed down margins. Management believes it is in good shape on inventories and believes gross margins should expand 35 to 65 basis points in the fourth quarter. Inventory fell 9% per store.
Kohl's management said back-to-school was strong. September was soft, and business began to pick up in October. Management was encouraged by the sales trend and was optimistic on the run-up to the holiday season.
Management reaffirmed its previous full year guidance of $3.80 to $4 per share. The board of directors increased Kohl's existing share repurchase program. Management is now authorized to buy back $2 billion worth of stock.
While Kohl's is not entirely immune to the problems at the larger department stores, it is isolated from fluctuations in tourist traffic. Kohl's doesn't have to worry about a slowdown in tourists visiting its New York City flagship store, because it doesn't have one.
The company is entering the holidays with clean inventory and has some momentum going into the holidays. Management said it was de-emphasizing apparel and accessories that have failed to sell and is focusing on items that are fast movers. The company believes it can use its computer databases to stock the right items in the right regions, instead of stocking all the same items across the entire chain. By localizing its assortment, Kohl's has an advantage over the other department stores. Kohl's has a strong loyalty program -- and we all know Americans love to collect up loyalty points.
Kohl's is trading at just 12.2 times 2016 estimates of $4 and 11.8 times next years estimate of $4.14. Those multiples seem low. I think the stock should trade closer to 15 times estimates or about $60 per share. I still think a higher stock price is in store.
This article is commentary by an independent contributor. At the time of publication, the author held no positions in the stocks mentioned.