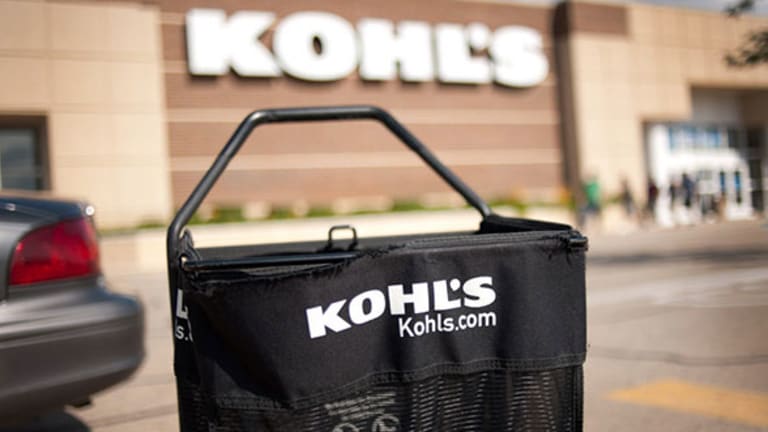 Updated from Aug. 11 with analyst comments. 
Relax, Wall Street. The quarter from Kohl's (KSS) - Get Kohl's Corporation (KSS) Report  wasn't that sexy. 
Shares of the mid-tier department store surged 16% on Thursday as the company smashed through second-quarter earnings estimates, posting $1.22 a share vs. analyst forecasts for $1.03 a share. Executives credited a tight lid on inventory -- which reduces the potential for profit-busting markdowns -- as the main reason for the beat.
But the good news stopped there for Kohl's.
Second-quarter same-store sales fell 1.8% and were below the company's plan, said executives, due mostly to the second straight 5% plunge in customer traffic. Kohl's subsequently took a sledgehammer to its full-year profit outlook, despite its monster second-quarter earnings beat. Executives now expect earnings in a range of $3.80 to $4.00 a share for the year, down from $4.05 to $4.25 a share previously. 
"Kohl's faces a number of broad structural challenges, including increased competition with online retailers and shifts in the way consumers spend their disposable income," said MKM Partners analyst Patrick McKeever in a note Friday.
Kohl's weak second-quarter sales and slashed outlook come on the heels of a steady drumbeat of dreary commentary from department stores this week. 
Macy's (M) - Get Macy's Inc Report reported earnings, excluding one-time items, of 54 cents a share compared to Wall Street forecasts for 45 cents a share. Same-store sales fell 2%. Taking a backseat to the stronger-than-anticipated earnings were details of a new plan by Macy's to close 100 stores, or almost 15% of its current 728 locations, by early 2017. The company plans to take the savings from operating these low-volume stores and reinvest them in its top-performing locations.
"As U.S. department stores' business continues to be soft, the wholesale channel proved to be the largest driver of our [sales] decline during the [second] quarter," Fossil (FOSL) - Get Fossil Group, Inc. Report Chairman and CEO Kosta Kartsotis told analysts on a call Tuesday evening. "We also expect the challenging retail environment to persist -- weaker performance in our wholesale channel, particularly in the U.S., where the business is most challenged, is likely to continue."
Kartsotis' comments come in the wake of the watchmaker reporting an 11% plunge in second-quarter sales in its Americas division, fueled in large part by tepid demand for watches within department stores such as Macy's and Kohl's.
The scene at department stores for Ralph Lauren (RL) - Get Ralph Lauren Corporation Class A Report was also poor during the quarter, with the company warning of continued traffic challenges. Executives promised to slash inventory to department stores in a bid to reduce aggressive discounting.  
Meanwhile, the tone from the handbag makers that dominate sizable portions of department stores hasn't been any better.
This quarter brought "a continued decline in mall traffic trends as well as a decrease in tourism in certain major cities, which negatively impacted our comparable sales performance during the quarter," said Michael Kors (KORS) Chairman and CEO John Idol on Wednesday. Michael Kors saw sales in its Americas wholesale segment -- which is mostly comprised of business at U.S. department stores -- nosedive 8.7% during the second quarter.
The department store sector has been so unsettled in recent months that Michael Kors rival Coach (COH) decided to shutter about 25% of its North American department store locations -- otherwise known as wholesale locations.
"Despite a potential warm-weather [sales] boost in June and July, we're still seeing signs U.S. department stores are struggling," wrote Morgan Stanley analyst Kimberly Greenberger in an Aug. 2 note. She added, "We don't think spending accelerates in the back half of the year, particularly at the high end, given rising macroeconomic uncertainty and the upcoming presidential election."