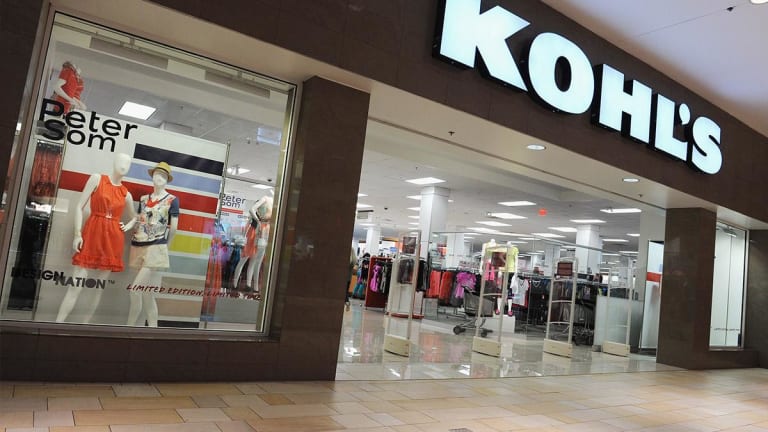 Kohl's Stock Spikes Nearly 12% After Retailer Expands Returns Deal With Amazon
Retailer is expanding its agreement to allow Amazon customers to drop off returns at brick-and-mortar Kohl's stores.
Kohl's Corp. (KSS) - Get Kohl's Corporation (KSS) Report  soared by nearly 12% Tuesday after the retailer said it would be expanding its agreement with Amazon (AMZN) - Get Amazon.com, Inc. Report to allow returns from the online giant to its brick-and-mortar stores.
Kohl's said the agreement, which was first launched in 2017 around 100 pilot stores, will now roll out around the retailer's 1,150 locations nationwide, allowing Amazon customers to bring unpacked returns for no extra fees. Kohl's said the program is likely to impact group sales, as well as its selling and administrative expenses. 
"We are thrilled to bring Amazon Returns at Kohl's to all of our stores across the country," said CEO Michelle Gass. "Amazon and Kohl's have a shared passion in providing outstanding customer service, and this unique partnership combines Kohl's strong nationwide store footprint and omnichannel capabilities with Amazon's reach and customer loyalty."
"This new service is another example of how Kohl's is delivering innovation to drive traffic to our stores and bring more relevance to our customers," she added.
Kohl's shares rallied 11.9% to close at $75.48 on the expanded arrangement, which analysts say works well for both companies.
For Amazon, the deal allows customers to easily return unwanted items. For Kohl's, the arrangement brings in lots of foot traffic that might buy new items after dropping returns off -- at least in Jim Cramer's view.
"People love the ease of pulling up at a Kohl's .... dropping their unwrapped wares for return and then, yes, going back to the front of the store buying something along the way," Cramer said recently in lauding the pilot deal during a VIP call with members of his Action Alerts PLUS club for investors.
In fact, Cramer and his Action Alerts PLUS team of analysts liked Kohl's initial Amazon deal so much that they had just used some weakness Monday to buy more KSS shares for Cramer's charitable trust. "We are reminded of how the stock acted last quarter, positively reacting to the expansion of the Amazon partnership, which more than offset management's soft first quarter guide," Cramer and his team wrote in announcing the purchase. (To read their full analysis, click here.)
Earlier this spring, Kohl's posted stronger-than-expected fourth quarter earnings Tuesday and said it would buyback as much as $500 million in shares this year as the department store chain notched solid same store sales over the holiday period.
Group sales, Kohl's said, fell 3.3% to $6.823 billion but were also ahead of analysts' estimates of $6.68 billion, while same store sales rose 1% from last year, well ahead of the 0.3% estimate compiled by Refinitiv.
Looking into 2019, Kohl's said it sees same store sales either flat to last year or rising by 2%, and said it plans to repurchase between $400 million and $500 million in company stock.
Learn the History of the Companies in Your Portfolio | Behind the Label