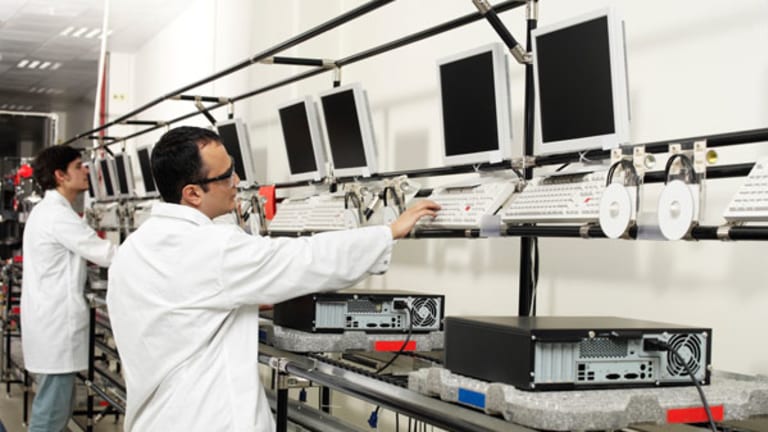 Kirby's Earnings Fueled by Higher Revenue
Marine transportation and diesel engine services surge.
Once these most recent quarterly results are finalized, they will be run through TheStreet.com Ratings' model and our ratings will be adjusted accordingly. To keep up to date on all of our ratings, visit TheStreet.com Ratings Screener.
On January 28, 2009,
Kirby
(KEX) - Get Report
recorded an 11.8% surge in its Q4 FY08 earnings, boosted by higher revenue. Earnings ascended to $38.41 million or $0.72 per share from $34.35 million or $0.64 per share a year ago. The quarterly earnings included a $6.00 million or $0.07 per share increase in allowance for doubtful accounts. The latest quarterly earnings missed the consensus estimate of $0.79 per share.
Revenue grew 6.1% to $326.68 million from $307.85 million a year ago, driven by an increase in its Marine Transportation and Diesel Engine Services revenue. Marine Transportation revenue rose 6.7% to $265.46 million from $248.70 million, driven by consistent demand in the Gulf Intracoastal Waterway, partially offset by weak demand in the upriver movements of petrochemicals. Additionally, total ton miles declined 21.7% to 3.29 billion from 4.21 billion, while revenue per ton mile rose to 7.7 cents from 5.7 cents a year ago. Diesel Engine Services revenue totaled $61.22 million, up 3.5% over the prior-year quarter, as customers in high-speed market recovered from the disruptions of Hurricanes Gustav and Ike, offset by weak demand for service and direct parts sales in the medium-speed market.
At the end of Q4 FY08, the company's Marine Transportation segment had total active barrel capacities of 17.50 million and total number of 914 active tank barges. During the quarter under review, average cost per gallon of fuel consumed increased to $2.59 from $2.49 a year earlier.
For FY08, Kirby's revenue grew 16.0% to $1.36 billion from $1.17 billion in the previous year, supported by revenue growth across segments. Accordingly, earnings advanced 27.4% to $157.17 million or $2.91 per share from $123.34 million or $2.29 per share.
Looking ahead, KEX expects its Q1 FY09 EPS to be in the range of $0.45 to $0.55, reflecting a growth of 19.0% to 34.0% over Q1 FY08 earnings. For FY09, the company anticipates EPS of $2.40 to $2.65, reflecting a 9.0% to 18.0% decrease over FY08 earnings.
A detailed report covering this quarterly release is now available. To purchase the report, click here.