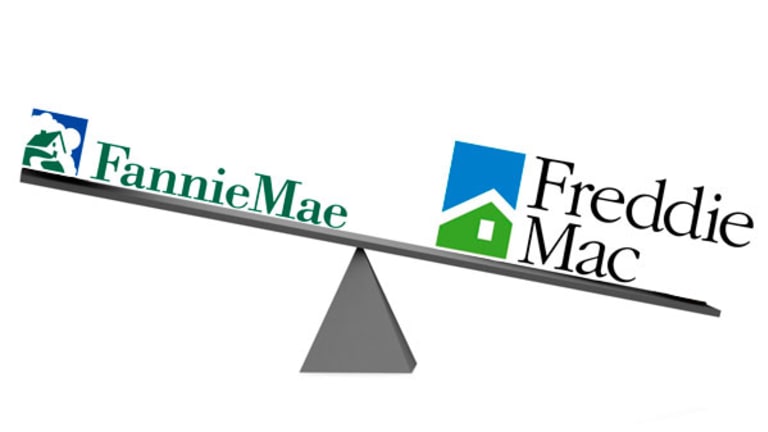 Killing GSEs Could Kill Fixed-Rate Mortgage Loans, Says Bove
The outspoken bank analyst expects Fannie Mae and Freddie Mac to survive in some form.
NEW YORK (TheStreet) -- Politicians of all political stripes love to bash Fannie Mae (FNMA) and Freddie Mac (FMCC) . However, unwinding the government sponsored enterprises (GSEs) could be very dangerous for the U.S economy, according to Rafferty Capital Markets analyst Richard Bove.
"Historians will relate that the reason that the nation has 20 and 30 year fixed rate mortgages is because the GSEs buy them," Bove wrote in a note to clients on Friday.  The analyst went on to say that "If the GSEs are gone so will be these mortgages. Banks might make 15 year self-amortizing mortgages but it is very unlikely that they will carry fixed rates. The standard mortgage in the United States is like to be a 10-year, self-amortizing, adjustable-rate mortgage."
What Bove is talking about is the possible consequences of plans being bandied about in Washington to do away with Fanne Mae and Freddie Mac, which together purchase the great majority of the mortgage loans being originated in the United States.
Fannie Mae and Freddie Mac were taken under government conservatorship at the height of the credit crisis in September 2008. The U.S. Treasury holds $117.1 billion in senior preferred Fannie Mae shares and $72.3 billion in senior preferred Freddie Mac shares. Under their modified bailout agreements, the GSEs must pay all earnings to the government in excess of minimal capital cushions of $3 billion apiece.
Following their next dividend payments in December, the government will have received $185.3 billion in dividends from Fannie and Freddie, for a five-year investment of $189.4 billion. But there's no mechanism in place for either GSE to repurchase any government-held preferred shares.
This means that common shareholders of Fannie and Freddie, along with their junior preferred shareholders, are to remain out in the cold. Fairholme Capital and other institutional investors holding common and/or junior shares of Fannie and Freddie have filed multiple lawsuits against the government, saying the modified conservatorship was an illegal seizure of their property.  Many institutional investors -- including Bill Ackman's Pershing Square -- see a chance for huge gains on the common and/or junior preferred shares, depending on how the battle for the future of the GSEs works out.  There's no denying that the government's return on the GSE bailout is turning out to be a hefty one. 
Fairholme Capital founder Bruce Berkowitz on Nov. 13 proposed that his mutual fund management firm and a group of private equity investors take over the operating assets of Fannie and Freddie, with his firm and other institutional investors providing $17.3 billion in capital.  Under Berkowitz's plan, the lawsuits would be dropped, the bulk of the GSE's balance sheets would continue to be run down by the government and two new companies would be formed to take over the GSEs leading role in the U.S. secondary mortgage market. The proposal also calls for private investors to receive $34.6 billion from Fannie and Freddie in exchange for their preferred shares in the GSEs.
Based on comments from the Obama administration and members of Congress, "killing Fannie and Fannie" is still quite a popular notion in Washington. However, the political reaction to Berkowit'z offer was quite negative. 
So what does the future hold for Fannie and Freddie?  The investors placing bets on the constitutional question over the government's modified bailout plan, under which Uncle Sam gets huge dividend payouts from the GSEs while allowing no repurchase of government-held preferred shares, may see a huge payday somewhere down the line.  But the GSEs could still wind up being shuttered.
It's easy to say that private capital will step in and replace Fannie and Freddie as humungous buyers of fixed-rate mortgage loans, but not everyone believes it can happen.
According to Bove, the wind-down of Fannie and Freddie supported by President Obama and many members of Congress could force banks to stop making fixed-rate mortgage loans, out of fear that they won't be able to sell them.
In case you're wondering why banks are typically desperate to get fixed-rate mortgage loans off their books, it is because of the tremendous interest rate risk of these assets.  If you have a fixed-rate mortgage loan portfolio paying an average rate of 4.0% and short-term interest rates rise high enough that you're paying 5% on passbook savings accounts, you might as well shut your doors that day. 
Memories are short.  Short-term rates have been near zero since late 2008, when the Federal Reserve set the target range for the federal funds rate at zero to 0.25%.  But that won't last forever.  And in the 80s, scores of savings and loan associations failed when high interest rates forced them to pay higher rates on deposits than they were earning on their loan portfolios.
Bove wrote that "In the past week I have contacted a small number of large banks and asked whether they would originate and hold 20 and 30 year self-amortizing, fixed-rate mortgages if there was no Fannie Mae or Freddie Mac (FRE/$2.46/NR). The universal answer was 'No!'"
You may be aware that fixed-rate mortgage loans are pretty rare outside the United States.  They are rare because most other countries don't have what has for decades  been, effectively, a nationalized, uniform set of standards for underwriting fixed-rate mortgage loans so they can instantly be sold -- through Fannie and Freddie -- into a highly liquid secondary market.
A fixed-rate mortgage can provide a great deal of financial security, especially if the loan is locked in at a time of low long-term interest rates, such as we have seen over the past few years.  But an adjustable rate loan can be quite painful for a borrower if and when rates rise quickly. 
The disappearance of fixed-rate mortgage loans would "increase the monthly cost of owning a home," according to Bove. "This in turn will cause housing prices to fall wiping out the equity in many units. The decline in wealth of the vast majority of households that will result is likely to impact spending habits and economic growth," he wrote.
"To my way of thinking the impact will be so profoundly negative that it will not happen. The elimination of these instruments would, in fact, be enough to finally get the majority of Congress thrown out."
And that's why Bove expects the GSEs to survive in some form.  "The question is what form they will take if they stay," he wrote.
The government's epic bailout of American International Group (AIG) - Get American International Group, Inc. Report  -- to the tune of $182 billion, including assistance from the  -- ended up quite well, with the company surviving, the government converting its preferred shares to common shares, which it sold at a profit, and the entire deal resulting in an "overall $22.7 billion positive return," according to the U.S. Treasury.

A deal like that for the GSEs would be a bonanza for common and junior preferred shareholders, as well as the government, but would would no doubt raise hackles.  Maybe the politicians could make such such a deal while putting in place better controls to make sure their own fatuous "housing goals" wouldn't cause a future lowering of GSE loan underwriting standards, which were a major contributing factor to the housing bubble and bust.  A strengthening of the GSEs, through better policies and supervision by the Federal Housing Finance Agency while renaming the GSEs, could sweeten the deal enough to provide political cover for the politicians.
"If the courts agree that the U.S. Treasury has over-stepped its mandate in the Housing and Economy Recovery Act (HERA) of 2008, then Fannie Mae is likely to be put back into the private sector," Bove wrote.
He added that "there could be a 500% price appreciation opportunity in this stock if I am right. If I am wrong the value is zero."
Fannie Mae's common shares were down 2% in late morning trading to $2.65, while Freddie's shares were also down 2% to $2.41.
data by YCharts
RELATED STORIES:
Must-See Chart: 'Worst' Big Bank Stocks of 2013
Buffett Banks Are Poised to Return Most Capital in Fed Stress Tests
Banks Can Absorb $155 Billion in Crisis-Era Litigation: S&P6
4 Takeaways From Recent Housing Data
Don't Bail Out of the Markets...Yet: Oaktree's Marks
Bracing for Bubbles as Credit Risk Surges to Zero
JPMorgan Torpedoes Bank Industry Earnings
A Chart You Should See: Best Big Bank Stock Performers
-- Written by Philip van Doorn in Jupiter, Fla.
>Contact by Email.
Philip W. van Doorn is a member of TheStreet's banking and finance team, commenting on industry and regulatory trends. He previously served as the senior analyst for TheStreet.com Ratings, responsible for assigning financial strength ratings to banks and savings and loan institutions. Mr. van Doorn previously served as a loan operations officer at Riverside National Bank in Fort Pierce, Fla., and as a credit analyst at the Federal Home Loan Bank of New York, where he monitored banks in New York, New Jersey and Puerto Rico. Mr. van Doorn has additional experience in the mutual fund and computer software industries. He holds a bachelor of science in business administration from Long Island University.