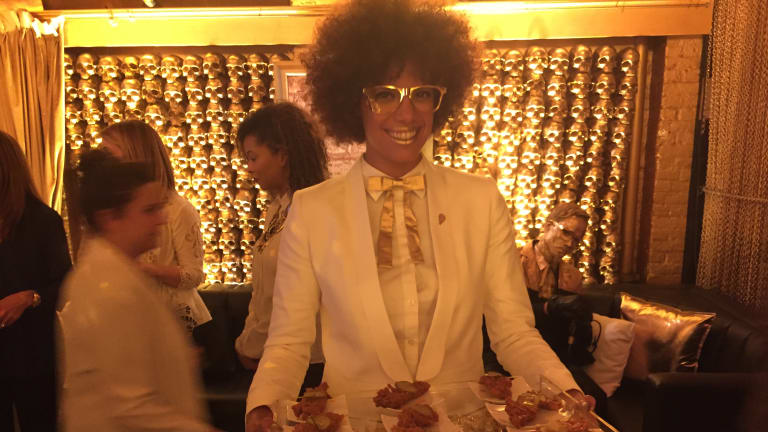 KFC Threw an Insane Party to Reveal Its Newest Pieces of Kentucky Fried Chicken
Here comes KFC's latest fried creation.
Editors' pick: Originally published Jan. 26.
Who knew fried chicken from a fast-food joint was so deserving of such extravagance. 
On Wednesday evening, TheStreet attended a launch party in New York City for KFC's (owned by Yum! Brands (YUM) - Get Free Report ) newest fried chicken coined Georgia Gold Chicken. Alongside females dressed like KFC's founder Colonel Sanders, human mannequins decked out in gold paint and walls with gold skulls there sat KFC's latest pieces of fried greatness. The flavor of Georgia Gold is based on the tangy mustard BBQ sauce found in South Carolina and Northern Georgia. KFC's Chief Marketing Officer Kevin Hochman tells TheStreet the new flavor also reflects honey mustard dipping sauce being one of its more popular asks by customers. Hochman added that Georgia Gold was its most well received test in recent memory, doing quite well in the two markets of Mobile, Alabama and Pittsburgh, Pennsylvania. 
No word on whether KFC has sent samples of Georgia Gold to President Trump -- who loves both gold and the Colonel. 
Here are some photos from the event.
Human mannequins dripped in gold. 
dd
KFC chicken buckets as artwork. 
ddd
Mannequins straight chilling. 
dd
And here is the new fried chicken (which comes boneless and bone-in).