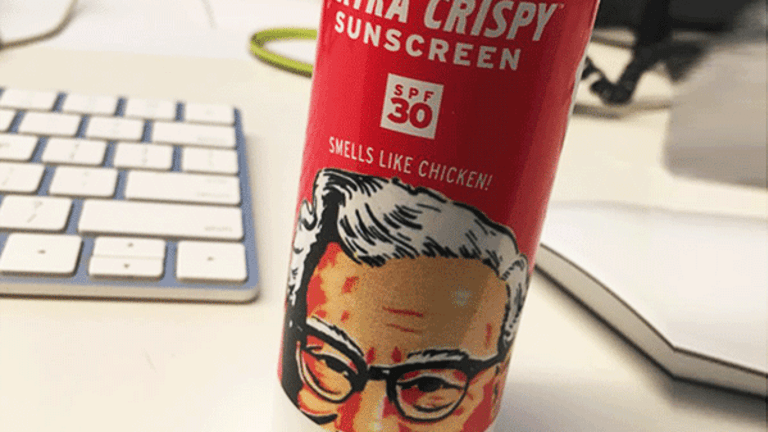 Apparently KFC is in need of some marketing during the dog days of summer.
The fried chicken chain owned by Yum! Brands (YUM) - Get Yum! Brands, Inc. (YUM) Report , which has about 4,500 locations in the U.S., began distributing 3,000 bottles of SPF 30 sunscreen for a limited time on Monday. The kicker? The sunscreen is meant to smell like fried chicken and keep one from getting too crispy in the sun.
TheStreet took several samples of the sunscreen down to people on Wall Street to gauge their reaction (video below and on our Facebook page). Some thought it smelled like chicken, others were unsure why a fried chicken joint was trying to hawk sunscreen. 
It marks the second marketing stunt by KFC this year in which it has used its fast-food to infuse some fun into a common consumer product. Earlier in the year, the company debuted edible nail polish in Hong Kong that was meant to be "finger lickin' good," per the company's well-known tagline. In 2015, the company released an edible coffee cup in the U.K. that was made from a cookie and chocolate. 
One could make the argument that KFC doesn't need such gimmicks to drum up business. The chain has been a solid performer for Yum! Brands this year, fueled by demand for $5 containers of fried chicken and new products such as an extra spicy blend. Same-store sales for KFC rose 2% in the first quarter, and by 1% in the second quarter. 
This writer's take on the chickenscreen -- it didn't cause a rash (which is great, as it's not made by a consumer products giant such as Procter & Gamble (PG) - Get Procter & Gamble Company Report , but a marketing company) and had a faint fried chicken smell. Not sure if one would want to smell like a bucket of friend chicken on the beach, though.