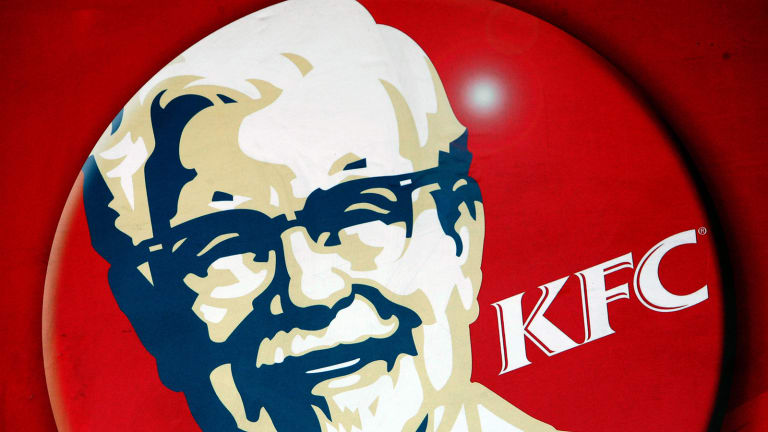 KFC Is Getting Serious About Vegan Menu Options in the U.S.
Many fast-food companies are considering adding plant-based meat to their menus.
Fast food chicken restaurant KFC, a subsidiary of Yum! Brands (YUM) - Get Yum! Brands Inc. Report , is getting serious about bringing vegan options to its U.S. menu as it gears up to introduce vegan items at its locations in the U.K. later this year.
The company confirmed earlier this year that it would bring the menu items to the U.K., and now, in an interview with Business Insider, Kevin Hochman, the president of KFC's U.S. business, said vegan menu items are a possibility on this side of the Atlantic also. 
"If you would have asked me six months ago, I would have said no, to be completely honest with you. Because, we're about fried chicken," Hochman said. "In the last two weeks I've made several appointments with some of the big guys, just to figure out - what does alternative protein look like in chicken?"
This reconsideration comes after industry watcher inMarket published a report showing that Burger King franchises in the St. Louis area that offered the Impossible Whopper, made by privately held vegan food maker Impossible Foods, saw an 18% increase in traffic, while Burger King stores nationwide without the burger reported a 1.8% traffic decrease. Burger King is owned by Restaurant Brands International (QSR) - Get Restaurant Brands International Inc. Report .
Beyond Meat (BYND) - Get Beyond Meat Inc. Report , the publicly traded Impossible Foods rival, could be another option for fast-food companies like McDonald's (MCD) - Get McDonald's Corporation Report , Chick-fil-A and others who in recent months have intimated that they too could jump into the plant-based meat ring.