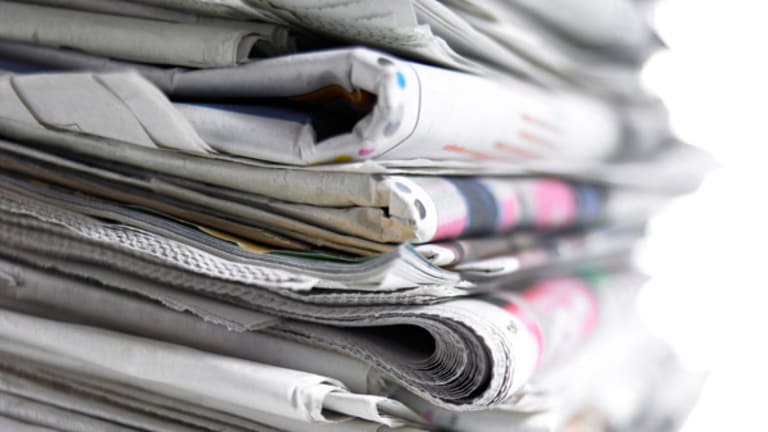 Key Events Nearing for Biogen Idec, but Upside Looks Limited
Expect the company to focus on relaunching Tysabri and extending Rituxan this quarter.
Editor's note: This column by Michael Latwis is a special bonus for TheStreet.com and RealMoney readers. It first appeared on Street Insight on Feb. 14 at 3:13 p.m. EST. To sign up for Street Insight, where you can read Latwis' commentary in real time, please click here .
Investors tuning in to
Biogen Idec's
(BIIB) - Get Free Report
call later today will be listening for hints on the direction of two key products, Tysabri and Rituxan. In particular, there will keen interest in how much the firm will be spending on the relaunch of Tysabri in the multiple sclerosis (MS) market, and the extension of the Rituxan franchise in a new rheumatoid arthritis (RA) indication
As for today's numbers, Biogen's quarterly earnings have been tough to call recently, with no formal guidance from management and a significant amount of ongoing restructuring activity. The consensus is expecting 48 cents a share in quarterly earnings on about $626 million in revenue. This would represent an improvement from last quarter, when less favorable currency effects and some overseas inventory adjustments took a toll on Avonex sales.
The company is expected to record $30 million to $40 million in additional restructuring charges this quarter, as part of its extensive $200 million to $300 million program to "right-size" its business. An important swing factor in the quarter is likely to be this cost, with uncertainty over the timing of a pickup in marketing and development spending behind the relaunch of Tysabri. The bulk of these costs may be reflected in the first quarter of 2006, instead of fourth-quarter 2005 results.
On the product side, the company's largest franchise, its multiple sclerosis treatment Avonex, is expected to show a bit of an improvement this quarter. Although currency and overseas market competition remain headwinds, the work-through of European inventory adjustments should support sequential growth from $375 million last quarter. In addition, the product appears to have maintained a stable share in the U.S. market. Analyst forecasts for Avonex range from $374 million to $410 million, with the midpoint near $390 million.
The company's other main product line is the oncology treatment Rituxan, which is indicated for non-Hodgkin's lymphoma. Biogen splits Rituxan profits with
Genentech
(DNA)
in the U.S. market and records its share in joint-venture/collaboration royalties. Genentech recently reported a 13% gain and $484 million in fourth-quarter sales for Rituxan.
This should allow Biogen to record $185 million to $190 million in joint-venture royalties, though the consensus range is slightly wider, at $182 million to $205 million. Rituxan has already attained a very high level of penetration in the non-Hodgkin's lymphoma market, despite gaining approval as a first-line therapy just this week.
Much of the focus this quarter will be on the firm's spending plans for Tysabri and Rituxan. Biogen's Tysabri partner,
Elan
(ELN)
has already stated its plans to invest a total of $300 million in the promotion and ongoing development of Tysabri during 2006.
According to the co-promotion agreement, this amount should be split evenly with Biogen. Investors will be looking for a confirmation from management and the timing of these costs, as well as the company's approach to the new RA market opportunity for Rituxan. Increased clarity on these fronts will help shape the near-term earnings outlook for Biogen.
The key regulatory review dates are fast approaching for Biogen, with an FDA ruling on Rituxan in RA expected by Feb. 28, and a March 7 advisory panel review scheduled for Tysabri. The final FDA ruling on Tysabri is expected to take place by March 26.
Although there may be some short-term trading opportunities in BIIB shares around these key events, I don't expect meaningful upside in the share price because of the relatively modest near-term market opportunities for both of these indications.
The consensus now expects the market return of Tysabri in both the U.S. and Europe this year, with a limited indication in patients failing prior MS therapies. The highly publicized safety concerns of Tysabri, as well as anticipated new safety guidelines and ongoing patient monitoring requirements, should lead to gradual market acceptance.
On the basis of this near-term outlook and generally cautious market sentiment, I expect the shares to continue to trade at a modest discount to large-cap biotech peers. The company has the best opportunity to provide a sustained lift to market sentiment and the share valuation by showing greater progress on its new product development and licensing initiatives. I believe the company will be more likely to build evidence of its progress on this front over a longer term.
Last quarter, Biogen reported weaker-than-expected results with disappointing top-line trends and a number of special items and restructuring charges. Adjusted earnings of 36 cents still fell short of consensus forecasts that were in the 42-cent-per-share range. Total revenue advanced 10% to $596 million but also missed consensus forecasts of around $621 million.
The company's lead franchise, Avonex slowed to 8% growth with $375 million in sales. This was below market forecasts in a $382 million to $410 million range. The Rituxan franchise was also slightly weaker sequentially with a 14% gain to $182 million. Special items inflated expenses in the quarter, with R&D spending up 35% to $227 million, due to collaboration payments to
Protein Design Labs
(PDLI) - Get Free Report
.
The company also took a $25 million writedown on Zevalin inventory, which was split between SG&A and cost of goods sold. As a result, SG&A was up nearly 22%, while the gross margin dropped 300 basis points from last year. Biogen's cash balance was down to $611 million at quarter-end.
Management also provided investors with its first financial guidance in quite some time. The company is forecasting non-GAAP earnings in a range of $1.95 to $2.10 a share for 2006. The company is expecting a modest revenue contribution from the anticipated midyear launch of Tysabri in the U.S. market. The company also forecasted a stable level of capex next year in a $200 million to $275 million range.
At the time of publication, Latwis had no position in the stocks mentioned.
Michael Latwis is Director of Health Care Content at TheStreet.com Professional Products. Michael has 10 years of investment experience, most recently with Barclays Wealth management division where he was Associate Director of Research. His responsibilities included portfolio management and research of global pharmaceutical stocks as a senior equity analyst. Michael covered companies in the pharmaceutical and specialty pharmaceutical sectors as well as biotech, medical technology, and healthcare services. He has also covered retail and media stocks and was previously associated with Lazard Freres and Fiduciary Trust. Michael has an MBA from Pace University.