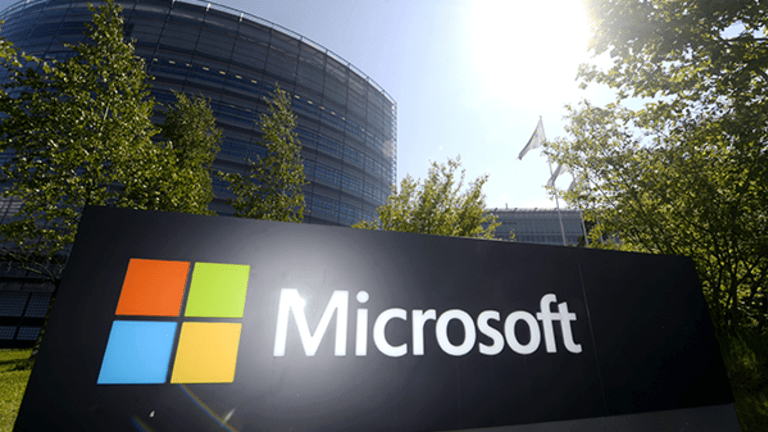 Key Earnings Takeaways From Microsoft, Seagate and Other Big Tech Names
Strong results and guidance from several prominent tech firms yield valuable insights on how different parts of the sector are faring.
I previously covered earnings reports from Alphabet (GOOGL) - Get Free Report , Intel (INTL) - Get Free Report , IBM (IBM) - Get Free Report , Qualcomm (QCOM) - Get Free Report , Alibaba (BABA) - Get Free Report , Skyworks (SWKS) - Get Free Report and Netflix (NFLX) - Get Free Report , and will be covering Apple (AAPL) - Get Free Report , Facebook (FB) - Get Free Report , Tesla (TSLA) - Get Free Report and others in the coming weeks. Here are some thoughts on the numbers shared by other notable tech names during what has been a pretty strong earnings season to date.
Microsoft
The software giant's December quarter numbers suggest the enterprise/cloud-focused transformation strategy pushed by CEO Satya Nadella continues paying off. But Microsoft's (MSFT) - Get Free Reportfiscal second quarter beat had a lot to do with its Windows and Office cash cows.
A stabilizing PC market helped Windows OEM revenue (comes from PC makers) and Windows commercial and cloud services revenue (comes mostly from businesses) each rise 5% annually last quarter, an improvement from the flat growth each business posted in the fiscal first quarter.
And the transition from traditional Office license sales to Office 365 subscriptions has once more made Office a growth business, particularly on the consumer side. Office consumer revenue rose 22% annually, with 365 subs growing by another 900,000 sequentially to 24.9 million. Office commercial revenue grew 5%, with 365 commercial seats rising 37% annually. Google is stepping up its efforts to win over enterprises with its G Suite (formerly Google Apps), but its impact on Microsoft remains limited for now.
Elsewhere, Azure revenue grew 93% -- a slowdown from the 116% growth seen in the first quarter, but still outpacing most cloud infrastructure rivals. That helped total server products and cloud services revenue grow 12% -- Oracle, IBM and many other enterprise software rivals can only wish they were seeing similar growth.
Some weak spots: Enterprise Services revenue (hurt by cloud adoption) fell 4%, and gaming revenue (hurt by the Xbox One's age and Sony's PlayStation 4 Pro launch) fell 3%. Surface revenue fell 2%, but it's worth keeping in mind Microsoft refreshed its Surface tablet line in late 2015. Growth should pick up in a couple of months if rumors of a March Surface Pro 5 launch prove accurate. Phone revenue fell 81%, but with Microsoft unloading its feature phone business and Windows Phone officially an also-ran in the mobile OS wars, that's hardly a surprise.
Sales guidance was above consensus, but may have only been in-line if not for the impact of the LinkedIn deal, which closed in December and hadn't been factored into all analyst estimates. Regardless, Microsoft has a history of guiding conservatively and then beating the numbers it guided for without much trouble.
Seagate and Western Digital
Rumors of the hard drive's death are greatly exaggerated. With the help of a stabilizing PC market, a healthy pricing/margin environment (made possible by industry consolidation) and strong orders for high-capacity enterprise drives from cloud giants, Seagate (STX) - Get Free Report and Western Digital (WDC) - Get Free Report trounced fiscal second-quarter estimates and issued above-consensus third-quarter guidance.
Western, which bought major NAND flash memory vendor SanDisk last May, is also benefiting from a strong NAND demand/pricing environment.
In addition to the top-line strength, it's hard to overlook the margin strength both Seagate and Western are seeing, as industry consolidation, job cuts and (following 2015 go-aheads from Chinese regulators) the integration of previously-acquired hard drive units all provide a boost. Seagate says it's now confident in its ability to keep gross margins at the high end of a 27% to 32% target range.
But a lot of the easy money may have already been made here. Hard drives might not be disappearing, but PC drive sales continue falling at a double-digit clip as consumers and businesses embrace solid-state drives (SSDs) thanks to their performance, size, power and reliability benefits.
In addition, both cloud infrastructure and flash storage adoption are weighing on sales of high-margin, mission-critical, enterprise drives. And with regards to Western, the giant investments being made by Intel and Chinese firms in ramping production of high-density 3D NAND flash chips will likely spell a tougher NAND pricing environment in time.
VMware
As is the case for the hard drive giants, investors are a lot more optimistic about VMware (VMW) - Get Free Report than they were 12 months ago, as buybacks and job cuts boost earnings and growth businesses offset declines elsewhere. License revenue growth (8% in the fourth quarter) is easily better than it was at the start of the year, as is bookings growth (13%).
The NSX networking virtualization software platform, a long-term threat to Cisco Systems (CSCO) - Get Free Report thanks to how it makes it easier to deploy commodity switches, has turned into a key growth driver. NSX's license bookings rose over 50% annually, and the business is now on a $1 billion annual bookings run rate. The vSAN storage virtualization platform saw license bookings rise over 150%, and the end-user computing business (covers PC virtualization and enterprise mobility software, competes with Citrix Systems (CTXS) - Get Free Report) posted mid-teens license bookings growth.
VMware's core vSphere server virtualization business, pressured by cloud adoption and competition from Microsoft and others, remains in a long-term decline. But the company is convincingly showing it can deliver moderate growth in spite of this decline.
Going forward, it's worth keeping an eye on the progress of VMware's recent partnership with Amazon (AMZN) - Get Free Report to provide a managed service for running vSphere workloads both locally and on Amazon's cloud. If the service takes off, it could help offset the vSphere revenue loss that happens when workloads migrate to Amazon's standard EC2 cloud computing services.
Lam Research and KLA-Tencor
Last week provided quite a bit of good news for chip equipment makers. Intel set a 2017 capital spending budget of $11.5 billion to $12.5 billion, up from reported 2016 capex of $9.5 billion and better than expected. And Lam Research (LRCX) - Get Free Reportand KLA-Tencor (KLAC) - Get Free Report, two top-five chip equipment makers that were set to merge last year before regulators stepped in, each beat calendar fourth-quarter estimates and provided above-consensus first-quarter guidance.
KLA's orders jumped to $1.1 billion last quarter from $865 million a year earlier, with strong demand reported from DRAM makers, NAND flash makers and chip foundries. Lam's sales rose 33% last quarter, and the company reported its foundry and NAND shipments respectively rose 40% and 80% in 2016. It also talked up its potential to gain share in each segment as tech trends lead to greater demand for its etching and deposition tools.
3D NAND investments continue lifting the industry's growth, and it looks like DRAM makers are now willing to up their spending in response to healthier business conditions. And Intel, after years of keeping its capex down, is finally dialing up its spending as it tries to keep pace with the foundries. Gartner's recent forecast for wafer fab equipment (WFE) sales to rise 5.7% in 2017 to $36 billion might end up being a little conservative.
Texas Instruments and Maxim Integrated
Analog/mixed-signal chipmakers are shaping up to be among the largest beneficiaries of the chip industry's rapid consolidation. Merging companies have reaped big cost synergies and better negotiating leverage with customers, and even those whose who haven't been party to a large deal, such as Texas Instruments (TXN) - Get Free Report and Maxim Integrated (MXIM) - Get Free Report, are benefiting from a better pricing/margin environment.
TI beat estimates while reporting 25% net income growth on 7% revenue growth. Maxim did so while reporting 43% adjusted net income growth on 8% revenue growth. Both firms also issued guidance that was above consensus at the midpoints, particularly for EPS.
Strong automotive and industrial/medical demand is also giving each company a boost, as products in both end-markets become smarter, more connected and more electrified and power-efficient. The automotive market, in particular, is shaping up to be a big chip industry growth driver over the next five years. TI got 51% of its 2016 revenue from auto and industrial; Maxim got 44% of its December quarter revenue from those two markets.
SAP
Like clockwork, SAP's (SAP) - Get Free Reporttop-line performance continues to outpace archrival Oracle's (ORCL) - Get Free Report. The German software giant's cloud and traditional software revenue grew 7% annually (6% in constant currency) in the fourth quarter, nearly even with the third quarter's 8% clip and much better than the 2% growth Oracle (with the help of acquisitions) saw in its November quarter. It also reported 40% cloud bookings growth, and guided for cloud and software revenue to be up 6% to 8% in constant currency in 2017; dollar-based growth should be stronger, given a weak euro.
Strong cloud subscription and support revenue growth -- it was at 31% in the fourth quarter -- is certainly giving SAP a lift. But it also helps that the company's traditional software license revenue remains (in spite of cloud cannibalization) stable for now, rising 1% during both the fourth quarter and the whole of 2016. By contrast, Oracle's license revenue fell 20% in the November quarter.
The fact enterprises have been more hesitant to migrate their ERP software systems to the cloud than, say, their CRM and HR apps, has propped up SAP's license revenue, given the company's market-leading ERP position. So has strong uptake for its Hana in-memory database, and for a Hana-optimized version of its core business apps.
If efforts by Workday (WDAY) - Get Free Report and others to get enterprises to move various ERP functions to the cloud see more uptake, SAP's on-premise software sales will feel the effects, and the company might be compelled to go acquisition-hunting again. But for now, its "cloud transition" is going swimmingly.
Logitech
Nvidia (NVDA) - Get Free Report investors have to be pleased with Logitech's (LOGI) - Get Free Reportlatest report: The peripherals giant's blowout December quarter results had much to do with a 38% annual increase in gaming product sales. That's a lot better than the September quarter's 17% growth and -- much like Nvidia's October quarter numbers -- says a lot about how strong PC gaming hardware demand is right now.
And the slight-to-moderate growth reported for several other Logitech product segments tied to the PC market act as another sign that broader PC demand is stabilizing for the time being. Logitech also got a boost from the 25% and 37% respective revenue increases it saw for mobile speaker and video collaboration sales, but those gains appear to have more to do with share gains than end-market demand. Weak tablet demand is still a headwind for the company: "Tablet and other accessories" revenue fell 29%.
Employees of TheStreet are restricted from trading individual securities.