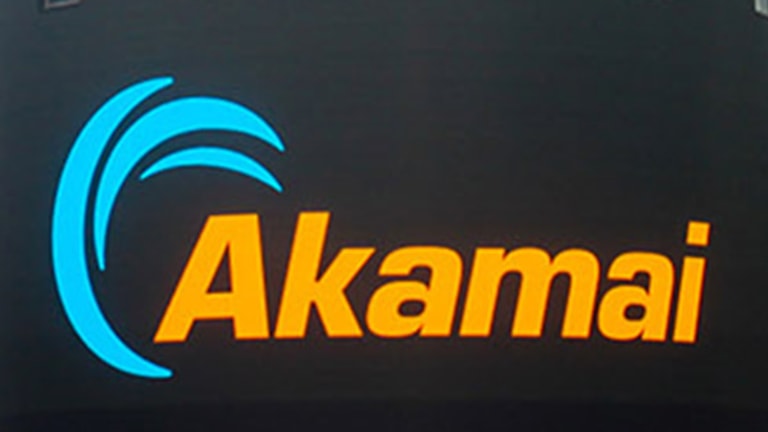 Key Earnings Takeaways for Akamai, Twilio, Groupon and Other Tech Companies
Apple isn't the only noteworthy tech company to have recently reported earnings. Here are some investor takeaways for several companies seeing large post-earnings moves.
In addition to Apple -- coverage of its earnings report can be found here -- several other notable tech names, such as top content delivery network (CDN) owner Akamai (AKAM) - Get Akamai Technologies, Inc. Report, white-label cloud communications services leader Twilio (TWLO) - Get Twilio, Inc. Class A Report, security tech firm FireEye (FEYE) - Get FireEye, Inc. Report, optical component vendor Oclaro (OCLR) - Get Oclaro, Inc. Reportand local deals provider Groupon (GRPN) - Get Groupon, Inc. Report, have also reported since Tuesday afternoon. Here are some thoughts on their numbers.
Akamai
Akamai reported Q1 revenue of $609.2 million (up 7% annually) and adjusted EPS of $0.69, topping consensus analyst estimates of $604.7 million and $0.67. But it also guided on its earnings call for Q2 revenue of $597 million to $609 million (up 5% at the midpoint) and adjusted EPS of $0.59 to $0.61, below consensus estimates of $621.7 million and $0.65. Shares declined 15% on Wednesday and are down $5 above a 52-week low of $47.80.
As it has done with prior disappointing outlooks, Akamai blamed its guidance on weak sales within its Media segment, which handles the delivery of bandwidth-intensive content such as video, music and software downloads, as clients such as Netflix, Apple and Facebook rely more and more on their CDNs to move content around. Media revenue fell 9% in Q1 to $187 million, with sales to top "Internet platform companies" dropping 29% to $51 million. And Akamai now expects its 2017 Media revenue growth rates to remain below historical rates.
Higher-margin businesses are faring better. Cloud security services revenue rose 36% to $110 million, and performance solutions revenue, which involves delivering content for which low latency and high reliability are paramount (ads, e-commerce traffic, etc.), rose 10% to $259 million. But with Akamai having gone into earnings trading at about 20 times its 2018 EPS consensus, the Media headwinds were too large to ignore.
Twilio
Twilio's story looks a lot like Akamai's. The company reported Q1 revenue of $87.4 million (up 47%) and adjusted EPS of negative $0.04, topping consensus estimates of $83.6 million and negative $0.06. But it guided for Q2 revenue of $85.5 million to $87.5 million and full-year revenue of $356 million to $362 million, below consensus estimates of $87.8 million and $370 million. Shares sank 26% on Wednesday, and are less than $3 above a post-IPO low of $23.66 (hit last June).
On its call, Twilio blamed the efforts of Uber -- 17% of the company's Q4 revenue, and 12% of its Q1 revenue -- to rely on third parties for some of its cloud-based communications work, and to take other work in-house. The company still expects Uber to "remain an important customer." But in addition to dinging sales, Uber's actions raise questions about whether other big Twilio clients, such as Facebook's WhatsApp unit (5% of Q1 revenue), Airbnb, Netflix, and Lyft, might eventually make similar moves.
The company does note that outside of Uber and WhatsApp, no client accounts for more than 2% of revenue. And its total client growth remains strong, with active customer accounts rising 42% annually in Q1 to 40,696. In addition, adjusted gross margin managed to grow 370 basis points to a healthy 58.6%. And at a valuation of 6.5 times the midpoint of Twilio's 2017 sales guidance range, shares are much cheaper than they used to be, though they're still pricing in in healthy sales growth in the coming years.
FireEye
As shares plummeted from their 2014 highs and remained at depressed levels, FireEye's defenders have argued its differentiated offerings in areas such as malware-detection, endpoint protection and threat intelligence will allow it to succeed, and perhaps draw the attention of a suitor. But that bull case proved a tough sell as FireEye's sales and billings sputtered amid sales execution issues, management shakeups and stiff competition from Cisco Systems (CSCO) - Get Cisco Systems, Inc. Reportand Palo Alto Networks (PANW) - Get Palo Alto Networks, Inc. Report, each of which have the luxury of bundling rival offerings with other security products.
FireEye's latest numbers make the bull case look a little stronger, even if a lot of challenges still remain. Q1 revenue of $173.7 million (up 3%) and adjusted EPS of negative $0.09 easily topped consensus estimates of $163.5 million and negative $0.26. Likewise, Q2 revenue guidance of $173 million to $179 million and full-year guidance of $724 million to $736 million were above consensus estimates of $172.7 million and $722.8 million. Shares rose 12% on Wednesday to $13.78.
But as FireEye's billings -- now fueled by subscriptions and services rather than hardware and software licenses -- show, the competition is still taking a toll. Though above guidance, Q1 billings of $152.4 million were below revenue and down 18% annually. And full-year billings guidance of $745 million to $775 million implies a 7% decline at the midpoint.
Don't miss these top stories on TheStreet:
No Gilead Sciences M&A Yet, but CEO Offers Hint of Deals to Come
Here Are Some Companies Apple Might Acquire With its Huge $250 Billion Cash Stockpile
Tesla's Expensive Electric Cars Are Hilariously Left Off This Top 10 List
On the other hand, at a valuation of 3.3 times its billings guidance midpoint, a lot of bad news has been priced in. And should FireEye, which reportedly explored a sale last year, want to test the M&A waters again, its Q1 report could give it a better negotiating position. Potential suitors include Symantec, which reportedly talked with FireEye last year, as well as IBM, HP Enterprise and private-equity firms.
Oclaro
Optical component stocks had already been hit by concerns about slowing Chinese orders -- Finisar (FNSR) - Get Finisar Corporation Reportpartly blamed the disappointing results/guidance it provided in March on this issue, and multiple analysts had released downbeat notes about Chinese demand -- but Oclaro's numbers suggest the slowdown is a little worse than feared.
The company reported fiscal Q3 revenue of $162.2 million (up 61%) and adjusted EPS of $0.23, above consensus estimates of $160 million and $0.20. But it also guided for fiscal Q4 revenue of $144 million to $152 million, well below a $163.5 million consensus. Shares are down 4%, and are taking peers Finisar, NeoPhotonics (NPTN) - Get NeoPhotonics Corporation Report, Applied Optoelectronics (AAOI) - Get Applied Optoelectronics, Inc. Report and Acacia Communications lower with them.
On its call, Oclaro mentioned Chinese sales (36% of fiscal Q3 revenue) fell 9% sequentially, and that it was informed in April by its top local clients that "demand would be even slower than previously anticipated for [fiscal] Q4." A transition among telecom equipment clients to 100-gig transceivers based on the newer QSFP28 form factor from the older CFP form factor was also blamed.
Much of the Chinese slowdown stems from one client (believed to be Huawei) that's both cutting inventory and seeing weaker demand. The company says it expects Chinese demand to improve later in 2017 due to metro and provincial network deployments, and to benefit starting in 2019 from 5G network rollouts.
But as the moderate size of Oclaro's selloff shows, a lot was already priced in. And the company, along with peers, continues to see healthy demand from cloud giants such as Alphabet/Google (GOOGL) - Get Alphabet Inc. Class A Report , Facebook (FB) - Get Meta Platforms Inc. Class A Report and Amazon (AMZN) - Get Amazon.com, Inc. Report , who are avidly buying 100-gig transceivers both to move traffic between and within data centers. In time, the adoption of 400-gig transceivers by cloud giants should also provide a lift.
Nonetheless, Oclaro's selloff does act as a reminder of how Beijing's changing spending priorities can impact U.S. tech suppliers. State-controlled carriers have been investing heavily in their optical buildouts with government prodding, and it now looks as if they're taking a breather. In much the same way, companies selling to Chinese electric vehicle makers, such as chip supplier Maxim Integrated, have been hurt by EV subsidy cuts.
Don't miss these top stories on TheStreet:
No Gilead Sciences M&A Yet, but CEO Offers Hint of Deals to Come
Here Are Some Companies Apple Might Acquire With its Huge $250 Billion Cash Stockpile
Tesla's Expensive Electric Cars Are Hilariously Left Off This Top 10 List
Groupon
Groupon has a habit of making double-digit post-earnings moves, and it's doing so once more on Wednesday. The local deals platform is down 14.4% after reporting Q1 revenue of $673.6 million (down 4%) and adjusted EPS of $0.01; the latter beat a consensus of negative $0.01, but the former missed a $722 million consensus. Full-year gross profit and adjusted EBITDA guidance was reiterated.
Groupon's closely-watched billings fell 1% to $1.36 billion, missing a $1.47 billion consensus. North American billings of $965 million, while up 3%, fell short of a $999 million consensus. International billings fell 6% to $393 million.
Much of the company's top-line pressure comes from its Goods (e-commerce) business, which saw billings drop 11.1% to $411.7 million and revenue drop 6.4% to $378 million. Groupon has smartly cut back on its efforts to compete with the likes of Amazon, eBay and Wal-Mart head-on in favor of selling a smaller number of items procured at discounts and targeted to customers based on shopping data. But its lack of scale means it's still facing an uphill battle, especially as Amazon continues taking U.S. share from all rivals with the help of Prime and its massive warehouse infrastructure. And browsing Groupon's Goods merchandise selection doesn't exactly inspire enthusiasm.
The company's local deals business is faring better, as many local merchants still find Groupon to be a valuable channel for acquiring and/or retaining customers. Local billings rose 5.3% to $779 million, and revenue 1.2% to $264.1 million. It certainly helps that many direct rivals for this business such as LivingSocial (recently acquired by Groupon for peanuts) have bit the dust. But Facebook and Google are providing indirect competition via their efforts to sell mobile ads to local businesses, and it's a safe bet that this competitive challenge will get larger over time.
Cisco, Alphabet and Facebook are holdings in Jim Cramer's Action Alerts PLUS Charitable Trust Portfolio. Want to be alerted before Cramer buys or sells CSCO, GOOGL and FB? Learn more now.
Don't miss these top stories on TheStreet:
No Gilead Sciences M&A Yet, but CEO Offers Hint of Deals to Come
Here Are Some Companies Apple Might Acquire With its Huge $250 Billion Cash Stockpile
Tesla's Expensive Electric Cars Are Hilariously Left Off This Top 10 List