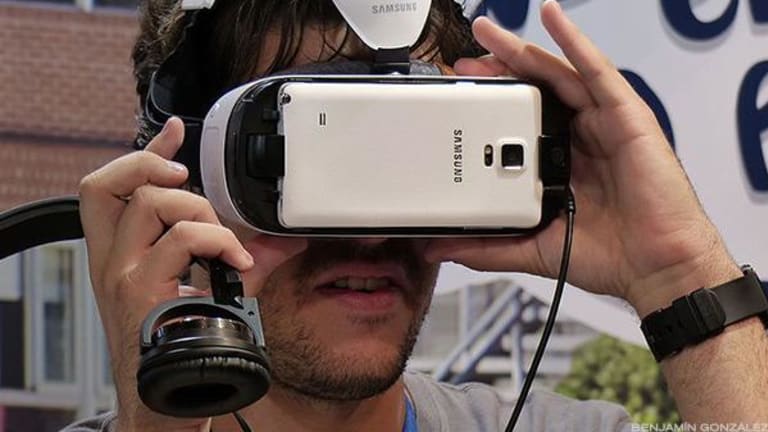 9 Key Takeaways From CES 2017: The Future of PCs, TVs, Virtual Reality and More
Here's a glimpse into the technological future.
Here's a glimpse into the technological future.
TheStreet's Eric Jhonsa attended CES from Tuesday through Friday. He's sharing what he saw and heard through a series of columns.

While I'd be the last person to argue one can't learn quite a lot about important tech products and trends by reading about them online, there's still a tremendous amount of value and insight to be gleaned from an experience like CES.
Much of this naturally comes from all the opportunities the world's biggest tech and electronics conference provides to try out products and speak with exhibitors and industry executives. But some of it also stems from how a conference as massive as CES, one bringing in thousands of exhibitors and featuring a ton of product launches, can give a birds-eye view of where major markets appear to be headed.
I previously wrote about the enormous amount of attention given at CES to cutting-edge automotive technologies -- not just autonomous driving, but also other efforts to make cars smarter, more connected and more self-aware. Here are my observations about various other areas of interest.
1. PCs
Though many research firms have predicted PC sales will drop again in 2017, there was clearly some cautious optimism from PC makers and their chip suppliers that new hardware has put the industry on better footing. Dell, HP Inc. (HPQ) - Get Report, LG and others were eager to show off new thin-and-light laptops with solid-state drives (SSDs), long battery lives, nearly nonexistent bezels and in some cases the ability to fold and double as tablets. And after a 2016 in which gaming PCs were a strong point--just ask Nvidia (NVDA) - Get Report-- Samsung and others made sure to launch powerful systems targeting gamers.
Long-term, PCs might still be a declining market. But between the new hardware and the moderate demand improvement that has already been seen in recent months, 2017 could be a lot stronger for the industry than it was shaping up to be two to three quarters ago.

Dell's new XPS 13 2-in-1 laptop
2. TVs
Like PCs, TVs are unlikely to be a growth market long-term. But shipments of 4K/HDR sets continue to surge as prices drop, and there's genuine innovation going on at the high end that bears watching. Samsung heavily promoted its new quantum dot (QLED) LCD sets, which delivers superior colors relative to traditional LCDs and performs better at higher brightness levels. LG demoed its Nano Cell technology, which provides similar color improvements.
All of this should make for an intriguing battle in the coming years between OLED and high-end LCD sets. Strictly from a technology standpoint, I'm still more partial to OLEDs, given their color saturation, contrast, viewing angles, and thinness, and it's worth pointing out LG and Sony (SNE) - Get Reportshowed off new head-turning OLED sets. But with most OLED sets still selling for over $2,000, and the highest-quality models for far more than that, many premium TV buyers are bound to consider cheaper alternatives until prices drop.
3. Virtual Reality and Augmented Reality
Whereas VR headset and accessory launches were a big story at last year's CES, the hype was more subdued this year, with more attention given to showing attendees the kinds of experiences VR can deliver. There's still a lot of long-term enthusiasm about the technology, but also a better understanding now that consumers and businesses need more convincing.
Intel (INTC) - Get Report, Qualcomm (QCOM) - Get Report, Samsung (SSNLF) and others had demos set up to show how VR can do things like get a courtside view of a basketball game and remotely monitor field equipment. However, images still felt blurry and pixelated due to inadequate display resolutions, and it might be a few years before GPUs advance enough to support the very high resolutions VR headsets need to provide imagery anywhere as crisp as what one gets from most phones or PC monitors.
Compared with VR, augmented reality might be a little closer to prime time. Both because there are a lot of business use cases for headsets that show digital content while keeping a user engaged with the outside world, and because less horsepower is needed to show acceptable imagery that only takes up part of a user's field-of-view.
There were also some interesting AR use cases being discussed or shown off at CES that involved large glass surfaces. For example, AR car windshields that show important information and alert drivers to potential risks--Delphi is among the firms interested in this. Or Panasonic's Window AR prototype, which (among other things) could be used at sporting events to project game information on a window, behind which the actual game can be seen.
Also: After trying out Osterhout Design Group's new R-9 AR/VR headset--it's powered by Qualcomm's Snapdragon 835 processor--I had a better appreciation for headsets that show VR content without fully blocking a user's real-world view. They're not as immersive as standard VR, but more practical in many social environments and perhaps less likely to wear a user out during extended use. Headsets based on Intel's Project Alloy, which also delivers "mixed reality" experiences, are due by year's end.
4. Chinese Smartphones
Major Chinese phonemakers have long been hesitant to seriously compete in the high-end U.S. smartphone market, where Apple (AAPL) - Get Report and Samsung reign supreme and branding and ad budgets matter a lot. But a look at some of the high-end phones launched by these companies show how they can provide Apple/Samsung with real competition in China, and perhaps certain overseas markets.
For example, I was impressed with ZTE's Axon 7 phone, which sports a quality 5.5-inch OLED display, Qualcomm's high-end Snapdragon 820 processor and a solid metal build. At $399, the Axon 7 easily undercuts the iPhone 7, the Galaxy S7 and Google's Pixel. And reviews are generally solid.
But while U.S. consumers can buy the Axon 7 unlocked from Amazon or via ZTE's site, the phone isn't sold through any American carrier. And the two phones ZTE announced for the U.S. market at CES--the Blade V8 Pro and the Hawkeye--are unequivocally midrange products.
5. Alibaba
Compared with many other tech giants at the conference, Alibaba's (BABA) - Get Reportbooth was modest in scope. But the company still did a good job of showing why it's as mistaken to pigeonhole it as an e-commerce company as it would be to do so to Amazon.
There were several product demos for Alibaba's Android-based YunOS, including ones for smart TVs, touchscreen-equipped refrigerators and cars. The car demo, which relied on a VR headset, was pretty impressive, showing how a vehicle relying on YunOS could navigate, warn drivers about risks and push relevant information. The company is working with Chinese automaker SAIC on a YunOS-powered car.
Alibaba also showed off technologies developed by online payments giant Alipay, which Alibaba gets a 33% stake in at the time of an IPO. One solution, known as Smile to Pay, involves paying with a selfie shot. Another involves buying items seen while using a VR headset.
6. Smart Homes
After four days of seeing untold numbers of "smart" coffeemakers, smoke detectors, lighting systems and doorbells, I'm convinced the smart home market is due for a shakeout. There are simply too many companies--both big names such as Philips (PHG) - Get Report, Samsung, Xiaomi and Honeywell (HON) - Get Report, as well as numerous startups--battling over markets that are going to be niches. Both because the addressable markets of many of these products target are limited, and because they often sell at large premiums to "dumb" versions of the same hardware.
Take, for example, a $400 to $700 smart desk lamp from Japan's Cerevo that responds to voice commands and adjusts its lighting based on brightness presets. Or a $199 smart hair brush from Nokia's (NOK) - Get ReportWithings unit that uses built-in sensors and Wi-Fi to analyze brushing activity and give users feedback on their hair quality and brushing activity. Both products seem neat at first glance, but then you look at the prices and wonder if it's better just to stick with a standard desk lamp or hair brush.
While total smart home hardware sales should see decent growth, it's probably better to bet less on those directly taking part in the gold rush than on those providing its shovels and pickaxes. RF chipmakers such as Skyworks (SWKS) - Get Report and Qorvo (QRVO) - Get Report will have opportunities, as will connectivity chip suppliers such as Qualcomm and Cypress Semiconductor (CY) - Get Report. One could also add Amazon (AMZN) - Get Report to the list, given how many smart home devices launching its CES either directly handled voice commands for Amazon's Alexa voice assistant or could be controlled by an Alexa device.
Intel used CES to announce the Compute Card, a reference design for a module meant for relatively powerful IoT devices. It contains an Intel processor, DRAM, flash storage and connectivity chips, and will be offered by the likes of Dell and HP.
7. Wearables
After growth rates fell sharply over the course of 2016, the hype surrounding smartwatches and fitness trackers was certainly more subdued at this year's CES. It's worth noting that fitness tracker leader Fitbit (FIT) - Get Report, which launched a new tracker and smartwatch a year ago, chose this time to emphasize software efforts meant to make its existing hardware more effective. The company unveiled updates to two of its apps that respectively enhance their community and workout-recommendation features, and disclosed plans to launch a wearables app store.
As with smart home gear, it feels like the wrist wearables market is bound to see a shakeout. There are too many trackers and watch/tracker hybrids with duplicate functions out there, as well as an excess of bulky Android Wear smartwatches with sub-par battery lives. While the likes of Fitbit, Apple and Garmin will hang around, look for many of the smaller players to bow out in the coming quarters.
8. 3D Printing
When reporting soft printer sales, 3D printer makers such as 3D Systems (DDD) - Get Reportand Stratasys (SSYS) - Get Report have generally pointed to weak industry demand, something that certainly exists in some verticals following excess buying in past years. But some time spent touring the 3D printing booths at CES shows how innovative upstarts with burgeoning sales and client lists have also been a problem.
Formlabs, one of the more high-profile upstarts, had a popular CES booth where it showed off parts made with its printers that had impressive level of detail. Examples include a prosthetic hand and a bust sculpture. There was also Aleph Objects' Lulzbot unit, whose open-source approach to 3D printing hardware and software has helped it win followers. Aleph's revenue more than tripled in 2015 to nearly $15 million, and the company indicated sales rose sharply again in 2016.
And then there's Airwolf 3D, which touts its support for many material types and claims the likes of Apple, Disney and Lockheed Martin as customers. Between the growth of desktop 3D printing startups and the arrival of big names such as GE and HP in the industrial printing market, the industry's old guard definitely has its hands full.
9. Robots
Amazon has upended quite a few markets over its history. After attending CES, I'm wondering if home robots will be next.
Among the many Alexa-powered devices shown off at CES was the Lynx, a $799 humanoid robot that can handle the voice commands normally given to Amazon's Echo devices, while also supporting remote home monitoring and personalizing its responses with the help of face-detection. And the maker of the Moorebot, a $249, non-mobile, personal assistant robot, indicated it plans to support Alexa.

Ubtech Robotics' Alexa-powered Lynx robot. Source: CNET.
To be clear, most of the robots at CES still looked like they were going after niche markets--for example, the expensive business robots that act as kiosks on wheels. But a larger market could eventually exist for robots that run a voice assistant platform supporting thousands of third-party cloud services and smart home devices, while also entertaining kids, playing videos, keeping an eye on one's home and perhaps handling some domestic tasks.
Alexa has a headstart in this space, but it's not hard to see robots running Android and supporting Google Assistant arriving down the line. I suspect there will be more robots next year that rely on one major voice assistant platform or another.