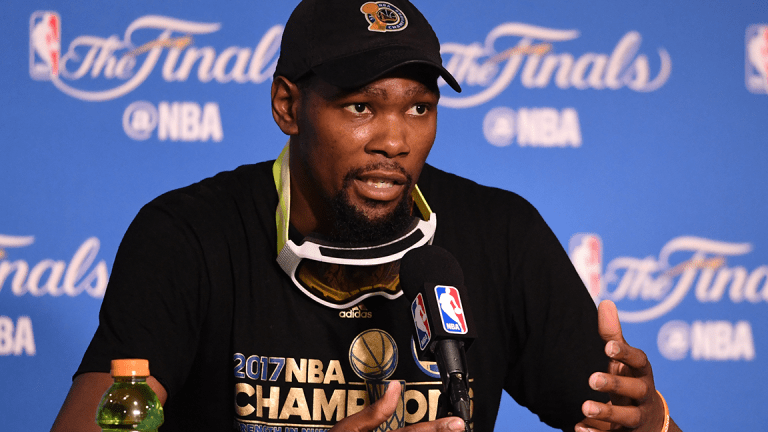 Kevin Durant Reveals His Approach to Investing in Startups
The NBA champ has invested in at least 30 startups through his investment firm, Durant Co.
Golden State Warriors All-Star forward Kevin Durant, who spoke at TechCrunch Disrupt in San Francisco on Tuesday, Sept. 19, is part of a growing list of NBA stars who are diving into the Silicon Valley startup scene. 
Durant and partner Rich Klein make up Durant Co., an investment firm that's helped fund at least 30 startups so far, including delivery service Postmates Inc., finance company Acorns Advisers LLC, marketing and customer relationship management platform Zenreach and cloud computing startup Rubrik Inc., among others. The duo hesitated to call it a venture capital firm, however; instead, they likened it to a private equity firm that invests in early-stage companies ranging across a variety of fields, such as technology and hospitality.
Fellow Warriors star Stephen Curry also has dabbled in startup investments, while co-founding his own brand marketing company, Slyce. 
"Tech is a huge deal, and guys coming in and out of this area have a lot to play," Durant said at TechCrunch Disrupt. "They see how much these startups have affected the world in general, and I think they want to be a part of change. That's the great thing -- to try and impact some people's lives in a different way." 
Durant may have just agreed to a two-year, $53 million contract with the Warriors, but that doesn't mean he's plowing all his wealth into funding startups, though. Klein said they understand there's an element of risk associated with investing in startups, but that they believe in the entrepreneurs. Durant isn't even looking at putting 50% of his net worth into the investments; rather, over the course of the year, he'll put "a small percentage" of his net worth toward some investment deals, Klein added. 
As with most startup investors, Durant Co. is strategic about which startups it's willing to invest in. Most of the time, Klein said they'll go after a company if they believe it's doing something that "we can really use in our life." 
"None of this is possible unless he's playing basketball. We get that," Klein explained. "If he's not on the court doing his job, none of this is possible. What I have to do with that time I'm given to talk about these deals is figure out the concept, if it's the right company to introduce to the executive team."
"If I can't explain it in one sentence, the regular consumer won't understand it in one sentence," Klein added. 
On the flipside, Klein said he won't go after a startup if it doesn't take Durant Co. seriously. He said there's only been one occasion where a famous venture capitalist, or "the Michael Jordan of the industry," asked the firm to prove it was a legitimate investment firm.
Otherwise, Durant said he understands that his NBA acclaim doesn't mean he's the smartest person in the room, but that he applies many of the same skills he uses to play basketball when he's considering an investment. "I listen and learn as much as I can," Durant added.
Durant rounded out the discussion by taking a stance on one of Silicon Valley's most controversial topics: artificial intelligence. When asked whether he'd be in favor of AI-powered referees, he said he'd prefer for them to stay human.
"I'd rather keep that human judgment," Durant said. "I get away with a lot of stuff; I'm sure an [AI ref] would catch a lot more than a human ref. I'll stick to what we have right now."
More of What's Trending on TheStreet:
Editors' pick: Originally published Sept. 19.