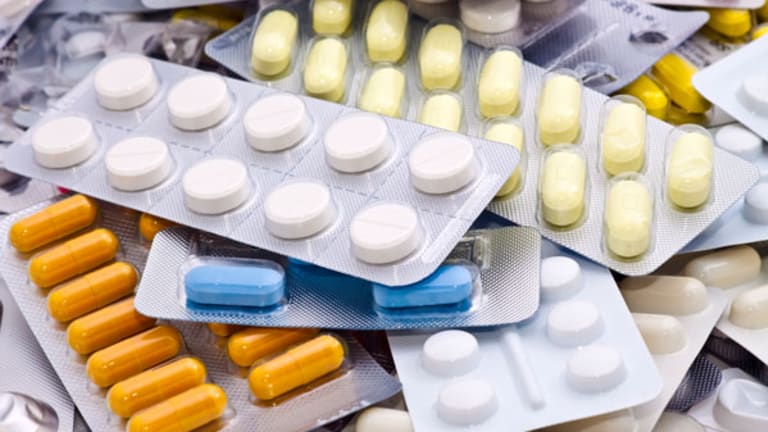 Keryx: Readers React to Perifosine Prediction
Readers (and Keryx's lawyers) take issue with my negative view of Keryx's colon cancer drug.
BOSTON (
) -- Readers have responded in force to my column last week predicting failure for
Keryx Pharmaceuticals'
(KERX) - Get Keryx Biopharmaceuticals, Inc. Report
colon cancer drug perifosine. Not surprisingly, a majority of the comments came from Keryx shareholders disputing the theory that
Keryx's micro-cap valuation bodes poorly for perifosine's chances
when results from a late-stage trial are announced early next year.
I'm sticking with my gloomy forecast for perifosine, as is my fellow prognosticator University of Chicago oncologist and professor Dr. Mark Ratain. But in the interest of extending the debate, I'll address questions and comments sent in by readers over the past few days.
Before I do that, I have to tell you about the letter sent to
TheStreet's
legal department and me by a Keryx attorney at Alston & Bird on Tuesday night. Attorney Mark McElreath, writing presumably on behalf of Keryx CEO Ron Bentsur, asks if I'm shorting Keryx stock, or if I'm being paid by anyone shorting Keryx stock. The letter also asks me if I'm in possession of non-public information related to the perifosine phase III study, or if I know anyone who's in possession of such non-public information.
My responses couldn't be clearer: No. No. No. No. If that's difficult for anyone to understand, feel free to read
TheStreet's
-- one of the strictest such policies at any media company. Or, read the disclosure that sits at the bottom of every column I write:
"Adam Feuerstein writes regularly for TheStreet. In keeping with company editorial policy, he doesn't own or short individual stocks, although he owns stock in TheStreet. He also doesn't invest in hedge funds or other private investment partnerships."
Keryx's "questions" are the sort of baseless, amateurish and false insinuations that I expect to read on a biotech stock message board, not in a letter from a high-priced corporate attorney. If I were a director on Keryx's board, I'd be questioning why Bentsur was wasting precious company resources on passive-aggressive threats to a journalist just because he dared make an argument for why Keryx's cancer drug may not be as successful as Bentsur hopes or claims it to be.
As that journalist, Keryx's letter make me wonder what the company is afraid of, and whether they're hiding something they don't want investors to know about.
Ratain hasn't been spared the ridiculous accusations either. Some of you emailed the distinguished doctor and professor to question his motives.
This email from "MR" to Ratain was one of the more entertaining he received:
"Hello Dr. Ratain: I am hoping that AF
that's me took your comments regarding perifosine out of context. You should demand an immediate retraction, if he did manipulate your conversation. It is totally out of line for a medical doctor, such as you, involved in medical research to be associating or conversing with such an individual. I am filing a complaint with the SEC about stock manipulation and with your local medical board regarding your lack of ethics and better judgment. You should know better to have any interaction with any financial blogger from
TheStreet
. It is my goal to have you investigated by the SEC for possible misconduct. Where is your better judgment?"
Sorry to burst the bubble folks, but none of Ratain's comments regarding perifosine were taken out of context or manipulated. I asked him again Tuesday, just to make sure.
Along the same lines, but more polite, "Dean" asks Ratain, "Can you please advise if you have received any consideration, financial or otherwise, in relation to the article that was written about Keryx and
Aeterna Zentaris
(AEZS) - Get Aeterna Zentaris Inc. Report
last week?"
Ratain responded to Dean: "I have no financial interest. My relationship with Mr. Feuerstein
that's me, again is strictly academic, and emanates from a shared interest in clinical trial design. In that sense, the perifosine phase 2 trial was flawed."
That's a nice segue into a discussion of the published results from a phase II study of perifosine in colon cancer. Many of you wanted to know whether we considered this study -- which purports to demonstrate a survival benefit favoring perifosine over placebo -- into our analysis. Keryx and its supporters believe data from the phase II study bolster the chances for perifosine's success in the ongoing phase III study.
Fariba G. asks, "Interesting analysis of microcap stock and trial outcome. Was the bearish view of Dr. Ratain based on this statistics or did he bring scientific backing for his view?"
"Finland64" emails, "It would be great if you could take some time to write that article on the flaws (and perhaps the strengths) in the perifosine phase II colon cancer trial…Would it also be possible for you to include the fact that it was a controlled, randomized, double blinded study?"
The strongest, most reliable, clinical data comes from randomized, controlled studies. No disagreement there. I've long criticized biotech companies that run crappy single-arm phase II studies and then make dubious survival-benefit claims based on comparisons to outdated "historical" data. Blech.
Ratain has also been a vocal proponent of randomized studies and believes the high failure rate in cancer drug development stems, in large part, from the over-reliance on single-arm trial designs.
As he says above, Ratain also believes the perifosine phase II study is flawed, despite what looks to be a randomized, controlled clinical trial design.
As originally conducted, the phase II study was designed to determine perifosine's signal of activity. Initially, 381 patients diagnosed with seven different types of cancer and treated with eight separate chemotherapy regimens were to be enrolled in the study. Within each tumor type, patients were to be treated with either perifosine or a placebo.
Full enrollment in the study never took place. Instead, an unplanned interim analysis was conducted which revealed evidence of clinical activity when perifosine was combined with capecitabine (sold by
Roche
under the brand name Xeloda) in 25 colon cancer patients. Based on this unplanned analysis, the original study design was abandoned and instead, an additional 13 colon cancer patients were enrolled in the study to bring the total number of colon cancer patients to 38.
It's data from these 38 colon cancer patients -- which again, purports to show a survival benefit favoring the perifosine-capecitabine combination over capecitabine alone -- that Keryx relied upon to design the ongoing phase III study.
Ratain cites the following specific criticisms of the perifosine phase II study:
1) The p values are not real p values in the phase II study, as there were eight drugs being studied, multiple diseases, and an unknown number of looks at the data.
He recommends people read "Fooled by Randomness."
2) Thus the first 25 patients (of the 38 reported) can only be considered hypothesis generating, since the observed nominal p value could be ascribed to data dredging.
3) The additional 13 patients are inadequate to assess the hypothesis of interest, particularly since we don't know the baseline characteristics of the additional 13 patients, including their refractory status to previous treatments. Therefore, the phase II results are un-interpretable.
4) In the absence of interpretable phase II data, the phase III will probably be negative, given what is known (publicly) about the drug's pharmacology.
5) Given the likelihood that deep pockets have looked at and rejected an acquisition or partnership based on nonpublic data (after signing a non-disclosure agreement), there is no reason to predict that the phase III will be positive.
Understand? If not, try this simplified interpretation: The phase II study of perifosine is too small and was changed and analyzed too often to have confidence in the published results. The clinical benefit, including survival, favoring perifosine that was observed in the phase II study stands a good chance of returning a false positive result that will not be confirmed in the larger and prospectively designed phase III study.
Ralph comments: "It is idiotic to believe you. You are basing your decision on two things. 1) Keryx is a small company; 2) No one has stepped up to buy Keryx. Maybe Keryx is waiting until the positive results are published. You know about as much as I do on this subject."
The "Feuerstein-Ratain rule" states the outcome of phase III cancer drug studies can be predicted accurately by looking at the market value of the company running the study. We believe investors, potential partners or acquirers (i.e. the market) does a good job of vetting cancer drug stocks by examining prior published or presented clinical data. Companies developing cancer drugs with a high likelihood of success are awarded large market valuations or acquired before phase III results are announced. Conversely, companies with cancer drugs not likely to succeed are punished with small market valuations or remain independent.
So, Ralph is correct that Ratain and I are predicting perifosine's failure based on the theory that investors and prospective acquirers have already conducted extensive due diligence on the drug and found it lacking. As a result, Keryx's market valuation of $200 million foretells perifosine's failure. Flaws in the perifosine phase II study, outline above, further support that pessimistic outlook.
Holdground77 writes, "Boy, what a ridiculous article. You state that small-cap biotechs fail in clinical trials while large caps are successful, yet you use the same faulty, disingenuous and obfuscated statistics that you are complaining about. How did you pick your set of small caps? And the large caps? What were your criteria for picking the companies you did for making your case? (You also did not name them, by the way.) Did you only pick companies that fit your theory and proved your case? You know, there are ways, if you try hard enough, to find enough data supporting any theory you want to convince anyone is legitimate. But that doesn't necessarily make it true or honest. There are too many holes in your theory Mr. Feuerstein and it just doesn't hold up in reality. Maybe you should concentrate more on good science and less on your narcissistic ramblings."
The "Feuerstein-Ratain rule" is derived from an analysis of 59 phase III clinical trials of cancer drugs conducted over the past 10 years. We actually had no say whatsoever in the selection of cancer drugs used in the analysis. The list was put together by health economist Allan Detsky of Toronto's Mount Sinai Hospital and his co-authors as part of their
in the
Journal of the National Cancer Institute
suggesting that doctors entrusted with conducting late-stage cancer drug clinical trials are using advanced knowledge of the results of these pivotal studies to engage in illegal insider trading.
Ratain and I used the same list of 59 cancer drug clinical trials, re-analyzed by market value of the drug sponsors, to debunk Detsky's insider-trading theory. That's how the "Feuerstein-Ratain rule" came about, and we
published our conclusions in the JNCI
alongside Detsky's paper.
To restate our findings: No positive trials among the 21 micro-cap companies (companies with less than $300 million market capitalization) whereas 21 of 27 studies reported by the larger companies analyzed (greater than $1 billion capitalization) were positive.
We made no effort to include or exclude companies to make the rule work any better. What we observed is undeniable: Micro-cap companies had no success at all with phase III cancer drug clinical trials.
The next logical step is to test this rule prospectively, which is why we've focused on Keryx and perifosine. Keryx fits the pattern of a micro-cap cancer drug stock with phase III trial results coming in approximately four months time. Based on historical precedent, that spells failure for perifosine. We'll learn if the rule holds true once Keryx makes public the results.
@stefbeck34 asks, "What was the success rate of the second strata? Wouldn't Aeterna and Keryx be greater than a $300 million market cap currently?"
There were 21 companies on the list with market values of $300 million or less, with a 0% success rate in phase III cancer drug clinical trials.
The list also contained 11 companies with market caps between $300 million and $1 billion. The clinical trial success rate for this mid-tier or second strata group was 18%. (Two positive clinical trials out of 11.)
Lastly, there were 21 of 27 studies reported by the larger companies analyzed (greater than $1 billion capitalization) that were positive, or a 78% success rate.
Combining Aeterna and Keryx (because they co-own perifosine rights) gets a market value of $350 million. That's large enough to push perifosine into the second strata of our analysis, but even here, the odds for a favorable outcome are very low.
Via Twitter, my friend and fellow biotech scriber Matt Herper from
Forbes
chimed in: "The implication of @adamfeuerstein's study is that the odds are even longer than you think."
Agreed. We all know that cancer drug development is hard, and harder still for smaller companies. In that regard, what Ratain and I are saying is not new. What is new, however, is that we've illustrated numerically just how challenging it can be for micro-cap cancer drug companies to succeed.
@claudeclement asks, "Why not put that article out a couple months ago when KERX's market cap was above $300M and saying it will succeed?"
The data we had from the Detsky paper looked at stock prices four months before the announcement of phase III trial results, so we emulated that timeline in our analysis. It's true that Keryx's market value was greater than $300 million at one time, but again, that doesn't drastically improve perifosine's odds based on our observations.
@dondet comments, "Ok, even if perifosine Ph3 will fail, that won't nec'rly cancel an EOY pps runup - w/median analysts' PT @ $9.00."
Does everyone understand Twitter speak? Translated: Even if perifosine's phase III study is predicted to fail, that won't necessarily cancel an end-of-year run-up in Keryx's stock price, especially with analysts' median price target set at $9 per share.
True enough. I'm not making any predictions about Keryx's stock price between now and when the company announces results from the perifosine study in the first quarter. Keryx is the sort of biotech stock with a near-term catalyst that traders and speculative investors love.
Bob Temple writes, "What you wrote this morning was very disappointing, not because of your thesis (it's true that most drug programs fail), but because it went against everything you have advocated to biotech investors for a long time -- reading beyond press releases, going through SEC filings, and ultimately doing your own homework. Deciding the probability of success based on the due diligence of Big Pharma doesn't sound consistent with that methodology. Also, having a partnership/buyer doesn't guarantee success either."
I appreciate your thoughts but the "Feuerstein-Ratain rule" is just another way thinking about cancer drug stocks. I don't mean to say that it should replace fundamental research. In fact, our thesis piggybacks on the fundamental research that we believe is done by the market i.e. investors and other, larger pharmaceutical companies. To coin a cutesy phrase, you can think of this thesis as a "meta-fundamental" analysis of cancer drugs.
I also agree that having a partner doesn't guarantee success.
Aventis
(SNY) - Get Sanofi Sponsored ADR Report
was once partnered with
Genta
( GNTA).
Takeda
hooked up with
Cell Genesys
.
Schering-Plough
(MRK) - Get Merck & Co., Inc. (MRK) Report
partnered with
Novacea
. All resulted in cancer drug blow ups.
--Written by Adam Feuerstein in Boston.
>To contact the writer of this article, click here:
Adam Feuerstein
.
>To follow the writer on Twitter, go to
http://twitter.com/adamfeuerstein
.
>To submit a news tip, send an email to:
.
Follow
TheStreet
on
and become a fan on
Adam Feuerstein writes regularly for TheStreet. In keeping with company editorial policy, he doesn't own or short individual stocks, although he owns stock in TheStreet. He also doesn't invest in hedge funds or other private investment partnerships. Feuerstein appreciates your feedback;
to send him an email.