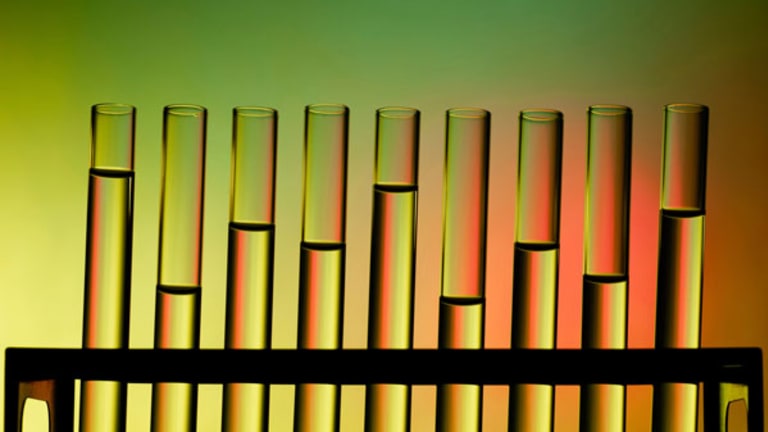 Keryx: Lessons From a Drug Failure
After the inevitable stock fall, biotech investors can learn a lesson or two from Keryx Pharma's failure.
NEW YORK (
) --Observations and lessons from the blowups in
Keryx Pharmaceuticals
(KERX) - Get Report
(down 65% to $1.75 per share) and
Aeterna Zentaris
(AEZS) - Get Report
(down 65% to 74 cents per share) due to the
failure of the colon cancer drug perifosine
:
1. Let's look ahead before we look back. With perifosine essentially dead, Keryx must fall back on its second pipeline drug, the phosphate binder Zerenex. Unfortunately, Zerenex has very little value.
Keryx is developing Zerenex as a treatment for treat kidney disease patients with excess phosphate in their blood. A phase III study is underway with results expected before the end of the year. Unlike perifosine, there is a good chance that Zerenex works, based on previous studies.
Unfortunately, Zerenex is likely coming to market in late 2013 or early 2014 at the same time as generic phosphate binders. Both
Sanofi's
(SNY) - Get Report
Renagel/Renvela (the market leader with $537 million in sales) and
Shire's
( SHPGY) Fosrenol ($167 million in sales) will be largely replaced by cheap generic versions just as Zerenex tries to compete.
Going up against generics is tough enough, but Keryx faces an even more impossible challenge with Zerenex because dialysis providers (the primary users of phosphate binders) only receive a single, fixed or "bundled" fee from Medicare that covers all ancillary products involved in providing dialysis to patients. Under a bundled reimbursement system, dialysis providers can only increase their profits by reducing costs. One way to reduce costs, obviously, is to spend less on phosphate binders. The likelihood that dialysis providers will eschew cheap, generic phosphate binders in favor od a premium-prived product like Zerenex is low to nil.
You're going to hear a lot of Keryx bulls in the next few days extolling the virtues of Zerenex. Don't buy into the spin.
2. The "Feuerstein-Ratain Rule" worked.
For those unfamiliar, University of Chicago oncologist and professor Dr. Mark Ratain and I
correctly predicted perifosine's failure
last October based on a theory we developed which directly correlates the market value of a company developing cancer drugs with the outcome of phase III studies.
I won't rehash all the details of our "rule" here, but essentially, after examining 59 phase III clinical trials of cancer drugs going back 10 years, we found companies with micro-cap market valuations (i.e market caps less than $300 million) had
no chance of producing positive phase III study results
.
By contrast, almost 80% of cancer drug companies with market values greater than $1 billion conducted positive phase III studies. Ratain and I looked at market values of cancer drug companies four months prior to the release of phase III results. Our findings were published in the
Journal of the National Cancer Institute
.
Keryx's market cap was about $200 million in October, so Ratain and I felt reasonably confident that the perifosine phase III study in colon cancer would fail.
For the record, Kery'x market cap on Dec. 4, 2011, exactly four months ago, was $188 million.
Many investors ridiculed our theory last fall because they mistakenly thought we were simply predicting the outcome of phase III cancer drug trials based on market cap. That's not true.
Ratain and I recognized that one reason micro-cap cancer drug had a perfectly dismal record with phase III trials is because the drugs being developed had already been vetted by both the market (i.e., investors) and larger, more successful cancer drug companies and found to have a low probability of success.
Cancer drugs are scarce and valuable commodities. Larger drug companies are way more likely to acquire, or at least partner with, a smaller drug company if that smaller company has a cancer drug in development with a strong shot at being successful.
Keryx's low market value meant that investors and larger companies had already examined the previous perifosine phase II data and found it lacking. Market cap, therefore, becomes a reliable and accurate proxy for predicting cancer drug trial outcomes.
Keryx was the first prospective test of the "Feuerstein Ratain Rule" and we nailed it.
3. Even randomized, controlled phase II studies can produce sketchy, unreliable results.
A lot of investors believed in Keryx and Aeterna Zentaris because of the "positive" results from a phase II study demonstrating a significant survival advantage (17.7 months vs. 6.6 months) favoring perifosine in a randomized, controlled phase II colon cancer study.
But as Ratain pointed out last October, the survival advantage culled from this study came from a
retrospective analysis of a small subset of just 38 patients
. The phase II study of perifosine was too small and was changed and analyzed too often to have confidence in the published results. The clinical benefit, including survival, favoring perifosine that was observed in the phase II study stood a good chance of returning a false positive result that will not be confirmed in the larger and prospectively designed phase III study, Ratain said.
And yes, he was right.
The lesson to learn here is that the details matter, even from randomized, controlled studies.
"Phase II trials continue to be the most critical part of oncology drug development," said Ratain on Monday after learning of the negative perifosine trial results. "Although positive phase II results do not need to be bulletproof, they do need to be comprehensible without multiple subset analyses. Unfortunately, small companies often take shortcuts, resulting in a much higher failure rate in phase III."
4. Jeremy Richards: Wrong.
The less said about Jeremy Richard the better but I hope my
expose of his endless articles and tweets
pumping Keryx and Aeterna were helpful. The goal here was to help readers avoid losses.
This morning, Richard changed his
and erased dozens of Keryx tweets. Enough said.
--Written by Adam Feuerstein in Boston.
>To contact the writer of this article, click here:
Adam Feuerstein
.
>To follow the writer on Twitter, go to
http://twitter.com/adamfeuerstein
.
>To submit a news tip, send an email to:
.
Follow
TheStreet
on
and become a fan on
Adam Feuerstein writes regularly for TheStreet. In keeping with company editorial policy, he doesn't own or short individual stocks, although he owns stock in TheStreet. He also doesn't invest in hedge funds or other private investment partnerships. Feuerstein appreciates your feedback;
to send him an email.