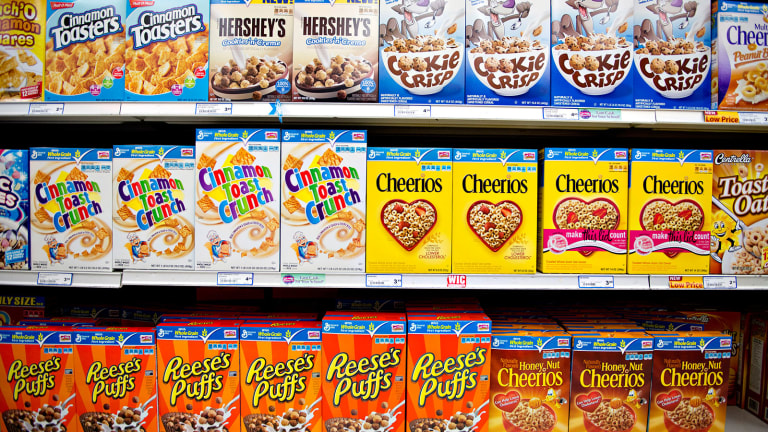 Kellogg Shares Up After Surprise Earnings Beat
The cereal giant also announced that it would move its U.S. snack business to a warehouse model from a direct store delivery network model.
The cereal giant also announced that it would move its U.S. snack business to a warehouse model from a direct store delivery network model.
Kellogg (K) - Get Report shares were up 3.2% to $75.82 in early trading Thursday after the cereal giant reported fourth quarter earnings ahead of expectations and announced that it would exit its direct store delivery network.
For the quarter ending Dec. 31, Kellogg reported net sales of $3.097 billion, down 1.4% year-over-year. (During the 2015 fiscal year, the fourth quarter ended Jan. 2, 2016.) The company lost 15 cents per share, down 25% year-over-year, which it attributed to the deconsolidation of its Venezuelan business. Currency-neutral comparable EPS of 99 cents represented a 25.3% gain.
Kellogg said the Venezuela business, which has been fully deconsolidated as of the end of 2016, contributed to a 5 cent loss to reported 2016 earnings per share, and a 2 cent gain to currency-neutral EPS. Companies including Procter & Gamble (PG) - Get Report and PepsiCo (PEP) - Get Report have restructured or written off losses from their Venezuelan businesses in recent years.
Full-year sales of $13.01 billion were down 3.8% year-over-year, while currency-neutral comparable EPS of $4.31 was up 22.1%. According to FactSet, analysts expected full-year earnings of $3.68 per share on revenues of $12.98 billion.
"The more muted organic top line growth outlook (even excluding the DSD transition) for 2017 could temper enthusiasm on the open," Barclays analyst Andrew Lazar wrote.
On Wednesday, Kellogg also disclosed that beginning in its second quarter, its U.S. snacks business would exit its direct store delivery (DSD) network in favor of a warehouse model, already used by Kellogg's Pringles brand and the rest of its North American business. The non-Pringles snack business accounts for 25% of Kellogg's U.S. sales.
Given consumers' increased use of online shopping and a wider variety of retail outlets, Kellogg said, the move will contribute to growth in the business. The resources used to support the DSD model will instead support "brand building, shopper marketing and pack formats that better meet consumers' evolving needs."
"While DSD has traditionally been viewed as a necessary cost of doing business in high-frequency snacking categories, this move likely signals both the company's desire for further cost efficiencies and a recognition that the relative effectiveness (and adaptability to a rapidly changing consumer food consumption landscape) of DSD is no longer as relevant as it once was," Morgan Stanley analyst Matthew Grainger wrote in a note.
Grainger added that snack companies including Mondelez (MDLZ) - Get Report , Snyder's-Lance (LNCE) and Campbell Soup's (CPB) - Get Report Pepperidge brand, might consider similar changes, although "these companies' snack businesses are generally more dependent on DSD (in contrast to K's majority use of warehouse distribution), and might find a similar transition more time consuming and/or cost-intensive."
For fiscal 2017, Kellogg expects currency-neutral comparable sales to decline 2%, led by the impact of shifting out of DSD; outside the U.S. snack business affected by DSD, Kellogg expects sales to be flat to down 1%. The DSD exit will be neutral to operating profit, which Kellogg still expects to be 7% to 9%. New guidance metrics of currency-neutral earnings per share and cash flow are forecast for $4.03 to $4.09 and $1.1 billion to $1.2 billion, respectively.
The transition will be completed by Kellogg's fourth quarter. The company did not disclose how many employees would be laid off, but said it'll provide severance, benefits and retention packages.
The move is part of Kellogg's "Project K" program, which is expected to generate cost savings of about $450 million by 2018.