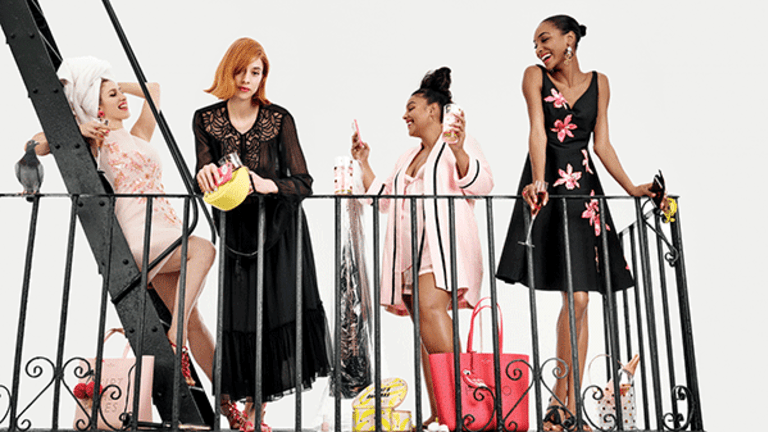 Kate Spade Stock Explodes on Deal Potential -- Here's Who May Be Interested
Kate Spade could use some help from the outside.
Updated from 1:10 p.m. to include additional details
Kate Spade (KATE) would be wise to get out of the eyes of public markets. 
Shares of the handbag and accessories firm spiked as much as 19% to $17.03 on heavy trading volume early Wednesday afternoon following a Dow Jonesreport the company was exploring a sale.
A Kate Spade spokeswoman declined to comment.
The report follows criticism of Kate Spade executives by hedge fund Caerus Investors in November, which urged the board to consider a sale. 
"Given the market's lack of faith in the current management team, as evidenced by the 63% decline in the shares since the intraday high on August 11, 2014, we believe the best path for enhancing shareholder value is to pursue a sale of the company," wrote Caerus' founder Ward Davis and managing partner Brian Agnew. Both hedgies also railed against Kate Spade's gross profit margins, which are below many competing luxury goods players due to its continued use of excessive discounting. 
In August, Kate Spade slashed its full-year profit guidance, citing soft sales at outlet stores and the subsequent need to ratchet up discounts. Further, the business was harmed by a slowdown in international tourists to key malls in the U.S. as a result of the strong U.S. dollar. Prior to their recent spike, Kate Spade's stock had plunged 46% from a 52-week high in late April of $26.14. 
A sale of Kate Spade would be a black eye to CEO and long-time executive at the company Craig Leavitt.
Leavitt, who joined Kate Spade in 2008 and became CEO in February 2014, moved quickly that year to lay out an aggressive goal of quadrupling sales to $4 billion by continuing to expand into new categories such as jewelry and fragrances. Kate Spade currently expect full year sales in a range of $1.37 billion to $1.4 billion, woefully short of Leavitt's target. 
One company that Kate Spade may want to reach out to is Coach (COH) , a long-time rival that could help cure it of epic levels of discounting and inject products with badly needed quality. In Coach, Kate Spade may find a company hungry to do a deal.  
It was just earlier this month that Burberry reportedly rejected multiple takeover offers from Coach. According to the report, the talks -- which were no longer active -- were informal and envisaged a cash-and-stock takeover.
Coach's alleged interest in Burberry comes at a time when it remains on the hunt for acquisitions in the luxury goods space, following the 2015 purchase of high-end footwear purveyor Stuart Weitzman for $574 million.
"We have been pretty consistent in discussing our interest in three spaces -- the handbag and accessory space, the footwear space, outerwear as well as other luxury retail categories because it is about the unique skill-set we can bring to any acquisition," Coach CEO Victor Luis said in an interview with TheStreet in November. Luis believes Coach is best in class in quickly scaling luxury brands globally as well as developing them by expanding into new categories.
"More than a category, it's about great brands -- and obviously if there are great brands in the space we will look at them," added Luis, who has spearheaded an impressive turnaround of the 75-year old leather maker via an improvement in product quality, the debut of trendier, more expensive handbags such as ones featuring Mickey Mouse, and cost cuts.
A Coach spokeswoman said the company has a long-standing policy of not commenting on rumors and speculation.