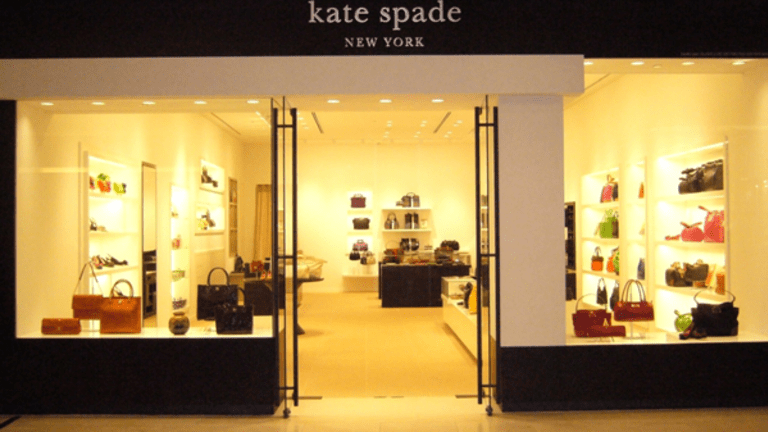 Kate Spade Is 'Obligated' to Explore Every Option, Springboard Growth's Koplovitz Says
Kate Spade has a duty to shareholders to explore every option, but that does not mean the company has to sell, Springboard Growth Capital managing partner Kay Koplovitz said.
Luxury handbag maker Kate Spade (KATE) will reportedly begin a formal auction process in January and already has six potential bidders interested in an acquisition. The bidders for Kate Spade, which has a $2.3 billion market value, are said to be other retailers, Bloomberg reported, citing sources.
Springboard Growth Capital managing partner and former Liz Claiborne/Kate Spade board member Kay Koplovitz appeared on Thursday afternoon's "Bloomberg Markets: Americas," to discuss the potential sale of the company. Koplovitz still owns shares of Kate Spade.
"I think when a company like Kate has a very strong brand in the millennial market, [it] is up against some headwinds, as everybody is today in the consumer marketplace. I think if you have activists after your stock, as a company and as a board, you're really obligated to take a look at what the possibilities are in the market place. That doesn't mean you will sell," Koplovitz said.
BloombergTV anchor Julie Hyman asked Koplovitz what would make the most sense for Kate Spade, referencing being acquired by another retailer or even going private.
"I think that Kate does have a strong brand presence and I think if it were to go in to another luxury brand umbrella inside a corporation, I think it would have to stay true to its brand and not be homogenized into the greater parent company," Koplovitz continued.
Larger companies can tend to absorb other brands and Kate Spade would need to consider carefully which larger parent would take over if it sold, she explained. On the private equity side, it would need to be a firm that has a portfolio of fashion brands, is fashion sensitive and has an expertise in the space.
The Kate Spade brand is more of a "whimsical brand" designed with working millennial women in mind, Koplovitz explained. She doesn't think the brand would be the right fit for a company such as VF  (VFC) - Get Report , the parent of the Timberland brand. Koplovitz described Kate Spade's customer base as "desirable" with "disposable income."
A growing trend among luxury retailers is the devaluing of the brand to some extent. "Too much exposure in outlets, too much discounting and many of them, including Kate have pulled back from that, trying to keep the prices up," Hyman noted. She asked Koplovitz if this is the way to go and if it is too late for that kind of pulling back.
"I have felt for many years now that the consumer marketplace has been trained to buy only at discount, to buy only on sale," she responded. "So people know eventually things will go on sale and I think that's the wrong thing for a brand to do."
Koplovitz noted that Kate Spade CEO Craig Leavitt has been trying over the last few years to pull back from discounting and hasn't been participating as aggressively in some sale prices. She did recognize that the marketplace is under pressure and that like most stores, Kate Spade did have discounts going into the 2016 holiday season.